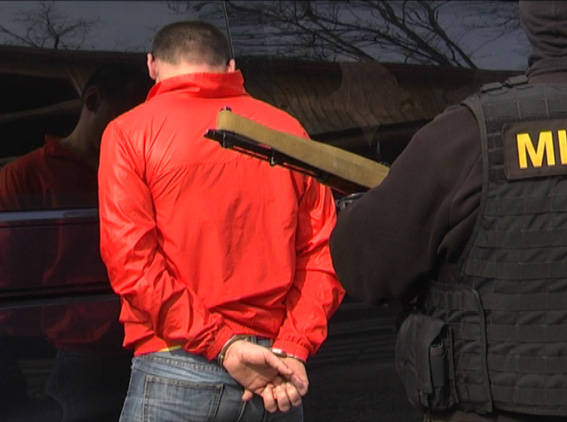 Employees of the Organized Crime Control Department and the Dnieper Regional Department of the Ministry of Internal Affairs of Ukraine in Kiev detained a criminal group with an arsenal in the capital Hydropark
weapons
. According to sources in law enforcement, we are talking about the activists of Avtomaydan, whose members refused to surrender their firearms.
As it became known to the editorial staff of the RV, the organized group included 9 people: Roman M, Arsen K, Vladislav S, Vitaly K, Yuri S, Andrei L, Sergey K, Sergey D and Alexander D. Two of them were already wanted by law enforcement agencies .
Accomplices hid in a private house, located near Lake Berezka. Their detention took place under the pretext that the said persons allegedly hold hostages in this house. During the investigation, two Kalashnikov assault rifles with live ammunition, 7 pistols, air guns, knives, smoke bombs and Molotov cocktails were seized from the detainees. In addition, men were provided with radio stations, camouflage clothing and means of active protection.
According to sources in law enforcement agencies, this armed group was part of that wing of Avtomaydan, which was led by the "Road Control" journalist Andrei Jinja.
"According to preliminary information, the attackers committed serious crimes. Among the seized many office equipment, professional camera and other expensive things, the origin of which has yet to be determined, "said a source.
According to operational information, during the seizure of the organized criminal group in Hydropark, not far from the "cache" of armed revolutionaries, the corpse of an 49-year-old man was found. It turned out to be Nazarov Vladimir Anatolyevich, born 16.11.1964.
According to preliminary data, he was killed by two shots to the head from a traumatic weapon. Law enforcement agencies have a version that accomplices shot at him in the course of internal "fights". They, they say, dragged the man aside and did not even know that this man did not survive as a result.
In the murder of Nazarov two detainees "avtomaydanovtsev" have already confessed.