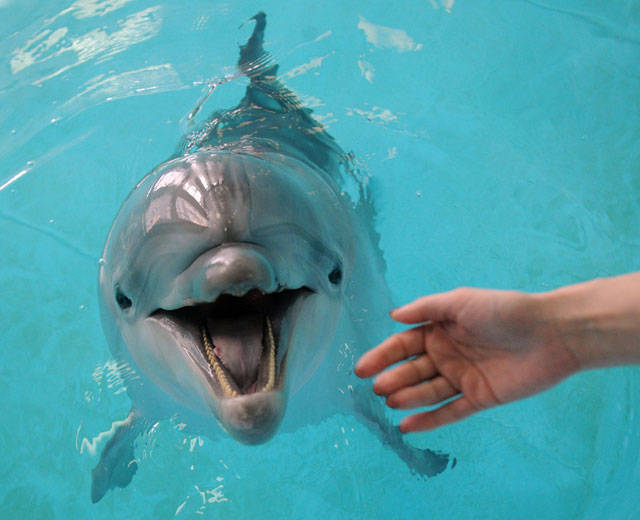 Sevastopol State Aquarium has begun preparations for the launch of new programs in the interests of the Russian
fleet
. After the entry of Crimea into Russia, the oceanarium also became Russian.
According to RIA
News
, it is planned to resume training of combat dolphins and seals, which are trained in the search for sunken objects and military equipment, the detection of combat swimmers, the protection of warships.
In Soviet times, bottlenose dolphins and seals were trained in Soviet programs.
As they told Rossiyskaya Gazeta in the Southern Scientific Center of the Russian Academy of Sciences, the question of what will happen to numerous scientific institutes in the Crimea and the huge Botanical Garden will be solved the other day.
Flags of Russia are raised in all 193 military units and institutions in the Crimea. The servicemen, who remained loyal to Ukraine, will be taken from the peninsula by train. In the former Ukrainian military units began an inventory of military equipment and re-certification of personnel. Rear Admiral Denis Berezovsky, announced by the new Ukrainian authorities on a charge of treason, will take a leading position on the Black Sea Fleet. Defense Minister Sergei Shoigu appointed him deputy commander-in-chief and handed him the personal number of a soldier of the Russian army.
The agreement between the Crimea and Russia was signed in the Kremlin on 18 in March by Russian President Vladimir Putin with the participation of the head of the Supreme Council of Crimea Vladimir Konstantinov and prime minister of the republic Sergey Aksenov, as well as the mayor of Sevastopol Alexei Chaly.
Crimea and Sevastopol are part of Russia on the basis of the free and voluntary will of the peoples in the all-Crimean referendum held by 16 in March 2014 of the year. More than 97 percent of Crimeans and 96 percent of Sevastopol voted for joining Russia.