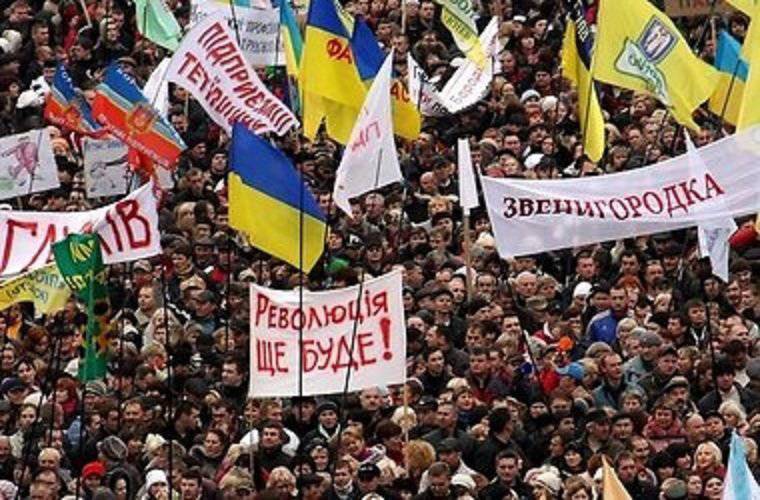 For a long time, however, we harnessed with Ukrainian issues. And read that for a quarter of a century they pecked their noses on the bench. Meanwhile, all this time in Ukraine, there was a constant, vicious anti-Russian propaganda. Cynical, methodical and frantic.
I remember the late father. He was born in 1922-m - the year of formation of the USSR. In the early days of the Great Patriotic War was mobilized to the front. Got surrounded, but ran away home. Three years lived during the occupation, "under the Romanians." In 1944, he was mobilized a second time. Under Iasi, the old man was seriously wounded - he practically did not move for two months and did not speak, but somehow he survived. Then he was twice wounded and contused twice. We buried him with a Kruppov steel shard in the size of a passport photo 3х4. Doctors warned: we will begin to take out a piece of iron - the lethal outcome is possible. And the father just died of the disease. To his share the terrible post-war famine of 1947 of the year fell out (only in our village then three facts of cannibalism happened). Father spent a year in jail "from bell to bell" for banal moonshine. Then 33 worked as a teacher in the Doroshovskoy eight-year school in Vinnytsia region. Of these, 24 of the year aggressively made his way into the party. He was not let in by his fellow teacher. The former father's friend wrote in all instances: such bastards as Zakharchuk have no place in Lenin's party. He was under occupation, was in prison and in general - the anti-Soviet element. The father zealously sought to prove that he is a truly Soviet man. And, in the end, he succeeded with the support of the First Secretary of the Yampolsky District Party Committee of the Hero of Social Work Pavel Lukyanchikov. (Older people should remember him as the initiator of the all-Union initiative to grow 500 centners of sugar beet from each hectare). So, when my father got the party membership card, he started crying. The second time in my life I saw his tears. The first time was in 1958, when our house burned down, and my sister and I were saved by a miracle.
After leaving on the teacher's pension, his father worked for several years in the collective-farm construction brigade. And at the end of 80-x began to work only on their own garden. All summer, I was picking little by little on the beds, and without fail I was dragging the Ocean radio along, listening exclusively to Ukrainian radio. And a few years later he became a nationalist more abruptly than the then odious deputy Khmara.
For his father, Russia turned into an imperial monster, the Soviet power became a slave-owning one, and the native Communist Party, of which he passionately sought to become a member of half his life, became a hated Jesuit organization.
"Vse zhitya mani znyvechyly (disfigured), communists curse!" What can I say, if I, his own son, colonel of the Soviet, then the Russian army, became almost the personification of the invader, who sleeps and sees how to take the poor Ukraine, again turning it "into a colony of Russia." He said, not hiding his annoyance: "Bo yak you would be a spouse of Ukrainians, then you would have been in our army for a long time vzhe pereyshov, yak bagato hloptsiv te well-done."
Teacher
stories
, by the way, not the worst teacher, the father, as if enchanted by someone, completely forgot all her bitter lessons, especially in the part of the past of Ukraine. In our disputes about this and did not bother with any evidence. More often, I retorted my arguments with a simple but fierce belief that "prysyaga is papiretz and the word is empty", "the will of Ukraine is great, what you like", "but you are a niyaky patriot, böné pyshaeshmym, scho ukrainets!". He didn't answer the logical questions when, where and who personally didn't bother him. And when I once told him that it was foolish to be proud of nationality, for what the son of a Negro and a Chukchi girl should be proud of is also a possible creation of God, he spat and left the hut. On another occasion, I tried to prove to him that without the support of Russia, the Ukrainians as an ethnic group (and, more broadly, all the peoples adjacent to Russia) would never have survived due to the troglodytic aspirations of the countries around them. For example, we would have long forgotten about such a nation as a Georgian - the Turks would have simply erased it from the face of the earth if, in passing, they massacred more than a million Armenians. And that is why the concrete Bogdan Khmelnitsky is God sent hetman, who saved the Ukrainian ethnos under the mighty wing of Russia from physical extermination. And this great man is now "paplyuzhat and ganch" ("iznichtozhayut and despise" - my father and I communicated exclusively in Ukrainian) people unworthy of his fingernail on his little finger.
"You are their bilshe, rumor: ty pykhati (arrogant) Katsaps, just want to, te tepyshut in history" - "No, father, it was just written by our compatriot with you, full-blooded Ukrainian Nikolai Ivanovich Kostomarov in" Russian history in the biographies of her most important figures ":" Meanwhile, the Poles found allies in the Crimeans. Islam Giray was no longer in the world: one Little Russian, taken in his harem, poisoned him in revenge for treason against her fatherland. The new Khan Makhmet-Giray, hater of Moscow, concluded an agreement with the Poles. In winter, in anticipation of the auxiliary Tatar forces, the Poles again broke into the Hem and began to slaughter the Russians. The Bush town (our Doroshovka - across the river Murafu - MZ) was the first to test their revenge. In this place, located on a high mountain and well fortified, crowded up to 12 000 residents of both sexes. No convictions of the Polish commanders Charnetsky and Lyanskoronsky did not act on them, and when, finally, the Poles drained the water from the pond and attacked the weak point, the Russians, seeing that they would not do anything against them, themselves lit their houses and started killing each other.
Women threw their children into the wells and rushed after them. The wife of the murdered centurion Zivisny sat down on a barrel of gunpowder, saying: "I don't want to get a toy to Polish zholnera after my dear husband", and flew into the air.
Seventy women took refuge with guns near the village in a cave covered with thick blackthorn. Colonel Tselariah promised them the life and integrity of the property if they left the cave; but the women answered them with shots. Tselii ordered to divert water from the source to the cave. The women all drowned; no one gave up. After the ruin of Bushes, the Poles went to other towns and villages; everywhere Russians of both sexes defended themselves to the last possible; everywhere the Poles slaughtered them, giving no mercy to either the old men or the babies. The terrible massacre of 14 000 of the Russian people died in the town of Demovka. The crown hetman wrote to the king: "It will be bitter for your majesty to hear about the ruin of our state; but by other means the indomitable servile rage, which is still only increasing, cannot be reconciled. "
Having listened to the quote, my father silently flipped through a volume of Kostomarov, was convinced of my correctness, and wandered down into the yard. As usual, he had nothing to cover, but, as they say, he didn't want to sacrifice principles ... Although he had to understand: even the most extravagant, malacholny and wild "explorers of the past" who are a dime a dozen in my homeland will not be found in the centuries-old the history of Ukrainians and Russians, even approximately of such examples as described by Kostomarov. However, Ukraine is now friendship with Poland - do not spill water. And with Russia - permanent war: on gas, on oil, on
the fleet
, during the famine, on holidays, on weekdays, along the border, along Gogol, along the Maidan, across the Crimea, Donbass and beyond, along the tongue ... Yes, no matter where you throw it - everywhere, like sticking potatoes out of the pot, it's basically only the Ukrainian wedge in the neighboring relations with the Russians. In all the troubles of the past, present, and even possible for most of my fellow countrymen, an extremely evil Russia is to blame. Sinful, I think now that my dad went into the other world with a sad thought for himself: all the troubles of Ukraine from Russia arise. And our disputes with him absolutely did not solve anything here. I went to my hometown from strength two to three times a year. And local propaganda daily and fiercely hollowed his soul and head with the same shrill lamentations: drunk Russia hinders proud and freedom-loving Ukraine from becoming a full member of the Western world.
... Last summer I got into the company of fellow countrymen. Among us was a former member of the Vinnitsa Regional Party Committee. Asked for a third toast. Well, I think, for sure, the warrior-internationalist in the past, if such a glorious toast is baked. However, he raised his glass for ... "scoring Ukraine's passage to a NATO warehouse." I had to be discouraged, delicately, to notice that Ukraine would never become the flesh of NATO ... What began here! In short, we had to wind down the table event. And I suddenly realized with horror for myself that my friends, all as one who grew up under Soviet power, brought up on the indestructible friendship of the Ukrainian and Russian peoples, all served in the Soviet army or the Navy - all of them are ready to join "to the warehouse NATO". This is what it is, the power of total and continuous ideological influence, against which, hand on heart, we in Russia absolutely have not done anything over the past quarter century.
We are bothering the whole world about the national idea for the Russians. And until we find her. And in Ukraine such an idea has been working quite regularly for at least two decades (with no alternative at all). And it lies in outright hostility with "hated Russia."
No matter how and whoever denies it, today in Ukraine the highest political prowess of the overwhelming part of the so-called elite of the local society, the most ardent manifestation of patriotism (not to mention nationalism) consists, first of all, in all kinds of bullying with the great northern neighbor. A person can be a very mediocre specialist, a completely useless politician, but if he is a kosterit at every corner and carries Russia over the bumps, he will not be lost in Ukraine now.
And today, now let's call things by their names, otherwise there is no point - most of the ordinary population of Ukraine are firmly convinced: if it had not been for Russia's intervention, they would all have long since lived in a friendly and wealthy European family, received thousands of 2-3 euro salary and pension 1 thousand euro.
Today, many of my countrymen (and I communicate with them every day) in the blue eye believe that "all the people came out on the Maidan against the hated Moscow protege Yanukovich". The Americans and Europeans, who so vigorously cherish the pro-fascist Maidan, are "malicious invention and propaganda of Moscow". "In fact, those fascists on Independence - on the strength of a couple of hundred. Well, on the edge - a thousand. But to you, your venal TV shouts that all of Kiev is under the rule of zapadensky fascists. " "Maybe you are right," I answered, "but if you throw a spoonful of shit into the pot of borscht, then there will be only shit already." - "And yak tobi ne sorosno take govoryty about sviy people?" - "And you, such" shyrym "Ukrainian patriots are not ashamed to stand on the Maidan next to the Nazi rabble?". However, it is pointless to discuss this matter with our fellow countrymen. Many of them in the eye, like that fabulous Kai, on the ice fragment when looking at Russia.
... I will return again to my own family, because in it, as in a drop of water, reflects the great tragedy of the entire Ukrainian people over the past quarter century. Our house in Doroshovka stood on a high mountain. With each passing year, the rapidly aging parents found it harder and harder to climb. Especially - in bad weather. Yes, and our village was quietly dying. Then I gave my sister money, she reported her money, and in 1998, my father and mother bought a large brick house in the village of Gruzevitsa, Khmelnitsky region. With her husband, Ensign Galya lived in the regional center, six kilometers from their parents. I was happy for them as seldom in my life. The problem, which has not been solved for years, suddenly appeared in such a wonderful way. The trouble, however, fell on our heads, from where no one could wait for it. My sister was inflamed by the crazy thought of going to work in America. "With my medical education," she said with a fanatical gleam in her eyes, "with my ability to do massages, I'll get it blue in a couple of years!" The father kept quiet while the mother, as if anticipating the grief, sobbing, warned: "Galya, beat God! You're there on aliens. That th we are Bez tebbe budemo robyty? "My sister did not think about God. And about parents too. As well as she did not listen to my admonitions about the fact that overseas the heifer is a heifer, and the ruble is a carriage. She forced her husband to lay in the bank a magnificent three-room apartment for ... 6,5 thousand dollars! At that time, Soviet real estate valued so much in Khmelnitsky. 5 thousand paid, as it turned out, the banderovka-swindler, who promised to send her sister in transit to the United States with a job in a rich family. And - threw Galya, as an ordinary phytotox. The bank, of course, took the apartment that Ensign Gnatkov gave to the Soviet army.
It would seem that it was just the time for my sister to get down and settle down - such a terrible omen! Moreover, our father became very unwell. But Galya, like a demon, was already possessed by the "blooming and shining West". And as soon as her father passed away at the beginning of the autumn of 2001, she went to Italy the next day after the funeral illegally in search of happiness. Then millions of Ukrainians went from Nezalezhnoy to Russia to earn money, the other millions went to Europe. My sister already could not stand Russia. Well, God bless her judge. And our mother was left alone. We called her regularly, so what's the use of those calls. My mother began to stifle the pressure, which she did not even suspect - her head aches and hurts. And once she caught a mortal blow. Which would never happen, I'm sure, if Galya were nearby. Before leaving for Italy, she was the head nurse in the first city hospital. And, of course, would not allow my mother to work with pressure in 220 in the heat in the garden. But at the same time, my sister was caring for the aged Italian matron, scooping out of that uncleanness.
Calls me on the day of the funeral: "T th Sho, Bear, mani vyizzhaty?" - "If you come tomorrow, you will see a fresh mound. And in a year he will wither slightly. That's the whole difference. So keep stocking your euros. " For the last several years, she held her last, almost ninety-year-old, numbed old woman between life and death. Gali's son and even local doctors marveled at this skill. She boasted to me how unthinkable she was "to keep her job." And I sadly and sinned, with anger, thought: "You would take care of your mother so much, she would still live. After all, her mother - our grandmother Dokunya - died in 96 years. "
Two-room apartment Galya eventually bought, after serving a twelve-year-old "serfdom". And when she returned, she managed to remove zinc iron from our hut in Doroshovka, where we were born and raised. When, after some time, I saw the ruins of a house that I erected with my own hands, I burst into tears: Lord, why did you punish my sister so much ?! Now we do not communicate. I can not listen to the sister's clinical curses to the country where I live half a century myself ...
Alas, my Ridna Nenka Ukraine, too, seems to have somehow seriously sinned before the Almighty, if He rewarded it with Petlyura, Bandera, Kravchuk, Kuchma, Yushchenko, Timoshenko, Yanukovych, Tyagnibok, Klitschko, Yarosh, Yatsenyuk, Turchinov, Muzychko and Yyushko, Yushchenko and Yushchenko. . However, in their hatred of Russia, the current political gopniks in general have shown something beyond their wildness. And this is especially evident in the example of the semi-fascist Maidan. It is clear that not only the United States, but also the decrepit Europe, are launching against rabid, cave Russophobes against Russia. Thanks to such an insidious tandem, the final and complete gap between Ukraine and Russia is almost inevitable ... "Because if Russia did not interfere," a school girlfriend wrote to me on the Internet, "we would understand everything." "You have been unable to do this for a quarter of a century, for you do not know what you want. That for years they shouted for nezalezhnist, and then together they rushed into the arms of the European Union, - I answer. - And on your Independence there was, unfortunately, not a single Russian politician. But the Americans, Europeans and even a clinical tie walked in droves. You are no longer an independent country, but only a successfully developed overseas project against Russia. For it, and the price paid: 5 billion dollars. For only round idiots may think that Ukrainians-hicks need fed Europe. Exactly how Romanian Gypsies need Paris. " - "You sold the guts to the Muscovites, that's why you say such things about your people." - "Do you have another and last argument - tell me: he is a fool."
To discuss the current situation with the majority of Ukrainians is meaningless. They are high quality, maliciously zombie. And they will reach the mind only when they finally undress them and Europe will let them all over the world.
But we in Russia must firmly ask ourselves: what did they oppose to the American project? And honestly answer yourself: nothing. Exactly. Hand on heart, we confess: nobody has seriously engaged in all post-perestroika years with our brothers and neighbors. We gave them, drunk from Nazism, at the mercy of the overseas insidious troglodytes and are nobly resenting ourselves: why are the "Ukrainians" so intractable, cunning and harmful?
After all, how do we see in general terms the current situation in Russian-Ukrainian relations? Yes, Russia, of course, would like to have on hand an obedient younger brother, or sister, or neighbor-partner - as it pleases - at least in the Belarusian version. Well, no, no. Our terrible bear, as a last resort, will easily manage without Ukraine. What it is. An appeal to a well-known statistician who proves mutual economic integration, the fact that "we cannot live without each other" is, in fact, a figure of literacy and has not worked for a long time. Ukrainian trappers first and demonstrated. In the early nineties, they drowned steam locomotives with firewood, but did not bow to the "klyatym Muscovites". Russia, therefore, and even more spit on Ukraine from a high bell tower. Therefore, only its so-called statists (Zyuganov, Zatulin, Zhirinovsky, before Luzhkov, well, a hundred more, a maximum of a thousand people for the huge 150-million of Russia), something was bothering about Sevastopol and the Black Sea Fleet. The rest of the Russian population until the very dim light bulb was the whole crowd hohlatsky issues. What eloquently indicate domestic paper and electronic media. They covered this issue very, very poorly, sporadically. Basically, at the level of interstate protocol events or when younger brothers uchudut something: on the hryvnia a portrait of the ancient Russian prince will be printed, the street will be named after Dzhokhar Dudayev, some regular Sabbath with the participation of idiots from the odious UNA-UNSO will be organized that Noah, Buddha, for example, were purebred Ukrainians. (I must say, there is no shortage of such oddities on the Ukrainian side). Well, that's it! Further and deeper political and philosophical understanding of the obviously unhealthy, although the vital "Russian-Ukrainian question" did not develop during the above-mentioned period. Our establishment had, as they say, worries and more important. And the "Ukrainians", well, go crazy and calm down. Yes, and where they go with a hole in your pocket?
Even when we first got involved with the support of Yanukovych, it was clear: we were not counting on the wrong thing.
Well, well, he became a president in two sins. So I had to send him at least an intelligent ambassador. Alas, we have no one but Zurabov. No, it was even worse candidate - Serdyukov. And then we are surprised: why our affairs with Ukraine do not get along so well? Yes, if I were the ambassador, my tent would stand on the Maidan from the first day of its existence. And from my hands would eat donuts maydanutye. I will be reproached: so we singled out "some greenery" to the brothers. Yes, but already under the blazing Maidan. And where was this loot before? Why it did not work against the same 5 American billions? This is it ...
... During the years of "nezalezhnosti" from the Ukrainian side, so many insults, complaints, picky and angry indignations, reproaches, ambitious statements and even frank threats were printed and orally issued to the Russian side, that if all this is somehow mysteriously materialized from Russia on the map the world would be a wet place. If the Russian media and politicians had allowed themselves at least a hundredth of such Ukrainian zhlobstvo-the war would just blaze from Moscow to the Crimea. And at the same time from the shores of Dnepr, there is not a single act of encouraging, kind, heartfelt gesture, such that everyone can understand: the younger brother is not completely settled down, but at least he stopped being capricious and picky about it and without it. The saddest thing is that there are no encouraging symptoms in this sense. The balance of various political forces in Ukraine has long been supported, unfortunately, not by the idea of ​​an economic breakthrough, not by concern for the people's welfare and not by the search for some cardinal axial movement capable of restoring collective common sense in Ukrainian society. On the contrary.
It seems that Ukrainian society continues to dance to the tune of four or five percent of the so-called zapadentsev, who saddled the spiritual life of a huge nation and watered the country, repeatedly saving this nation.
It is with sadness and heartache that it is necessary to state that on the foreseeable political Ukrainian horizon and so far the most constructive forces that could lead the country along the right path cannot be seen. The Party of Regions, headed by the leader, received seats on the upper deck of the state ship, turned it into its feeder. About the camp of orange and say no. There, in general, the clinic, decorated in folk art, as "oranzhutans maydanutye". As for the communists, they have never been in special honor in Ukraine. And the wise new social force of my long-suffering Ukraine is oh so necessary! Such a force that could calmly and without anguish show the Ukrainian people both the greatness and gravity of a very difficult, but still glorious, his joint history with the Russian people.
Yes, there were past mistakes and tragedies, very serious, like the same famine, for example. And before it happened: a revolution, civil war, collectivization. However, the entire Soviet people suffered from all these cataclysms, and the Russian people, more than others, had to bow to them for the rest of them to bow. But in the years of the Great Patriotic War, the Russian and Ukrainian walked shoulder to shoulder. And together they got the Great Victory. The results of which are not just blasphemous to revise, but sinful in this world - before the whole world, and then - before God. Because the price paid for it is cosmically inconceivable for the weak human mind — almost thirty million lives of Soviet people! Almost one third of them are Ukrainians. Mankind did not know such losses in its entire civilized history.
Of course, there were among Ukrainians and those who consciously or out of error went to serve the world evil Hitler. But even if in a Christian way we can forgive them all now (even if it is so!), Then all the same it's impossible, ashamed in front of the same world and God to raise their unkind acts to the shield. As it is impossible to believe in valor and mazapstvo is the worst kind of betrayal, because it was done not because of weakness of character, when it could be forgiven, but according to a deliberate way ahead of evil intent. That can never be forgiven. And in general, it is impossible to build the history of the young Ukrainian state on permanent historical fly houses, overexposure, hypocrisy and dishonesty, on sheer worship and glorification of traitors, fascists.
It is in this respect that the "elder brothers" have done so little to "insinuate the younger ones". And what the "elders" didn't exactly point out, it's because a full-scale ideological war lasted behind their fence for a quarter of a century. They slept, as already mentioned, sniffing. In general, what should be done in this situation, which itself never will resolve? As they say, there is a specific sentence: something must be done! To know more - what?
In this particular case, everything is further complicated by the fact that, as the eminent thinker and poet Lina Kostenko correctly noted, Ukraine's current political elite is sorely lacking in conception - this is such a complex concept that includes nobility, height of thoughts, honesty and an active desire for good . Today, this very elite is very much like the Georgian times of Saakashvili, about which Merab Mamardashvili said: "The Georgian intelligentsia has not used the past five years to tell the truth to its people. Instead of struggling with already instilled bad qualities - with falsely understood patriotism, backwardness, self-infatuation, arrogance, conviction that we are the most good, the smartest, the most beautiful and no one needs us - the intelligentsia played up to the vices rooted in the people ".
What is called, not in the eyebrow, but in the eye and about my dear countrymen. But this, again, is just a statement, but what to do?
How to convey to the Ukrainians the uncomplicated fact that in the intellectually and mentally distant West they will always be what my own sister, who lived in Italy for quite, by the way, legitimate reasons, for 12 years in a row, was the servants of wealthy Aboriginal people.
And they will never be anyone else by definition. What measures, state and public actions are needed to convince Ukrainians again: only together with the Russians can they represent in Europe the strength they will be reckoned with, and sometimes they will always be considered second-class representatives of underdeveloped states? Finally, who will be able today to raise the banner of the unity of two great Slavic peoples, who have not only a common history, but should have, by definition, a prosperous common future? Questions what is called open.
... Russia is the Earth. Ukraine - the Moon, which was once part of the Earth, but detached from it. It is possible that the Moon would like to fly away from Earth. And the Earth, for certain, would like to get rid of ebbs and flows, provoked by the Moon. But this is impossible, due to the presence of the fundamental laws of physics and mechanics. And even if for some reason this happened, there would be a cataclysm of incomprehensible and terrible power.