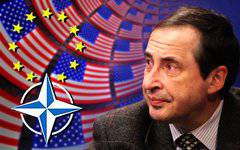 We are prisoners who can be manipulated by blackmail
Payment systems Visa and MasterCard suspended card servicing at banks whose owners were hit by US Treasury sanctions.
This incident once again raised the question of the degree of financial independence of Russia, and, as experts note, there is a need to create its own payment card system.
The current situation for KM.RU is commented on by Andrey Parshev, the author of the book Why America Comes.
The strength of the currency is not provided by gold reserves.
-
History
with payment systems, the scale is not very large: after all, the largest Russian banks were not affected. However, there is a problem here that I would like to comment on.
Imagine that a Russian military pensioner, including one who served in the FSB, receives a pension on a card that contains his personal data. So, there was information in the media that the servers that process the information of the respective bank are in the USA. At least, that was a few years ago, and maybe now the situation has changed, but, in any case, this is a completely intolerable situation when we are under control from abroad.
In a sense, we are prisoners who can be manipulated by blackmail to the detriment of our country. By the way, despite the technical feasibility of the national payment system, it will still be tied to world systems, otherwise our card will not be able to pay abroad. That is, it is necessary to ensure that these cards are accepted abroad, but the information contained in the card must be processed by us.
This is also possible, but this question is not limited to the technical aspect. The payment system is tied to the commodity mass, and the strength of the currency is provided not by gold reserves, but by the set of goods and services that can be purchased for a particular currency. But we do not have such a mass of commodities! Therefore, it is more promising for us to create a payment system associated with the payment systems of countries that do not belong to the West, have an independent position and have a developed economy. There are such countries, these are China, India, in general, BRICS countries, possibly Iran, and a number of countries tied to Chinese payment systems.
Reorientation of Russia to the East will cause negative from the West
Does this mean that we simply change one dependency to another? Yes. But in this case, we have the opportunity to build the right relationship with these systems. By the way, some Russian oligarchs have already reoriented to the East, getting rid of some Western shares. It is also possible to transfer oil trading from the London Stock Exchange to Hong Kong, or even organize your own exchange. Such an idea was expressed long ago, long ago it was said about the sale of oil for rubles, but this proposal did not pass for some reason.
I know people who use Chinese online stores: there you can buy almost anything. These people understood the Chinese payment systems, started using them, although it's not so easy to enter them, because for this you need to fulfill a number of conditions. Of course, the reorientation of Russia to the East will cause negative from the West. For example, the USA will be extremely dissatisfied with the transfer of our oil trade to Hong Kong.
As the saying goes, "to fool the other by the beard is to substitute our beard," but if we don't want to find ourselves without money somewhere on a foreign holiday, then we need to diversify our assets. This will benefit all, including Western systems, and legal nihilism has already flourished. Maybe they will stop working so politicized.
International law is now trampled. But the feeling is that the West does not understand that it was he who trampled on international law. This manifested itself now, in the situation with payment cards. How can you impose sanctions on a WTO member if the WTO prohibits such things ?! And, nevertheless, enter ...