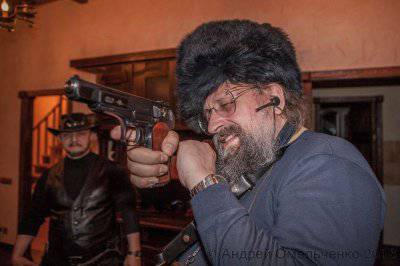 Judging by the experience available to me (including personal experience), in the West there is an absolutely unimaginable number of specialists in brainwashing. After all, the art of commercial advertising has been operating there since time immemorial, and advertising is akin to many other technologies of creating a false impression about life in a person.
It is quite clear where this relationship comes from. Roughly speaking, it is one and the same task in commerce and politics to give a person what he does not need.
So I think we will continue to be under severe information pressure simply because there are a great many masters of such pressure in the West.
I know, perhaps, only one way to protect against such pressure. Moreover, this method is so effective that in commercial advertising is strictly prohibited. It is considered an unacceptable counter-advertising - a message about the shortcomings of the goods offered by competitors, even if this shortcoming is absolutely indisputable. Not without reason, for example, in many types of advertising, "ordinary powder" or "ordinary candies" are mentioned, or something else called "ordinary". Mentioning a real product and comparing another product with it in advertising is unacceptable - this is considered to be a low blow and an undermining of this whole business.
I believe in non-commercial advertising - in political affairs - we can consider ourselves not bound by this restriction. On the contrary, we must proceed from the fact that an information war is being waged against us, and in this war we are not only entitled, but we must use any means available to us (and not contradicting our morality) to counteract the enemy.
I note: our opponent does not consider himself limited by advertising rules. On the contrary, counter-advertising is constantly used in agitation against us: speaking of its merits, the enemy constantly emphasizes that we are lagging behind him in this regard.
In addition, very often such comparisons are false. For example, in the stories about Homeric Russian drunkenness, our opponents diligently pretend to be in a sober mind themselves. Although Russia's per capita consumption of alcohol per capita
history
did not rise above the second ten of the world rankings, and in the first ten are constantly Britain, Germany, the United States of America, France, constantly angered by the terrible Russian unforgettable drunkards. A false impression arises because the residents of these countries, as a rule, drink a little all day, that is, from morning to evening they are in a state of incomplete sanity (but from the side it is hardly noticeable), and we try to work sober, ottyagivaemsya (so that anyone can see).
However, even if for some reason, opponents in their counter-advertising for some reason give reliable data - they usually truncate them to a favorable view or put them in context allowing them to be misinterpreted.
On our side in such cases - the truth. So, we must expose our opponents with all the means at our disposal.
Moreover, to expose every concrete lie is a deliberately meaningless matter. After all, in itself, a lie takes up much less space than its evidential and substantive refutation.
A textbook example is the work of Vladimir Bogdanovich Rezun, who dabbed the pseudonym "Victor Suvorov". On the refutation of what occupies a page in his book, it leaves at least the head of a serious professional study. And in order to refute everything written by him, you will need to write a study of such a volume that virtually no one, except for narrow specialists, will read it.
Therefore, in such cases, it is necessary to limit ourselves to refuting one or two key theses and continue to say: everything else is built according to the same scheme - therefore, it is just as unreliable.
But in any case, each new "author" resorting to spreading lies must be immediately noted and shown: he uses the same lie as his colleagues previously refuted.
We, unfortunately, cannot hope only that our cause is just and therefore we will win. After all, the victory of the truth takes too much time and during this time the lie has time to do many troubles. We must conduct an offensive policy on the information front, not just defensive.