One of the most interesting novelties of the EnforceTac exhibition, a specialized department for the needs of the police and the army at the IWA & OutdoorClassics 2014 exhibition in Nuremberg, was the VP9 single-shot pistol - "Veterinary Pistol, 9mm" - a 9 mm veterinary pistol presented by the Swiss company B&T ( formerly Brügger & Thomet AG). The official name of the new product - "humane killer" - it was originally created as a tool for conducting special operations of intelligence services and the army, according to the website
all4shooters.com
.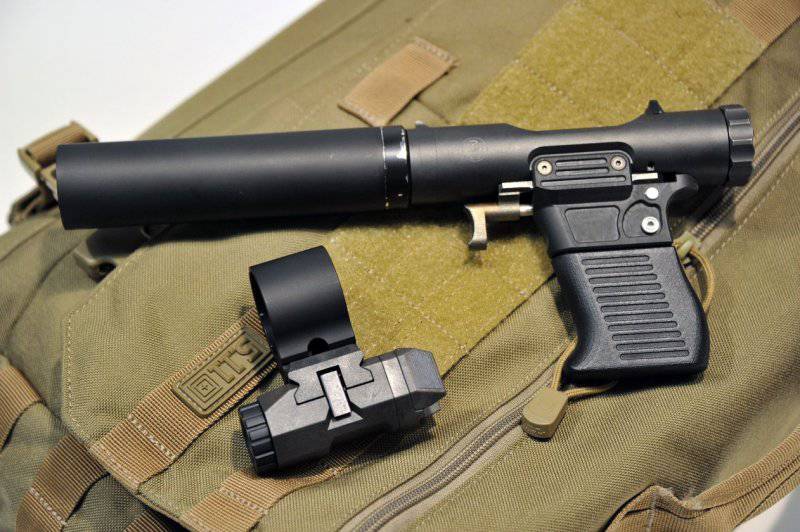 Burgger VP9 is a gun with a simple design: the minimum number of moving parts when fired, single-action trigger, manual button fuse, tubular milled receiver, ultra-short rifled stainless steel barrel, fixed Glock gun-style aiming devices, rotary bolt with 2 combat gear stops, like a reduced Mauser rifle bolt. With each shot, the shutter is recharged manually by turning the small round knob 90 degrees counterclockwise. The gun uses 9x19 mm cartridges and a five-round SIG-Sauer P225 pistol magazine, the polymer case of which serves as a pistol grip when inserted into
weapon
.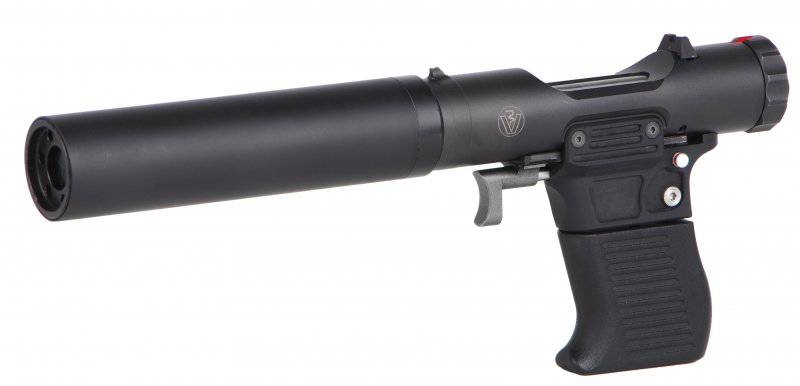 When the trigger is pressed and the gun is completely locked - only in this case a shot will occur - there is only one way out of the powder gases from the barrel through the muffler chamber, which simplifies its design. Aluminum silencer housing with front seal. Inside there are several silicone rubber partitions, which reduce the sound intensity of the shot to 31 decibels. The silencer is designed on average for 20 shots, after which the efficiency is reduced. Included are spare partitions that can be installed in less than 3 minutes in the field.
B&T VP9 pistols are supplied with one magazine and two silencers: normal and "practical", made of aluminum, type MP5SD. The absence of baffles makes the gun easy to maintain and clean. During special covert operations B&T VP9 can be used without a magazine, hidden in the sleeve of the garment.