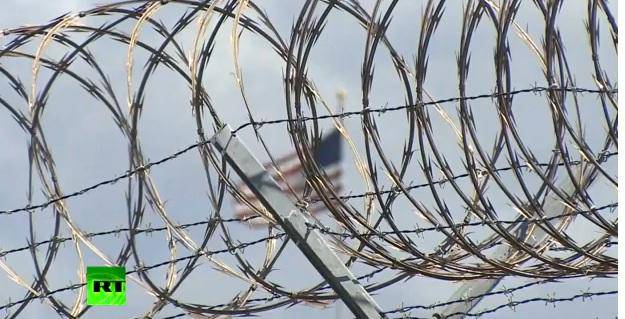 The prisoners here have never been charged, they did not appear before the court and did not receive any sentences, but nevertheless they are in prison and subjected to torture. For the first time, the struggle of one of the Guantanamo prisoners for human conditions of detention reached the federal court. With details RT correspondent Marina Portnay.
Torture and hunger - this is how the realities of the notorious American prison in Guantanamo are most often characterized. It seems that for the first time in
stories
The US military will have to account for their actions in Guantanamo in federal court. A prisoner on a hunger strike, Emad Hassan, filed a lawsuit against US President Barack Obama to stop the brutal practice of force-feeding in prison. Lawyers for a seriously ill citizen of Yemen say that he was subjected to such feeding more than five thousand times and that a kind of medieval water torture was applied to him.
"In a short period of time, very large portions of fluid were poured into it through tubes that were inserted into the nose. Perhaps about two and a half liters per 30 minutes twice a day. This is a very painful procedure, "says prisoner attorney John Eisenberg.
Water torture was widespread during the time of the Spanish Inquisition. During World War II, it was used by the Japanese military - ironically, against the Americans.
"This is the same torture, but only with 21-century technology. Now it is not the inquisitors with buckets who do this, but the doctors and nurses with the help of a force-feeding probe. Very often, a laxative is added to the nutrients, which causes prisoners to defecate during forced feeding. After that, they are not allowed to get out of the chair for two hours, and they have to sit in their own feces, "describes Eisenberg's methods of American" justice. "
Thirty-four-year-old Hassan has been held at Guantanamo for 12 for years without charge. Seven years ago, Hassan began a hunger strike in protest against illegal detention. It is believed that the US military deliberately made forced feeding more painful to force him and other prisoners to abandon their hunger strike - the only form of peaceful protest they can afford.
"They pump fluid so fast that people start to vomit straight at themselves. All this continues in prison today, "the victims of torture say.
But now there must be an end to what the United States does not even recognize. Such a turn of events can truly be called Orwellian. Guantanamo leadership was forbidden to use the word "hunger strike." Instead, any prisoner who refuses to eat will be regarded as "observing a long non-religious fasting".
This stylistic innovation arose during the renaming of standard operating procedures of Guantanamo, which now have a very convenient name: "treatment of prisoners with insufficient weight". One of the first told about this journalist Jason Leopold. According to him, compulsory feeding is now called enteral nutrition, and the US authorities are no longer obliged to disclose information on the number of those participating in "observing a long non-religious fasting." The only exception so far is Emad Hassan. His story will be told in the courtroom.