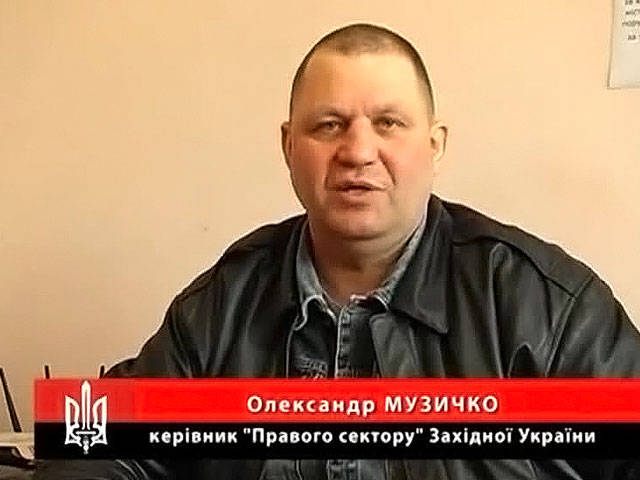 In the Ukrainian Exactly killed one of the leaders of the Ukrainian radical nationalists, Alexander Muzychko. Shortly before his death, he recorded a video message, where he stated that he knew about the assassination attempt on him. This is evidenced by the video posted on the Internet.
Alexander Muzychko, also known as Sashko Bilyy, was killed near the Three Carcass cafe in the city of Rivne. The shootout began in the cafe itself, several shells were found there, including from a Makarov pistol. Eyewitnesses reported that unknown persons broke into a cafe, put handcuffs on Muzychko, took him outside and shot him there: shot him in the chest, making sure that he was not wearing a bulletproof vest. In addition, five more people were captured, among whom was the head of the city employment service, as well as several representatives of the Right Sector.
About 10 days ago, Muzychko published a video message on the Internet, in which he warned that an attempt on the part of the Ukrainian authorities was being prepared for him, in order later to dump it on Russian special services.
"The leadership of the Prosecutor General's Office of Ukraine gave the task to the leadership of the Ministry of Internal Affairs to form a special mission to destroy their political opponents. First of all, they are going to destroy me personally. Destroy or capture alive to give out to the special services of the Russian Federation, then to turn everything to the special services of the Russian Federation," of the leaders of the "Right Sector" in his video message.
Sashko Bilyi was one of the most odious representatives of the Right Sector. In addition to political activities, he was actively engaged in criminal. Actually, the Kalashnikov assault rifle was his main political argument. Back in 1995, he received his first conviction for beating a man in Rivne, in 1997, they say, he arranged shooting in Kiev, but then the case was closed. However, two years later, Muzychko was again in prison - this time for extorting money from a businessman in Rivne. During the breaks he participated in the Chechen war on the side of the separatists, for which he was recently put on the wanted list by the Russian investigation.
After the "February Revolution" in Kiev in 2014, Muzychko became more active: he came to the meeting of the City Council in Rovno with a gun in his hands, beat the prosecutor. As Ukrainians joke, Sashko Bilim has already begun to frighten children. It is not surprising that he so strongly interfered with the Ukrainian authorities.
As stated in the Russian power structures, they have not yet received official notification of the murder of Muzychko, so he still remains on the international wanted list for absentia accusation of banditry and the creation of an organized criminal group.