Rosoboronpostavka posted on the official website two auctions for delivery of helicopters for the needs of the Russian Ministry of Defense in time for 25 in November 2014.
The subject of the first is the manufacture and supply of the Mi-8MTV-2 helicopter in the transport version. The recipient of the vehicle is the military unit 49719 deployed in the Priozersk district of the Leningrad region, better known as the Gromovo 12 airbase of the Main Directorate of the Ministry of Defense of the Russian Federation for nuclear weapons.
The declared initial cost of the aircraft is 210 million rubles, while forming a commercial proposal of the manufacturer (probably KVZ), in which the price was determined in 218,66 million, traditionally the costs of the potential supplier were reduced by more than 3,5 million. rub. mainly due to profits. The previous contract for MI-8MTV-2 for 12 GU MO was concluded, according to the materials of arbitration cases, 1 of August 2011 for the number. According to its conditions, three helicopters of this modification were to be delivered in 2011-2012.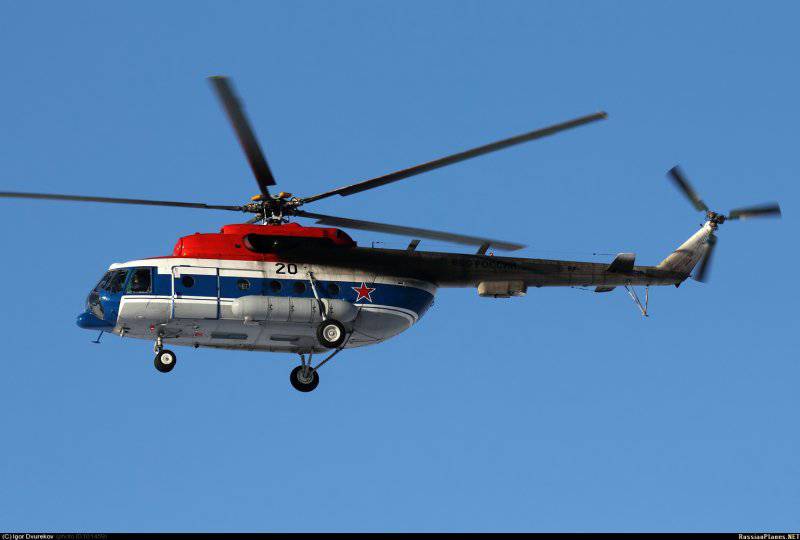 One of the Mi-8MTV-2, supplied under the 2011 contract of the year (c) Igor Dvurekov / russianplanes.net
It is worth noting that the color of the helicopter delivered this year will differ from those made in previous years (white and blue), but coincide with the 12 PG MO machines that have been overhauled in the last few years (orange and blue "arctic").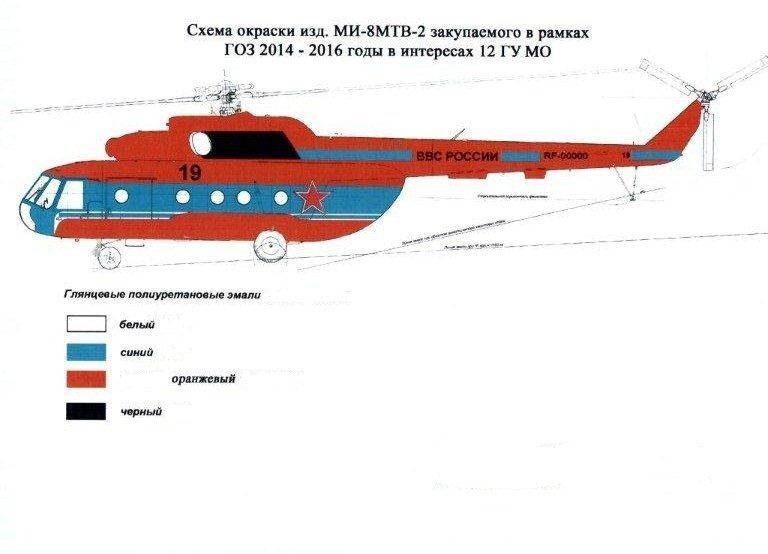 Under the terms of the second tender, the military department plans to receive three Mi-8MTV-5-1 helicopters in the military transport version (that is, with weapons). The delivery should be carried out in the 12633 military unit located in Pushkin, near St. Petersburg (the actual recipients are likely to be units of this air base stationed at the Levashovo and Pribylovo airfields).
The initial contract price is set at 246,5 mln. Rub., Although the potential supplier (KVZ) formed the price at 252,2 million. The documentation states that the helicopters of this modification are currently manufactured as part of a long-term state contract for the supply of 1 March in 2011-2011 2020 machines. The amount of financing under this agreement is 140 million rubles, respectively, the weighted average price per vehicle is 29,491 million (although in the aforementioned court case it was more than 210,65 million without VAT). In addition, in 222-2012, two failed (due to the absence of bidders) tenders for five Mi-2013MTV-8-5 for Vyazma (link) and one for Pribilovo (link) were held. The cost of one machine was in 1 year - 2012 mln. Rub., In 208,73 year - 2013 mln. Rub.