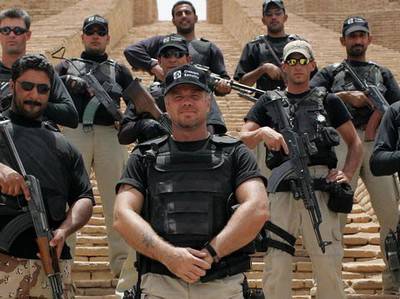 According to a source in the Security Service of Ukraine, a private military company will be engaged in suppressing protest sentiments in the east of the country. He explained that this is a Caribbean registered Greystone Limited, a division of the private military company Academy.
According to the new Ukrainian authorities, in the eastern regions of the country, the management of the Security Service of Ukraine is not able to suppress protest sentiments and neutralize the leaders and activists of the pro-Russian movement. In particular, according to the source, the acting president of Ukraine Oleksandr Turchynov shares this opinion, ITAR-TASS reports. "It was decided to attract foreign mercenaries who will perform the functions of political investigation and protection of state security," said the source.
The initiative to attract mercenaries belongs to the Ukrainian oligarchs Igor Kolomoisky and Sergey Taruta appointed by the governors of Dnepropetrovsk and Donetsk regions. "Not long ago, at the meeting, Turchinov discussed a plan of action to curb the protest movement in the eastern regions. Kolomoisky remarked on this occasion:" Why reinvent the wheel if there are real people who understand how much and how to pay, "said a source in the Security Service Of Ukraine.