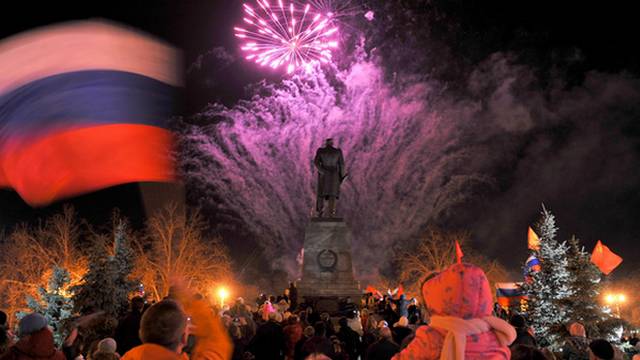 The Yalta world in Europe ordered to live a long time ago in Europe - and it happened in the same Crimea after Russia carried out an operation to reunite this primordially Russian part of Ukraine with lightning speed and bloodlessly and opened a new era in the world
stories
.

The division of Ukraine from the field of political science moved into the realm of real geopolitics, and our Overseas PARTNERS - ZOPA - were in convulsions from impotent envy and anger and began to accuse their own intelligence of not having told them all this in advance. They are still suffering from Kosovo, looking for something to add this appendage of their Bondsteel base to; they look for it - and cannot find it, because the appendage is already painfully malignant. And here in a couple of days Crimea became Russia. The accusation is in vain: ZOPA's intelligence did not tell, because they simply did not know, they did not warn her, she relaxed, she got used to being told everything in advance by well-wishers from among the natives around the world. Such well-wishers have ended in Russia, and the Russian people have never been natives. And so it happened, as is always the case with those who attack Russia - he did not even have time to gasp, as a bear populated him.

What will happen now? The next American strategy will collapse again, just as it recently collapsed in Syria, as it is falling apart in Egypt. Because these are strategists. Utopian maniacs-pyromaniacs of the last phase of the crazy American experiment under the purely Hitler name "new world order".

America in Ukraine is trying to achieve the following goals: 1) to cause a war between Russia and Ukraine and / or a civil war in Ukraine, which escalates into a civil war in Russia; 2) to involve Europe and, possibly, other countries - Turkey, for example, in these wars; 3) weaken and, according to tradition, again ruin and rob Europe, which, according to the ZOPA, has already reached the required stage of fat content and it is time to once again bring it to the slaughterhouse; 4) having pitted Europe and Russia, destroy Iran, seize the Middle East, and step on China's throat.

"I love our plans huge!" - wrote Mayakovsky, whom it is time to read to all these terrible sullen middle-sex aunts who have long become the face of American foreign policy. Prophetic words were written by Vladimir Vladimirovich. What can come of these plans? The third world war, about which the ZOPA so voluptuously dreams, which arose and became stronger as a result of two previous world wars. True, these plans are increasingly reminiscent of the Soviet joke about how many bananas an elephant can eat in a zoo: "He will eat something, but who will give him!"

Meanwhile, the apt expression "plans of our overseas cripples," which, by inertia in writing, looks like "overseas colleagues", but sounds right and beautiful, has suddenly taken root on TV. ZOPA's plans will not come true, because plans are made by cripples, defective in reason, poor in spirit, possessed by a mania for destruction and murder.

ZOPA brought up the same cripples and pushed them to power in Ukraine; strategists in the White House are making big bets on these cripples, not realizing that the temporary clique brought to power in Kiev will last a couple of months at best. And then the classic will sound: "Which ones are temporary? Get down! " And they won't even have time to get off, because they are completely useless cripples. Tymoshenko, fattened in prison - blood and milk, you can plow on it, she does not know how to ride in a wheelchair with feeling, or lean on a crutch - she shines and swells with anticipation of something that will never happen to her.

And ZOPA's hopes that Ukraine will forever plunge into the Bandera-Makhnovist gangster abyss will never come true. Nobody will allow this. It's just that while the orgy of anarchy is still going on in Ukraine, the ZOPA hopes that the crippled will be able to cope, although the Paralympics is over and the Russians won it again, whom no one will ever call crippled. "Drunken Comanches attacked the train!" - here is an accurate description of the behavior of the "victorious" Maidan, a phrase from a western from the times of my childhood. But, according to the logic of the genre, then smartly dressed dragoons with Winchesters come and elegantly shoot the presumptuous savages. So it will be with the Maidan.

What are the goals facing Russia today in connection with Ukraine? I note that they are already quite obvious, the process is already underway - a good, great process. These goals are best formulated by President Putin, whose speeches about Ukraine immediately went down in history, entered forever - because these were words that change the world. And yet - these were beautiful words, and beauty is an indisputable thing. I will try to name these goals and objectives as the development of the doctrine of the reunification of Ukraine with Russia, the work on which was started in the December eponymous article (the first part and the second part).
The reunification of Crimea is a model, a model, applicable to the entire South-East of Ukraine. There is already the right tool for this - federalization as a key concept. The Southeast is already boiling and revolting, the result of this boiling should be new centers of new power in this primordially Russian part of Ukraine, and they should be formed as quickly as possible.

Russia made it clear that if NATO troops appeared in Ukraine, Russian troops would be deployed there, and not only made it clear, but prepared for it. Therefore, there is a hope that NATO troops in the South-East will not have time to appear. And with the Bandera gangs, no matter how beautifully the temporary workers in Kiev call them, our compatriots will cope on their own, if they do not interfere, and very quickly, if you help.

When federalization becomes as historical a fact as the reunification of Crimea, the new subjects of the Ukrainian federal republic will reunite with Russia quickly and painlessly. The issue of the center of Ukraine and Kiev today is unclear in terms of time, but clear in essence. Nobody will give Kiev to Bandera, either, the Kievites themselves, who are more than three million, will not give it up. Therefore, the temporary clique of cripples in Kiev will face the final episode of life under siege in the same buildings in which they persecuted Yanukovych for months - and they will be besieged not only from the East, but, perhaps, from the West.

Perhaps, after the reunification of the South-East, the Center and Kiev will exist for some time together with the West of Ukraine as a failed buffer state, but this cannot last long. Because the West is already being torn apart. And soon enough the Poles, Hungarians, Romanians will tear them apart to the applause of the narrow-minded Europeans. Therefore, the buffer central-western state of the non-reunited Ukraine may collapse before it can take shape. And then, within the framework of federalization, the subjects of the Center and Kiev will make their sovereignly predictable choice.

I believe in justice. Including the justice of history. First, an orange plague, then a brown plague came to Ukraine from the Westerners, which means that the Westerners will have to drink the cup of sorrow to the bottom, eat the porridge that they cooked for themselves, and only then remember which uncles and aunts forced them to do all this, what they promised.

Western Ukraine is already claiming the role of a new Kosovo, which cannot please anyone in Russia, Ukraine or reasonable people in Europe. This is a double-acting bomb. But this is the harsh reality. No one will again evict the Probander population to the Urals and Central Asia, as was done in the 50s. Where, by the way, this population took root well and even flourished, forgetting about the dark Austro-Hungarian past. There are no such instruments today. In addition, the ZOPA will try to have time to deploy its troops and bases in Western Ukraine, and a new Bondsteel in the Lviv region is not excluded, no matter how sad it may look.

Russia needs to fight to keep NATO out of Western Ukraine, but how real this task is today is unclear. But it is clear that the ZOPA will do anything to control this cherished place where gas pipelines and oil pipelines from Russia enter Europe. It is quite possible that a powerful fortified border will have to be created around Western Ukraine, beyond which there will be enemy troops, and the ZOPA will seek to send its European vassals to these dangerous borders - Poland is the first in line. That is, the enemies will not be very serious. But still enemies.

How much time does Russia have to continue and complete the reunification? Very little. Russia cannot hesitate and slow down this great process of the revival of the Russian World, there is no time for reflection, there is only time for correct, thoughtful actions.

Separately, I want to say about the victory, which has already happened. Russia began to win in the information war in Ukraine. And I am convinced: this is not only the beginning, it is already a radical change. As it happens in Russian history, suddenly an army of information warriors appeared from nowhere, which began to smash a shocked enemy. I want to emphasize, nothing like this has ever happened.
A fragile intelligent woman who hosts a television program with an incredible rating, a high-level boss, suddenly flies to Kiev on the Maidan and gently, elegantly puts Klitschko, who looks like a mastodon, in a puddle in front of the camera, who does not understand the essence of what is happening at all. Dozens of Russian reporters under bullets showed the world a fair, truthful picture of what is happening - they continue to show it, despite injuries and losses, and this in itself became one of the main factors of victory. These are heroes of a new kind, a new generation. They should be proud of, they should be rewarded.

In Russia, there is a lot of talk about the information blockade on the part of the European and American media. This is actually an unprecedented form of censorship, when, when Putin's speech is broadcast on the Czech channel, they suddenly cease to translate what they don't like - which, by the way, caused a scandal in the Czech Republic. But this inevitable blockade has already been succeeded in breaking through in places, now is the time for such a breakthrough optimally: Europe is suffocated by ominous military propaganda from its own mainstream, and, as in Soviet times, everyone listened to Voice of America, so now Europeans are drawn to Russian The media, because only they give a clear explanation of what is happening. But this is a topic for another discussion ...