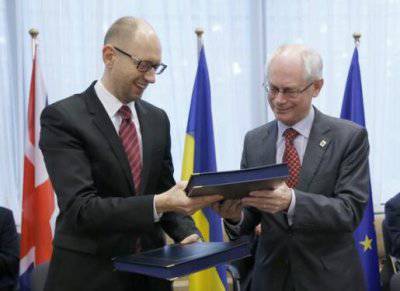 In recent days, a lot of very different promises from all sides. And some may begin to euphoria from the "brilliant prospects" opening up for Ukraine after the "European choice". Especially if you only watch TV (where today they are broadcasting exactly the same picture and one "only correct" opinion) on all channels and not getting to know other sources.
In fact, all the "manna from heaven" that the West is going to shower Ukraine with is expressed in as much as two billion dollars from the EU (of which one personally Yatsenyuk personally) and one billion dollars from the US (of which 80% is already distributed to the army).
What is enough of this money? For the month of plugging holes in the budget in the normal mode (with fully collected taxes and fees throughout, including in the South-East).
In such a scenario, of course, no development or restructuring of the Ukrainian economy and industry into European standards is, of course, out of the question.
Moreover, if we take into account that approximately 40% of Ukraine's needs in various goods are covered by imports, by allocating this money, Europe largely lends to its own producers (or provides interest on previous debts).
What gives Ukraine the signing of the "political part" of the association agreement with the EU? Nothing at all, because it was originally an economic agreement, which is also deeply unprofitable for Ukraine (and even Yatsenyuk, after more than a year of lies about its usefulness, was recently forced to admit it).
Yes, in theory, customs fees are removed in a number of ways. But in exchange, quotas are introduced where they have never been born, including in strategic areas for us - for agricultural products, for metallurgy, and so on.
Yesterday we were enthusiastically told on TV that after signing we will have high quality standards for jewelry. I'm so happy! 90% of the population is so happy! They suffered so much from poor quality jewelry! But GOSTs are removed in the food industry, and now they can poison us with the most dubious poison. In the words of an Italian cook, reading the composition of Ukrainian ketchup, "Tomatoes 18% means 82% - chemistry." And whether more will be.
Few people noticed, but the "interim government" has already driven to the Crimea. In the rhetoric "this is our land, we will return it," and in some statements there are already transparent hints to the Russians that "it would be nice to get compensation for the property," and even approximate calculations how much you can bargain for. Attempting to get at least some compensation is commendable, but then why all this pretentious rhetoric? After all, they substitute the boys who serve there. If we have already passed, then let them give the order for evacuation and call the Russians for direct negotiations, and do not throw dust in the eyes of the whole world and the Ukrainian people, including.
However, they will not receive any compensation. And again, as usual, because of their stupidity, servility and thoughtless execution of orders of Western masters. How much did they work out the order and asserted about the denunciation of the Kharkiv agreements? And now the Russians actually do not need these agreements, and they say, "Okay, you have demanded for so long - we denounce." And Ukraine should still be on the order of 11 billions of dollars for gas consumed during the contract (well, and in the future gets a higher price).
That is, even if the interim government agrees on some kind of compensation for property in Crimea (which also has doubts), they still will not receive the money - these amounts will simply be removed from debt.
Moreover, note that the current Minister Sold 20 March, he said that Ukraine is ready to pay a higher price for gas! Nobody for his tongue pulled. And this is despite the fact that at the price with a discount NAK Naftogaz owes a round sum of money, and the cat wept for gold reserves (data about their size have not been updated since the beginning of the year, which hints at the deplorable situation).
I would say that pockets with holes are not cheap ponto, because it is too expensive. But who will listen to me?
The total "account" of currency requirements until the end of the year looks like this:
- payment of debts for gas - about $ 2 billion;
- purchase of energy carriers - from $ 12 billions (after the cancellation of the Kharkiv agreements it may be more);
- current payments on state debt of the order of $ 7,3 billion;
- compensation of the negative trade balance (excluding energy) of the order of $ 8-10 billion;
- Also, the currency is needed to ensure payment of corporate debts (these are not state debts, but they also need to be provided with currency).
But even without the last item, we are accumulating the amount of necessary foreign currency about 30 billion dollars. It's just to stay afloat. And the latest data on foreign exchange reserves talked about the amount of approximately 15 billions, that is, less than half. In light of this, the talk of two billions from the EU looks just like a mockery, like the famous 6400 euro aid from Hungary - look, don't spend it all at once.
Yanukovych, by the way, with all his negatives, received from Russia the very missing 15 billions that would allow Ukraine to at least extend another year. But where will the "interim government" take the money? This science is unknown.
And yet, if the draft law "On ensuring the rights and freedoms of citizens in the temporarily occupied territory of Ukraine" by Sergey Sobolev is adopted in the second reading, this automatically terminates any economic relations with Russia, that is, Ukraine loses the largest export market for products of about 18-20 billion dollars. Who benefits? Certainly not Ukraine.
In addition to the need for currency, we also need hryvnias. Only for the sowing campaign it is necessary to allocate about 40-50 billion hryvnia for short-term loans to producers for fuel, the purchase of seeds and the repair of agricultural equipment. Well, remember about the ill-fated budget, and we see there is a common hole in the amount of 83 billion hryvnia. No cosmetic savings can solve this problem.
There was also a bunch of new "experts" on the TV, and everyone in a different way claimed that we have a type of completely "ineffective" state property that needs to be sold urgently. As I always write, property is not effective or inefficient; only management can be such. And if state property is poorly managed, then you need not to sell it, but simply to change the management. Including, at the highest level.
When these "experts" are asked, what kind of property is this, of which there is a lot and which needs to be sold, they lower their eyes and quietly say "land". That's right, we will sell the land to foreigners (and the local people have no money), and then they will definitely "enter on our side". In reservations.