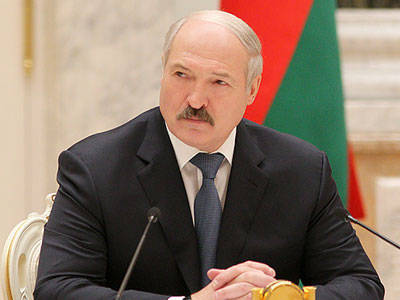 Belarusians, like Ukrainians, cannot have a positive attitude towards neobanderovets who consider themselves descendants of those who destroyed the Belarusians and Ukrainians, serving themselves to the Nazi occupiers. On this 23 March in Minsk, said Alexander Lukashenko, a REGNUM correspondent reports.
Lukashenko noted that after a violent anticonstitutional coup in Ukraine, "different people" came to power, including "professionals" and "screamers". Many of them consider themselves to be the heirs of the ideas of Stepan Bandera and the traditions of his ideological followers from the "Ukrainian Insurgent Army" (UPA), about which Belarusians and Ukrainians have the worst memories. Lukashenko said that even before 1917, cells of Ukrainian nationalists and UPA combat detachments were created, which showed themselves during the Great Patriotic War as Hitler's minions who were carrying out tasks to destroy the civilian population in Belarus and Ukraine.
"I recently requested materials for this, in order not to look like an absolutely amateur and a man who succumbed to Soviet propaganda at the time. Some of the so-called politicians who are now in power and in power in Ukraine call themselves" Bandera's heirs ", UNA-UNSO, UPA -" Ukrainian Insurgent Army "," Organization of Ukrainian Nationalists ", which operated before the revolution. It turns out they were created, these cells -" Organization of Ukrainian Nationalists ", and then the fighting squad - UPA, in 1929 year in Polesie , in the north of the Ukrainian Polesie, "said Lukashenko, telling about
stories
Bandera and their attitude to their ideological heirs in Ukrainian politics. "Then they extended their influence to all of Polesie, and by the end of the war the militants of this organization turned out to have operated up to 15 thousand. This is already a decent army, and not one. How they behaved - you also know. I will only give one example - Khatyn. "
"Yes, in Soviet times it was not customary to discuss, investigate - who was there, how, but then we figured out that the representatives of these" rebels "who were formed at that time were engaged in dirty business, and not only in Khatyn. in Ukraine. They burned a lot of our people - including Khatyn, on the territory of Belarus, and not only - probably enough for Ukraine, but most of all they were outraged on the territory of Belarus. And it eliminated this rabble, it turns out, only in 50's years, 1952-1953 year, last removed, which acted on Lesie is already like loners. They have destroyed thousands of our people! ", Lukashenka stressed.
"Tell me: if people who today are in power in Ukraine associate themselves with these nonhumans, which Belarusians have, should this be relevant, and not only Belarusians? Corresponding," he added.
Lukashenko recalled his service as a political officer in the border troops of the USSR (who were subordinate to the KGB) and business trips to the Lviv frontier detachment, where his "first contact with the Westerners" occurred. According to Lukashenko, people in Western Ukraine are hardworking and decent, and their hostility is brought up by politicians and the media. Lukashenko stressed: "Freaks, renegades, bad people - we, in Ukraine, in the West - are even more, there is enough everywhere."
As REGNUM news agency reported, a coup d'état occurred in Ukraine in February - the pro-Western opposition came to power, whose representatives openly call themselves followers of the ideas of Nazi Stepan Bandera. The "euromaidan" militants hung portraits of this figure in seized state institutions, and in the Western regions Bandera is honored at the official level. A number of deputies and many representatives of the "new government" formed by the rebels, recognized by the European Union and the United States (but not recognized by the south-east of Ukraine and Russia) call themselves followers of the ideas of Bandera. Many EU politicians, including German Bundestag deputies harshly criticized their governments for supporting neo-Nazis and fascists in Ukraine.