French Defense Minister Jean Yves Le Drian, speaking at 19 March 2014, at the conference of aerospace and defense business circles organized under the auspices of the French newspaper Les Echos, said France is considering two universal Mistral amphibious ships under construction for Russia as unarmed civilian ships , and it is too early to say that the supply contract may be canceled due to the crisis in Ukraine. About this newspaper "DefenseNews".
"We supply civilian corps," said Le Drian at the conference, "This is a reality. Then the customer can arm these two ships. We have to place an order that is not armed within the framework of the signed contract."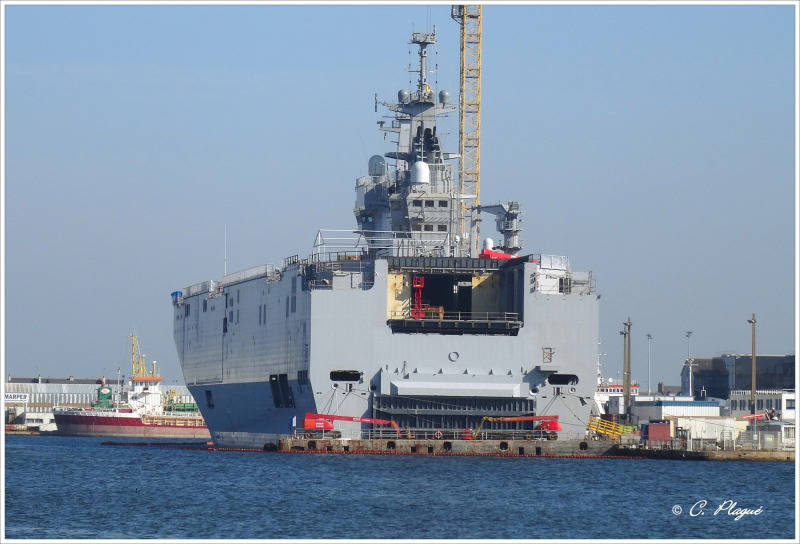 The Vladivostok helicopter landing ship dock, which is at the stage of factory running tests, is the lead ship of two Mistral-type ships ordered in France for the Russian Navy under the 2011 contract. Saint-Nazaire, 20.03.2014. Out-of-construction and equipment installation is continuing on the ship - compared to the well-known 5 March images, when Vladivostok made its first trip to the sea for testing, satellite antennas were added to the island superstructure (c) Christian Plagué / www.shipspotting.com
The termination of the contract for the supply of two Mistral-type ships will be a "last resort" that can be taken only if the "third tier of sanctions" against Moscow is adopted, said Le Drian.
"The heads of government and states [EC] should decide on three levels of measures [sanctions]," he said. "If there are industrial measures, they will be at the third level."
"Now we are at the first level. If there are industrial measures, they will be at the third level. The second level is military [sanctions]," Le Drian said. "We'll see how the situation develops, but [third level and contract cancellation] - this is an extreme measure. "
"The delivery of the first ship will take place in October, so the question of suspending the delivery will be decided in October," added Le Drian.
Earlier, 18 in March, the trade unions of STX France in Saint-Nazaire, on which both Mistral-type ships for Russia are built, warned the French government about breaking the contract for these ships, pointing out the negative consequences such a measure could have on employment. The newspaper "Les Echos" in this regard reports that this contract with Russia provides about 1000 jobs in France, including about 600 - in Saint-Nazaire.