Efforts to deliver increasingly sophisticated systems to deployed units led to an increasing flow of electrified applications that rushed from the combat laboratories to the battlefield and contributed to the fact that standardization and unification of the power systems are no longer determined solely by commercial components.
The objective of the American Army's TARDEC Armored Research Center is to promote industrial partnerships regarding the commercialization of electric military technologies and to promote unification between the defense and domestic markets. (Further, electrical technology - various devices and methods of generating electrical energy)
Technologies of lithium-ion and other advanced batteries began, for example, as army investments in technological storage solutions for combat vehicles. According to TARDEC, the current level of component unification between military and civilian trucks reaches 65 - 70%.
By 2020, vehicle upgrades and the development of new systems will lead the list of capital-intensive defense investments, and they will increasingly integrate electrical technology. Ground combat vehicles are in R & D the category in which they are actively seeking to transfer from internal combustion engines (ICE) to hybrid (HEV) or all-electric (EV) engines and transmissions.
Applications for building an army network structure, such as, for example, the American Army's forward-looking intelligence gathering program — the automated system for collecting, processing and distributing intelligence information DCGS-A (Distributed Common Ground System), the Army Joint Battle Command - Platforms (DCGS-A or Blue Force Tracking) or the soldier information system based on the NETT WARRIOR tablet, will also require the constant development of electrical systems in accordance with the principle of defense funding "readiness at the best price."
Powertrain vehicles
Integrated powerplants for military ground vehicles have become a key element of next-generation projects. Requirements for promising vehicles, for example, requirements for machines under the American programs JLTV and GCV not only improved the ballistic protection and chassis security against IEDs, but also improved crew ergonomics and operational control capabilities. These components, in turn, require improved vetroniki (vehicle electronics). The ability to perform its tasks in the future means that the engines, transmissions and power distribution systems of promising infantry vehicles will become increasingly electric.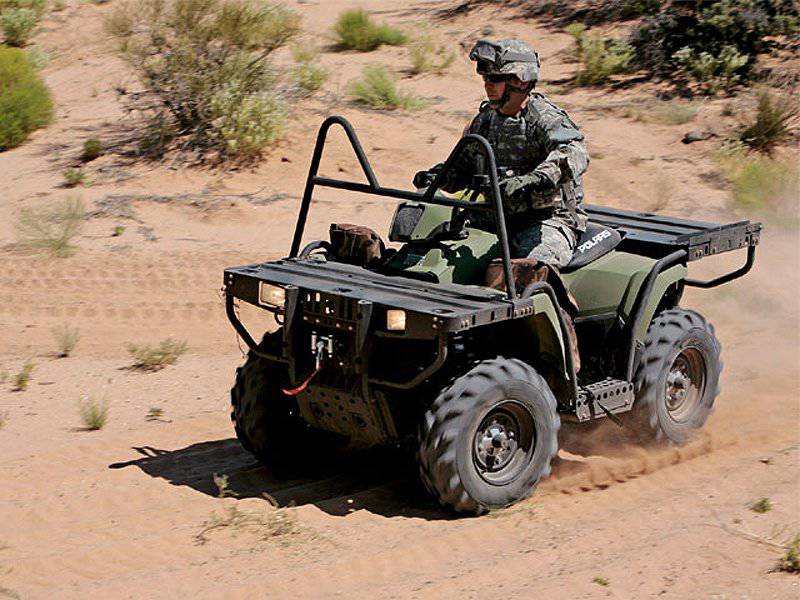 The MV800 4 x 4 ATV ATV from Polaris Industries
After installing the PATRIOT engine in the 2007 year, featuring electric direct fuel injection, on their MV800 4 x 4 ATVs, Polaris Industries focused on the development of hybrid electric powertrains for its line of military and sport SUVs. PATRIOT engine of 760 cm3 and HP 40 power. It was originally developed in collaboration with the Australian firm Orbital and was intended as a hybrid concept that could give almost twice as much horsepower as compared to traditional diesel engines. The PATRIOT engine uses direct spark ignition technology, it works not only on standard STANAG and MIL-STD JP5 fuels, but also on conventional gasoline and conventional diesel fuel of American standards.
According to a two-year contract worth 449,9 million, issued to the BAE Systems and Northrop Grumman development team in 2011, QinetiQ will supply EX-DRIVE transmission systems for that part of the technological development phase of the GCV program for which BAE is responsible. QinetiQ is a supplier of basic transmission technology based on its hybrid electric drive system for the GCV prototype machine. The main features of the EX-DRIVE system is the elimination of the mechanical connection between the engine, chassis and transmission through the use of electrical subsystems. This allows you to swap the position of such key components of the power unit, such as engine and transmission. There is no need for a linear scheme, increased flexibility in the choice of energy sources and their placement in the chassis of the machine. These configurations also allow the use of promising and non-standard sizes of fuel cells, batteries and other energy storage systems.
Another contender for the GCV project is a team that is headed by General Dynamics as the main contractor and includes its partners Lockheed Martin, Detroit Diesel and Raytheon.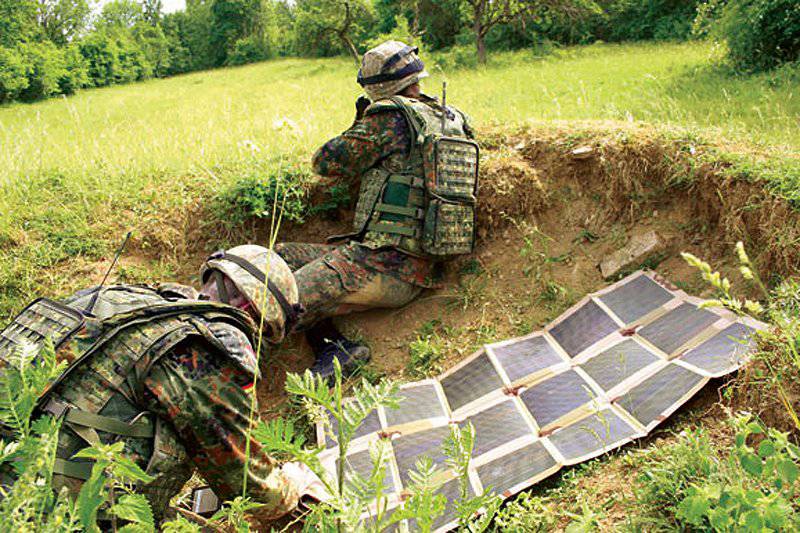 A wide range of military batteries and tactical chargers from Bren-Tronics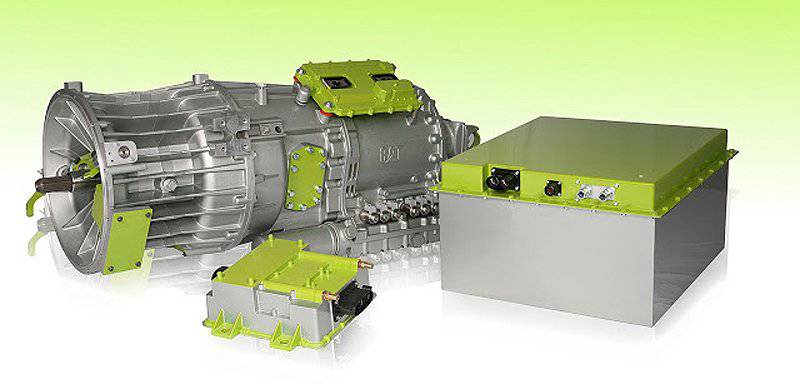 HYBRIDRIVE from BAE Systems
BAE Systems has developed its own HYBRIDRIVE propulsion system based on a diesel engine, a generator, an electric motor and an energy storage system. They are connected to a digital control system, which is similar to EX-DRIVE, simplifies the design decision to disconnect and allows you to place the components of the power circuit anywhere. In fact, HYBRIDRIVE power plants completely exclude such a system as a transmission, as in the Oshkosh PROPULSE drive (described below), a recuperative braking system is used in which the drive engine itself slows down the machine and at the same time supplies a portion of the charge to the energy storage system.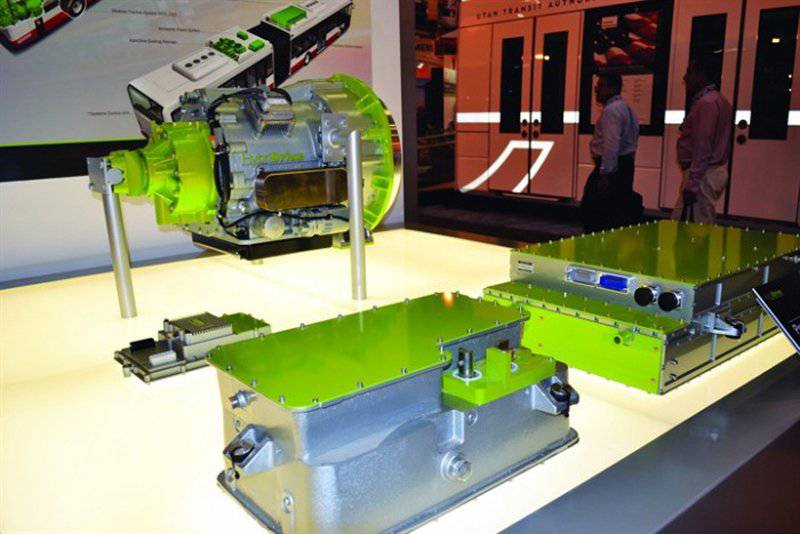 PROPULSE by Oshkosh
The PROPULSE drive, installed on HEMTT A3 Oshkosh trucks, has a modular hybrid powertrain circuit that separately supplies power to the special motors of each differential. The diesel engine drives an 335 kW electric generator, which directly transfers electricity to the wheels. It is argued that the system eliminates the need for a torque converter, a transmission, a transfer box and a drive crankshaft, and at the same time has an increased efficiency and fewer moving parts.
APD (Autonomus Platform Demonstrator - stand-alone demonstration platform)
Quantum Fuel Systems Technologies' Q-DRIVE system is a similar solution based on a highly efficient interchangeable powerplant architecture. The Q-DRIVE system is also distinguished by its modularity, which allows you to get various alternative layouts of components in the car and change the chassis design. The TARDEC-sponsored prototype patrol car, designated CERV (Clandestine Extended Range Vehicle), is based on a Q-DRIVE power drive mounted on a light, low-lying chassis. This combination reduces acoustic and radar signatures that increase the stealth of the vehicle. As part of an earlier patrol vehicle program, AeroVironment, led by DARPA, developed a prototype for the US Marine Corps.
CERV is based on a new hybrid diesel-electric chassis. The 1,4 diesel engine with a liter is combined with an 100 kilowatt electric motor. The total torque of the power unit is just beyond the limit, almost 7000 Newtons per meter! Due to this, the car can overcome 60-degree rise, and the maximum speed of the buggy is 130 km / h. At the same time, the fuel consumption by 25% is less than the fuel consumption of a similar car with a conventional internal combustion engine.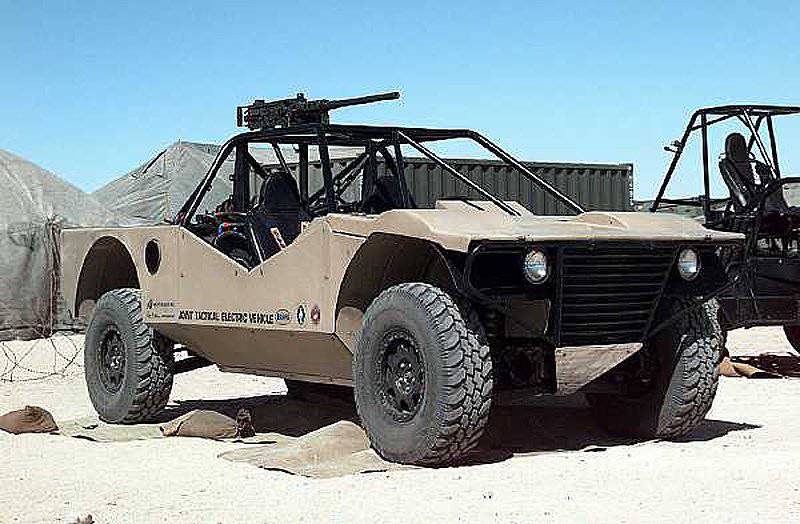 Joint Electric Tactical Vehicle (JETV)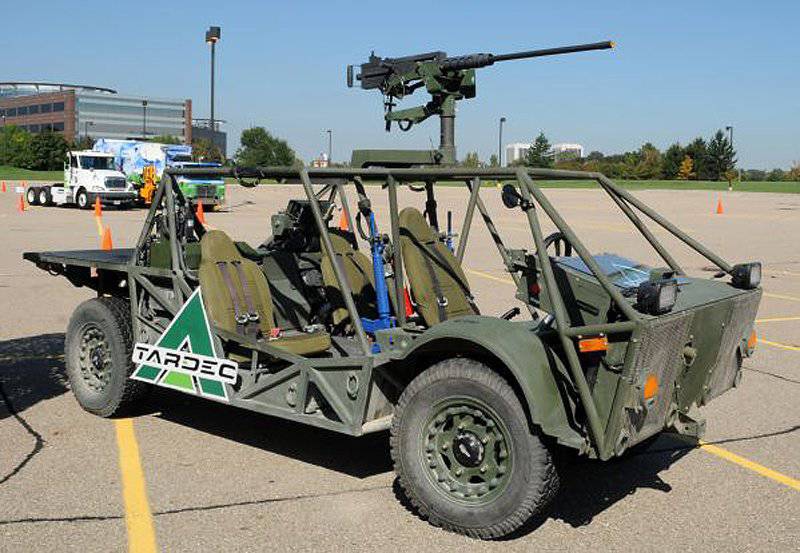 CERV (Clandestine Extended Range Vehicle) Extended Mobility Vehicle
APD (Autonomus Platform Demonstrator - autonomous demonstration platform) is a fully electrified armored prototype of a ground mobile robot. Tests of both CERV and APD prototypes are planned in the new army laboratory of power and energy, which opened in April 2012 of the year, as part of the so-called GVSET (Ground Vehicle Systems Engineering and Technology) initiative carried out by the TARDEC armored center.
Bren-Tronics is a major manufacturer of military batteries and chargers, which supplied 1 000 000 lithium-ion batteries and 100 000 chargers to armies around the world. The company is a major player in this area thanks to constant research and constructive upgrades, it provides the soldiers with the latest technology to guarantee safety and the best performance.
Since 1973, Bren-Tronics has set standards in the field of portable power supplies delivered to the US aircraft. As one of the manufacturers of battery systems, the company supplies the armed forces with primary and secondary batteries, portable and portable chargers of military standards, as well as cables, connectors and adapters. It produces military lithium-ion batteries BB-2590 / U (see photo) with built-in system control bus, which simplifies connection to the basic equipment.
Installed on a vehicle or on foot, the EMILY 2200 power source from SFC Energy operates silently, reliably, for a long time, and there is no need for user intervention. The fuel cell device operates as a generator of increased reliability and supplies power, regardless of weather and climate, to mobile equipment, such as communications, navigation and night vision systems, and other onboard systems.
Fuel Cell SFC EMILY 2200
Auxiliary electrical energy
Advanced military machine concepts integrate power generation and power components into onboard systems. They also provide for the use of auxiliary energy sources during operation. Auxiliary energy sources provide additional power not only for important wind sensors (onboard automation systems for combat and work processes of combat vehicles), information exchange in motion and a multi-functional information and control system, but also provide backup power for crew protection systems, including fire extinguishing systems. The MERKAVA 4 MBT, for example, is equipped with an all-electrified turret, developed by El-Op (a subsidiary of Elbit Systems), as well as a modern SLA and the TROPHY active protection complex from Rafael. It is also notable for the upgraded V-12 diesel engine, which gives an increase in power of about 25% compared to previous solutions.
Military power generation and distribution systems exist in a wide variety of sizes, shapes and parameters, but they all play an important role in the operations of protecting and maintaining their forces, both in stationary and mobile versions. Portable ancillary power generation equipment (generator sets or APUs) has become a critical tactical resource in networked operations, heavily dependent on small computerized tactical devices and unmanned aerial, ground and submarine vehicles. They are also installed on mobile ground objects that are increasingly becoming overloaded with laptop desktops, servers, routers, switching devices and digital communications, they also provide pre-flight energy preparation.
aviation
systems.
Of course, we should not forget that even digitized fighters cannot shave in the dark, and such prosaic use as lighting, air conditioning and heating of military bases is also a powerful incentive for the delivery and deployment of power plants in the army.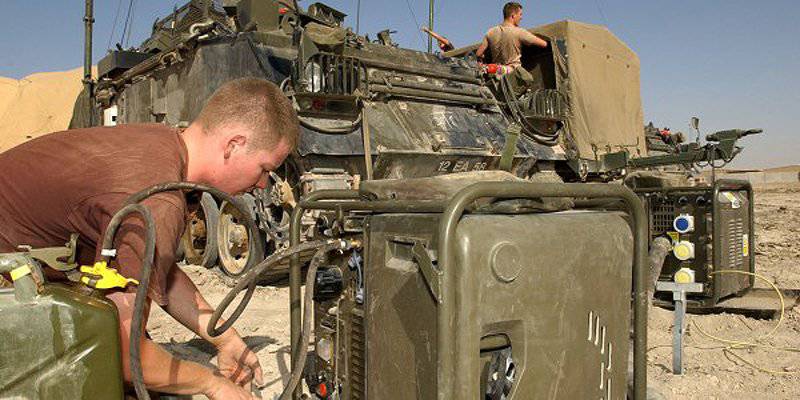 Rolls-Royce FEPS Generator Sets
Rolls-Royce's Distribution Generation Systems division produces a line of tactical auxiliary power units designed to meet the needs of future expeditionary forces operating in harsh conditions, including serving the supply of ever-increasing complex electrical power for network-centric operations and troop protection. Rolls-Royce combat portable power generators are optimized for use as a heavy duty APU. This company's generator set FEPS (Field Electric Power Source) uses permanent magnet alternator technology. These digitally controlled generators generate energy with adjustable rotational speed, they can operate in harsh environments, at extreme temperatures and altitudes. These generators also significantly reduce the amount of logistics or logistic load.
The company Dewey Electronics supplies tactical diesel generators for the US Department of Defense. In these portable generator sets, the diesel engine, electric generator and energy storage systems technologies are combined; they have improved acoustic, thermal and electromagnetic protection in order to reduce various types of radiation in combat conditions. They are also extremely light, Dewey calls its tactical generators 2KVV the lightest portable alternating and direct current diesel generators in all US military assets.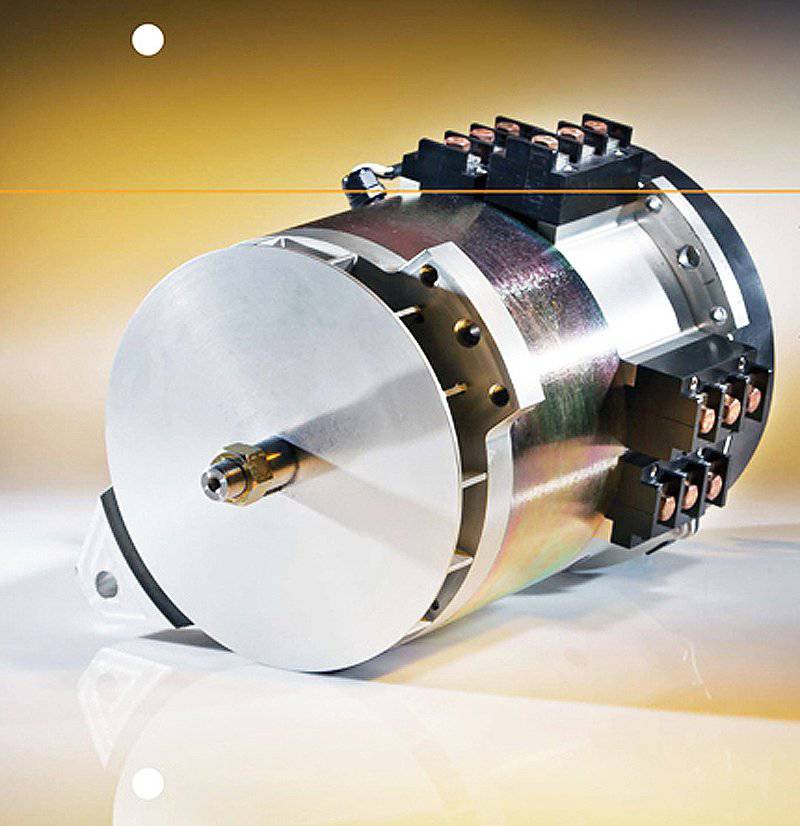 CRUX generator from Exelis
According to reports, CRUX generators (Create, Regulate, Utilize, eXport — create, adjust, use, export) from Exelis operate continuously for up to 8 hours on less than one tank of diesel fuel in harsh desert conditions. It is reported that the extended model range of such products is the first generator sets that supply military vehicles with the amount of energy of the towed generator with a small logistic load of a traditional alternator.
G&M Power Plant, which supplies generator sets to the UK Department of Defense, manufactures power equipment with an output of 40 kW to 2 MW and supplies standard and custom equipment to end-user specifications.
Tactical batteries
Since much of the tactical energy is generated by batteries, this part of the electricity supply chain is also a topic of ongoing R & D conducted by military equipment suppliers. Batteries are also the key to combat, including tactical robots and communications equipment; their importance and use may increase in programs for a prospective soldier, such as the SOLDIER WARRIOR (SWAR) part of the GSE (Ground Soldier Ensemble - ground soldier outfit program), where the proposed electric weapons and robotics, such as exoskeletons and robotic pack mules like the concept SEGMULE from QinetiQ USA (formerly the Applied Perception initiative for the Marine Corps) could play an important role in significantly increasing the combat capability of an individual infantryman.
While the possibilities of future defensive systems of vehicles using electric armor and reducing signatures using electric fields are being discussed, these possibilities (regarding energy consumption) can also be quite applicable at the infantry level. Prototypes of soldier exoskeleton are being tested, for example, the American HULC system and the French electric HERCULE (the first one is being tested for the infantry component of the US GSE program).
Next-generation R & D includes the development of a structural battery technology, for example, BAE Systems invests great efforts in their development. As its name implies, structural battery technology integrates battery power directly into the architecture of electrical and electronic systems. This may seem less obvious, but research on structural batteries is part of the development of structural armor, in which microprocessors are directly integrated into smart boards to provide such data as environmental monitoring or intrusion detection.
By integrating power supply from batteries with other components, this technology promises a reduction in the total mass of systems and logistical constraints when supplying batteries, chargers and adapters to the front line. Being in the early stages of development, prototypes, however, have already allowed for the incorporation of structural batteries, based on what BAE describes as "chemistry of nickel batteries" and operating for decades (as opposed to lithium battery life measured over years), in such composite materials , such as carbon fiber and glass-plastic, where they worked as energy sources for UAVs.
After development, such batteries can operate the entire life of the platform with a significant reduction in weight, function in tandem with solar panels and together form a single self-sustaining power supply for advanced soldier systems and tactical robotics. In the near future, however, high-voltage 4 kW batteries, originally developed by Saft for BAE hybrid ground manned vehicles for the currently closed American FCS program, will remain within the framework of the ongoing programs on electric vehicles and soldier technology.
Bren-Tronics, a global manufacturer of advanced portable power systems for military systems used by the United States, NATO and government agencies around the world, uses modern engineering design, the best ready-made components and the most capacious fuel cells. These additional portable charging systems are in high demand, they are worn by soldiers around the world.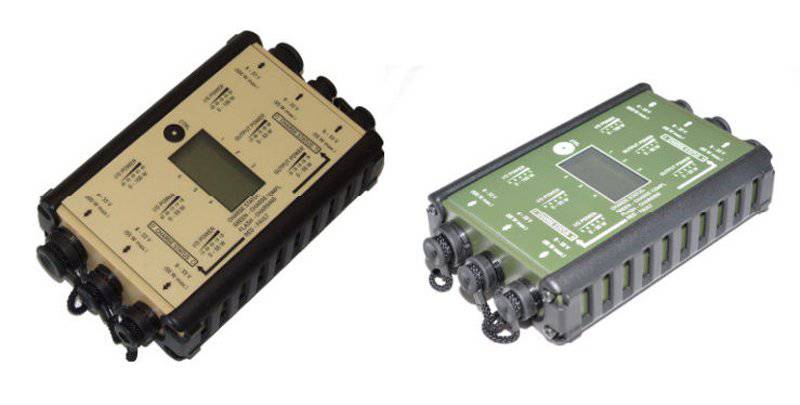 SFC Power Manager 3G
By combining intelligent energy solutions JENNY 600S and SFC Power Manager 3G (pictured) from SFC Energy, a highly efficient energy system is developed. JENNY plus SFC Power Manager will recharge several batteries and power the power equipment at the same time. The SFC solution creates an energy system that has maximum power and functional flexibility with a minimum mass.
Whatever the future may be, today's tactical batteries and chargers are quite complex, this is clearly indicated by the rechargeable batteries of the American Army's power management and the programs under the guidance of the Marine Corps's power offices. Extended manuals defining in detail the operation, management and destruction of portable soldiers' power systems, chargers and device adapters for key combat systems are published, which include SINCGARS radio stations, AN / PVS night vision devices, DRAGON night sights and programmable AN / PRC radio stations (these examples by the way include in standard equipment of the American army).
Army Ground Power Systems Laboratory (GSPEL)
If the Pentagon's predictions that one-third of all combat systems will be automatic by 2015, are true, then ongoing investments in the development of electrical technologies to power and control these systems should grow exponentially.
Prospective military equipment and equipment designed to meet the needs of ground-based expeditionary forces, such as Ground Soldier Ensemble (whose SWAR component plays an important role in exploring the potential of a soldier-machine interface), will become more energy-intensive as future capabilities develop. This led to the creation of new organizations to meet these needs.
In April, 2012, the TARDEC Research Armored Center, opened a specialized agency in Detroit. The main function of the Army Ground Power and Energy Laboratory (GSPEL) Ground Power Systems Laboratory is to oversee the development and production of power capabilities for an infantryman. Of the eight laboratories of this complex, the most important is the PEVEL (Power and Energy Vehicle Environmental Laboratory) laboratory, which conducts full research of prototypes of promising land transport systems. The Expeditionary Energy Systems Administration of the US Marine Corps is another American military laboratory of energy systems, while the engineering forces of the ground forces that are involved in building and rebuilding more than 400 electrical substations in Afghanistan and Iraq are the largest single provider (larger than all the others) ) electrical infrastructure for the entire American expeditionary contingent.
To a certain extent, the old saying that infantry is moving on its bellies is still true, except that this metaphor is not quite applicable to the bottom of the MRAP machine today, which is equipped with onboard systems that have an "insatiable thirst" in electrical energy. .
Materials used:
Military Technology
www.bren-tronics.com
www.qinetiq.com
www.qtww.com