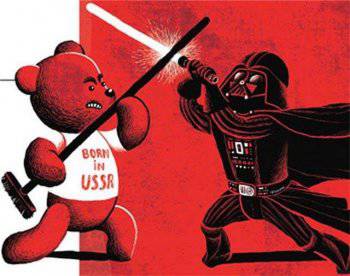 Events in Ukraine once again show how different we are. I used to be wrong in saying that we are the same - we are very different.
Russia is lagging behind the West in historical terms for the epoch, but right now it is great. When we had a traditional society (even in the times of the USSR), the West had a modernity that ensured its domination over the world. Now the West has moved into the postmodern, while we are moving into modernity. The events of 1991 of the year are a brutal break of the traditional society (traumatic, but usually it does not do without injuries) and the transition to a rational society of modernity. A society of logic, Enlightenment, a society where reason prevails over feelings. The West has already passed this; postmodern in many ways means a return to the norms of traditional society. The trouble of the West (and the victory of Russia if we take advantage of this) is that modern compared to postmodern is like a soldier compared to a hippie downshifter (in our terminology, lazy and parasite). There is no chance.
Western Ukraine has taken part in the West and is moving towards the postmodern, while at the same time skipping the modern era almost completely and not gaining capital, which will provide an opportunity to "rest on its laurels." After all, it was in the era of modernity - basically that social capital was built (roads, all types of communication systems, everything, ending even with parks and religious buildings), which allows Europeans to "live beautifully." Now Ukraine's transition to European postmodern means its eternal stagnation and the position of "European Africa."
What makes us different. I already wrote that in postmodern logic, symbols are more important than what they mean, the word is more important than deeds, political performance replaces real struggle, movement towards the goal is more important than the goal itself. Those who prepared the snow revolution in Moscow and put forward such a candidate as Lesha Navalny simply did not understand that postmodern recipes would not work in a country that lives according to the laws of modernity. Lesha Navalny refused to put forward a rational program and was rightly defined by society as a political clown. The swamp movement — the beginning of the struggle without a clearly expressed rational meaning — did not receive massive public support. Pussy Rayot held their performance - and were jailed with the consent of 75% of society. In modern society - the struggle can only go with clear, clear and openly set goals. By itself, the struggle not only does not attract, but is also seen by society as a threat. There can be no struggle "against power in general." You can not copy Europe! Much of what is happening there, is perceived as "with fat rage" - but they have fat! They made it just in the era of their own modernity. Without going the same way as they are, "skipping" through the era — we will secure for ourselves a national catastrophe as Ukraine provides for itself.
And in Ukraine, the exact opposite happens. Their logic of protest for us is completely incomprehensible: on the Maidan there is one who wants to go to Europe and one who wants higher salary — and they understand each other perfectly! Independence has no sane economic program in general-but has support. There is a performance in which a significant part of society participates. And they cannot stop, even seeing that we, in full compliance with rational norms, have already taken the Crimea and are now waiting for the development of events, having views of the entire Southeast.
And our problem is that there are postmodern islands in our country too - these are intellectuals and a significant part of the population of Moscow. And our task now is NOT to allow them to lead us to Europe by poor beggars and to go their own way. We must make Russia great. We must form a national bourgeoisie, a national political elite, a national financial and productive capital - and only then we must come to Europe. Most likely - the position of the country dominating the continent.
Glory to Russia!