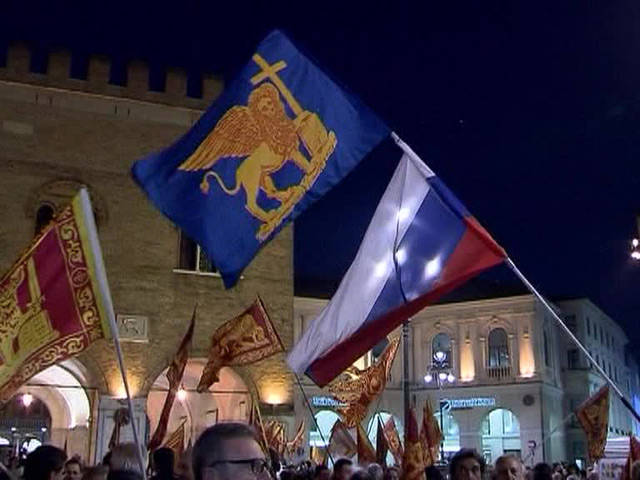 In the Italian region of Veneto, a demonstration is taking place in support of Russia's position on the Crimea. It was organized by the public organization "Government of Veneto", which is seeking the status of a sovereign republic for the region. The rally is held in the administrative center of the Vicenza region. The place for the performances was not chosen by chance: there are two US military bases there. On the eve of the inhabitants of Veneto in an informal referendum expressed a desire to secede from Italy.
A public initiative, from the point of view of Rome, is illegal, but no one offers another: the founding fathers of Italy promised autonomy to the region back in the 1862 year, uniting the country. But never before, judging by the turnout, the inhabitants of Veneto did not want to speak as they did today.
The border between Veneto and Italy is not so invisible. In the north, cleaner, richer, and no one will leave for lunch for 4 hours. The pride of the region - 6 of thousands of enterprises - the most reliable source of income for the entire country. Taxes - 70 of billions - Rome receives regularly, but returns the money back in a greatly reduced form. All that produces the north eats the south. "Stop feeding the lazy people," was the name of the voters at the polling station. Only this year, "tax slavery", as they say here, forced hundreds of companies to close and the most famous restaurant in Veneto, where they invented "tiramisu".
"What will we do with the results of the referendum? We will declare independence! And what does the state say about this? State? Yes, it does not matter, we will be guided by international law," said Gianluca Buzato, organizer of the referendum.
Serenissima - the brightest, the most glorious - the Republic was called so for eleven centuries. During the fall, its symbols were scraped off with a scalpel from all the walls, smashed, but these Venetian lions are still thousands throughout Veneto.
It has its own unique system of government: Senate, Grand Council, Doji. What was the Republic, here not only remember: 8 from 10 Veneto residents speak Venetian.
"What does it mean to feel like a Venetian? You need to be born here to understand! This is our identity, our language,
historical
memory, our republic was the first democracy. How can this be forgotten? "Said Luke Zaya, Governor of the Veneto Region.
The governor of the region, Luka Zaya, also voted for independence, but his voice weighs as much as the rest - nothing. To hold an official referendum, you need a law. And in Italy it can take years.
The referendum results will be announced in three hours on the main square of Treviso. The majority will say yes, there can be no other result. The 150 years of Veneto are part of Italy, but the 5 of millions of people still feel special.