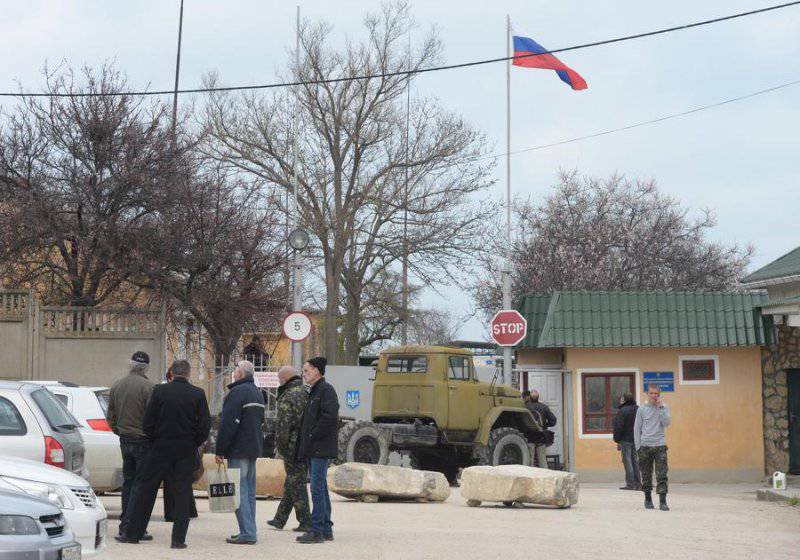 According to the official report of the Ministry of Defense, today, out of more than 18 thousand Ukrainian servicemen in the Crimea, less than 2 thousand have wished to leave.
The national flags of Russia have so far been raised in 147 military units and institutions of the Ukrainian armed forces on the territory of the peninsula. The garrisons held solemn ceremony of building personnel. Raising the flags of the Russian Federation was accompanied by the performance of the national anthem.
To date, St. Andrew's flags of the Russian Navy have been raised on 54 from 67 ships of the Ukrainian Navy, including 8 warships and 1 submarines. Today, the only submarine that previously belonged to Ukraine began relocating from Streletskaya Bay to Yuzhnaya Bay, where the division of the underwater forces of the Black Sea Fleet is located.
Meanwhile, a company of Ukrainian paratroopers, previously deployed from Dnepropetrovsk to reinforce the 36 coast guard brigade, freely left the territory of the peninsula. To the border of Ukraine, she was accompanied by two armored vehicles of the Russian army. Currently, according to Kryminform, the Ukrainian soldiers from the 36 brigade, who agreed to conclude a contract with the Russian Federation, change the insignia to Russian.
Earlier, the authorities of Crimea announced the nationalization of all state property in the peninsula. This category includes ships and coastal units of the Ukrainian Navy.
Recall that 16 March in Crimea held a referendum on the status of autonomy. More than 96% of those who voted expressed that the Peninsula was part of Russia. Two days later, 18 March, the parties signed a corresponding agreement. Yesterday, Vladimir Putin passed a law on its ratification and the entry of Crimea and Sevastopol into the Russian Federation.