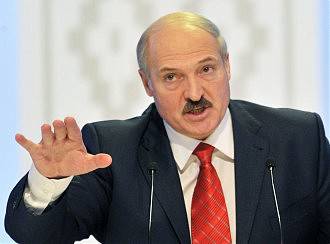 Belarus will respond adequately to the strengthening of NATO forces near the Belarusian borders, said President Alexander Lukashenko at a meeting of the security council on the preliminary results of the first stage of the combat readiness of the country's armed forces.
"We have recently, and this is a fact, we are witnessing an escalation of the conflict. This escalation is no longer happening in Syria, not in Libya and not in Iraq. This is already at our borders. This already affects our interests, and we, like mice under a besom, have no right to sit, "A. Lukashenko said.
"But I emphasize once again: we are not going to not only raise the hubbub, but also fuss. We will respond to all appropriately. If NATO decided for itself, together with the Americans, to build up an air force grouping near our borders, should we observe this? If they transferred to Lithuania an additional half a dozen fighter-interceptors or some other aircraft, and they operate at our borders, we act adequately. Already acting. The Minister of Defense received such an order a long time ago, and, as he reports to me, it is being fulfilled, "the president said.
As A. Lukashenko noted, Belarus and Russia in the western direction have a joint grouping of troops. "This is an agreement on the Union State between Russia and Belarus. This group has an action plan, including an action plan for such cases. This is not a military conflict, not a war, we have nothing to declare mobilization here and bring all our armed forces into combat readiness. But at that moment we have an adequate response to the plan. And this is an obligation not only of the Republic of Belarus, but also of the Russian Federation, "said the head of state.
"We absolutely do not hide anything. Today I want to entrust the Ministry of Defense (we have been working on these issues before this incident, knowing that anything can happen) to activate the appropriate plan, "A. Lukashenko said. - We are still talking about the fact that, since they are conducting exercises near our borders ... We have been conducting an inspection of the armed forces for a long time, even before this conflict. The first stage is over. The Secretary of State will now report on the results of the first stage. Remains the second stage. I think it is in place for us to carry out the second stage of the verification of the armed forces and, as part of this inspection, to deploy, if necessary, additional armed forces and conduct the corresponding exercises as our neighbors do in Poland. "
"Today we will take appropriate measures. Moreover, we do not need to mobilize the armed forces. Absolutely not necessary. We have enough parts in this situation that, if necessary, are in the stage of immediate response, we can immediately deploy, they are fully equipped. Therefore, we do not need to make any additional appeals. We will do this, if necessary, in a planned manner, but we still have quite a few people under arms in the troops of the Ministry of the Interior. We again should not hide it, these are military people, highly trained. If necessary, we will use them, border troops, as we always do, and work out joint actions. Here is an algorithm of actions that I set up as commander in chief in front of our people in shoulder straps, "the president concluded.