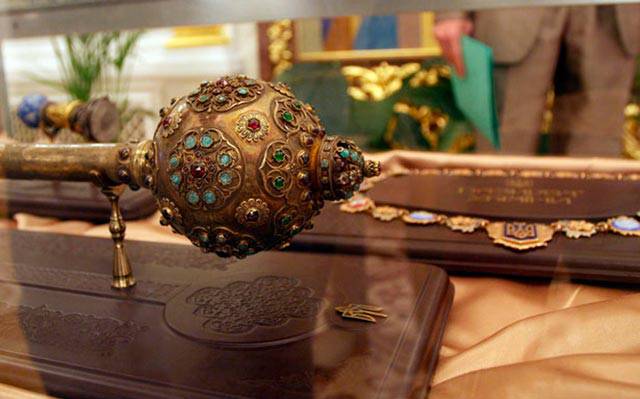 Well, at least something positive in the flow of sad information about life in Ukraine. The leader of the Batkivshchyna faction in the Verkhovna Rada, Sergei Sobolev, seemed to have been torn away from personal participation in the insemination of cattle and called on to engage in no less fascinating business - voicing shefini's plans. That is, roughly speaking, Yulia Tymoshenko, who, having thoroughly studied the rules and driving skills of a wheelchair at the Kharkiv railway workers' hospital, and then along the maidan, now learns walking with a cane with no less enthusiasm.
The lowering of the status of the utility vehicle is due to the fact that Yulia Vladimirovna is recovering in the most miraculous way. She went to the Charite clinic in Berlin, and a group of German comrades headed by a man with a resounding name Einhopl once again swore to Hippocrates that freedom does wonders. And that the ridge of the prisoner of conscience, utterly twisted by an anti-popular junta, is practically healthy. He does not need an operation, about which, another scholar of prison medicine, lawyer Sergey Vlasenko, smearing borscht, then brilliant green, all over the world, was smeared on his cheeks. Life was a success with man. With the fall of the junta, he finally defeated his ex-wife Natalya Okunskaya in fair and incorruptible Ukrainian courts and robbed her to the top (with the junta, the same honest and incorruptible courts passed verdicts in favor of Okunskaya). And now the "mother" is free and recovered - no need to hide in the showers ...
But let's not talk about the sad past. Let's talk about a merry future. And it is in such a scenario, I assure you, guaranteed. Sobolev, not without sadness, remembering unpatched cows, told Ukrainian humanity that the hour is not far when it can rejoice from unprecedented, but so long awaited happiness - "Won yde to prezidants". Or "ne yde". "It will be a public statement by Yulia Vladimirovna, I think, just a few days ago. Moreover, we are planning a congress. It is likely to take place next week, at the end of next week. Now the date is determined, "said Sobolev. And fiercely went over the grooves, remembering a forgotten collective farm barn, where a knowledgeable person can find so many joys ...
Why such uncertainty with slowness? Yes, because Tymoshenko may still not go to any presidents. And there are many reasons for this.
First, the
Why should she, if her party already has (in the best sense of the word, Oleg Lyashko can not twitch) two people in the three most important government posts - Oleksandr Turchynov (Speaker President) and Arseny Yatsenyuk (Prime Minister). And she may well be content with the role of the shadow or, if you will, the backstage leader of the nation, who decides everything.
Second, the
why should she be president, who, according to the returned 2004 Constitution of the year, is circumcised, like a Jew when entering Judaism (brit mila). Moreover, today around Ukraine, and even in it everyone is talking about the need for a new Constitution. And it means that it is generally not known what functions and powers under the new Basic Law the head of state will be endowed with. And Julia Vladimirovna oh, how does not like to share power.
Third,
failure to adopt the new Constitution of Ukraine, which would provide for the federalization of lands, granting Russian the status of a second state, electing governors, which would help preserve the territorial integrity of the country and reassure the centrifugal (in Russia) sentiments of the regions of southeast Ukraine, will cause dissatisfaction with Western curators. They already do not understand what is happening in Ukraine, and do not know what to do. And only with horror they observe how completely tasty morsels of Ukrainian territory are moving away to Russia and are going to depart. The West, of course, would look with democratic pleasure and approve, when someone with fire and sword, blood and bonebreaking would pacify the rebellious southeast (what sacrifices you will not make for the sake of the triumph of democracy!). But now there is still Russia, whose president firmly said that he would not leave Russians and Russian-speaking residents of Ukraine in distress. And with Putin now the jokes are bad - he just adds the Crimea, then Sevastopol to Russia at the same time, while gently sending all of the demotivators to the hard dick. And the West wants to do something with this, but it does not know what it is and how. Therefore, for the time being, he wants Ukraine to not fall apart and not to go away with its larger and more productive part for Russia, leaving Galicia to the West, which makes it (the West) give goose bumps, like lice on the body of unwashed Galician wuxes.
Fourth,
if the 25 presidential election in May takes place (with or without the participation of Tymoshenko), it will be another failure to resolve the Ukrainian crisis without destroying the country and without leaving part of it under the auspices of Russia and preserving the political face of the West. We are talking about the proposal of Russia, to which sober politicians in the West are inclined - to solve the problems facing on the basis of an agreement of 21 of February of this year, which was signed by the illegally deposed president Viktor Yanukovych and the leaders of the opposition mediated by the foreign ministers of Germany and Poland . Whether or not Yanukovych's return is not important. What is important is the way out of the crisis: no election of 25 in May, first the Constitution defining the new order of life in the new Ukraine, and only then the election of all, for a total reload of the entire political system, from the president to local governments.
Tymoshenko, having gone to the 25 elections in May and thus legalizing them, will oppose both Russia and the West. And lose the only opportunity to become the only Ukrainian leader with whom you can deal. Namely, the search for such a politician who would not only speak, but also be responsible for his words, make decisions and fulfill them at least partially, and Russia and the West are busy.
The United States seems to want to see this in Arseniy Yatsenyuk, but they are becoming more and more convinced that even the "chosen one" is funny. And this, of course, is not "all in one bottle" - Alexander Turchinov. Who? Here Tymoshenko can answer: I am. But then she needs to either agree to the rules of the game proposed by the West and Russia, or with an iron hand to crush insurrections in Ukraine, disarm and destroy the Maidan militants who turned both her and the West with Russia in one interesting place. Militants have already felt both the taste of blood and the delights of power with their full impunity. They will not give up so easily anymore ...
Yet Tymoshenko spoke about the presidency. What for? It is possible that this is a trial ball. Psychological reconnaissance in force. An attempt to find out how the people, politicians, partners, friends and enemies will react to this idea. It is clear that in the current situation a real war will begin both for Tymoshenko (for closeness to her possible throne) and against her (competitors are not asleep). And the war of all against all is the environment in which Tymoshenko orients and catches his goldfish in muddy water is almost the best in Ukraine. This is her vaunted power instinct.
It is not excluded that Tymoshenko's presidency is needed to restore the shaky influence both in the party, in the political, and in the society. She booed Maidan, there is no former deification in the party, there were competitors who would like to have her inheritance. In addition, Ukrainians are a people who love bosses, bow down before them, and only fear and respect them. Moral authorities, shadow leaders, behind-the-scenes of bigwigs are for the pragmatic and accustomed to "their hut on the edge" Ukrainians too vague and not entirely clear. It's like "obitsyanky-tsyatyanky", about which it is good and pleasant to talk, but there is no sense from them. In addition, Ukraine has become accustomed to the fact that only being in power can be successfully converted into financial and material benefits. Tymoshenko, perhaps, wants to quickly occupy nominally the most important position in the country, and only then build a country according to his ranking in any way. And there is no doubt that this is exactly the case. Here Tymoshenko and restores unity of command ...
It is quite possible that Yulia Vladimirovna is driven by purely female impatience and revenge. She wants to quickly take for herself what she considers to be "her own" by right and what was taken from her in 2004 by Viktor Yushchenko, and in 2010 by Viktor Yanukovych. So she wants to take revenge, while both of those involved are still alive and even look quite plump.
Yushchenko, by the way, is bad-bad, but cunning. And with a great "chuykoy." After being so beloved by him, but who had ceased to reciprocate "Nahrid" went to storm and rob the residence of Yanukovych in Mezhyhiria, the sly-wise ex-president-beekeeper immediately took his manat from Gosdachi to Koncha-Zaspa, which he brazenly and illegally occupied during his presidency Viktor Fedorovich. And the maintenance of this state dacha cost the Ukrainian citizens 30 millions of hryvnias a year - a beekeeper was expensive in every sense. "I am already beginning to forget the road to Koncha Zaspa. I left the cottage. I do not live there. And very happy. ... We built a house in Bezradichi, where I live with my family today, "he shy in front of reporters and accused them of pettiness. But this is Yushchenko, in this he is all. And what will you take from it without wringing your hands? But Tymoshenko may recall about the "bitch blohasto" in his address and not disdain ...
In short, everything is still covered with darkness, but next week at least something will fall into place. In particular, it will be known, and why so active Yulia Vladimirovna. And the sunset or new dawn for her political career is the darkness and horror of hopelessness into which unfortunate Ukraine plunges ...