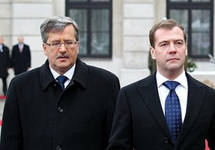 The blame for the shooting of Polish officers in Katyn lies on the leadership of the USSR, said President Dmitry Medvedev after talks with his Polish counterpart Bronislaw Komorowski. According to RIA "
News
", Medvedev called inappropriate attempts to present other versions of events." The leaders of the Soviet state of that period are responsible for these crimes. Attempts to present other versions are not based on any
historical
facts, documents, or moral considerations. In this regard, the position of the Russian state remains unchanged, "the president said.
According to him, the Russian state gave a comprehensive assessment of the guilty "of this terrible crime."
Bronislaw Komorowski said he expects a full rehabilitation of the victims of Katyn, including in legal terms. "The actions reported by Mr President (Medvedev. - Ed.) Are underway. I agree that declassification of documentation will be the logical conclusion," Komorowski added.
Also, the presidents of Russia and Poland agreed to create a special international group to work on a monument to the victims of the plane crash near Smolensk, in which Polish President Lech Kaczynski and part of the country's leadership were killed. The text on the future monument will be agreed by the two countries, Komorowski said.
Earlier, as the media noted, the Russian authorities replaced the plaque in Smolensk, which was written in Polish, that "President Kaczynski died on the way to the 70 anniversary of the Soviet genocide against prisoners of war, officers of the Polish army." Now the text of the tablet, which is already written in two languages, Russian and Polish, refers only to a plane crash and does not at all mention the Katyn massacre.
"We believe that this is a very bad decision. We waited for a more sensitive attitude ... And we think that this will reflect on the atmosphere of the day," said Polish Foreign Ministry spokesman Marcin Bosatsky. 10 April in Warsaw, several hundred people staged a picket at the Russian embassy. The rally participants held Polish flags and banners, which read: "Only the terrible truth about Smolensk and Katyn can unite us, and lies - never." Also, the protesters held posters with inscriptions: "Putin is a murderer," "Tusk is a traitor."
Mass executions of Polish citizens by NKVD officers took place in 1940. In Soviet times, responsibility for this crime was laid on the Nazis, but in 1990, Moscow admitted the guilt of the USSR authorities, and an investigation was launched. The case was closed in 2004 year. In November 2010, the State Duma adopted a statement in which it laid the responsibility for the shooting of Polish citizens in Katyn on the leadership of the Soviet Union.
The plane of Lech Kaczynski crashed near Smolensk 10 on April 2010. All 96 people on board died. A plaque in Smolensk was erected by the families of the victims of the plane crash.