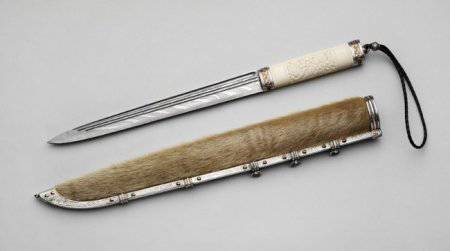 Scramasax is a combat knife with one-sided sharpening and, as a rule, an asymmetrical shank. Scramasax is a term that covers a wide variety of knife varieties, from small table knives to large combat knives. For simplicity, we will use the term scramasax, only to indicate
weapons
Actually, under the scramasax in this article we mean knives more than 30 cm long and usually having a richly decorated scabbard.
The scramasaxos were worn in a leather case, on the warrior's thigh, and the case was connected to the belt through a series of bronze rings. Some Scramasax scabbards are made of wooden plates covered with leather, like the scabbards of swords. Many scabbards are covered with decorative ornaments.
The blade perfectly protected its owner from both people and animals, they could not only kill the beast, but also skin it, dismember game or cut down a tree. If necessary, a knife was also used for food.
Judging by the scarcity of archaeological finds and the fact that the Scaramasax were almost always with swords, we can conclude that the Scramasax is a weapon of a noble warrior, most likely from an older squad, possibly a Varangian. But having appeared in the XNUMXth century as a prestigious weapon, without leaving a particularly noticeable trace in the process of the formation of the ancient Russian weapons complex, they almost immediately disappeared and were subsequently used sporadically, apparently as a "democratic" type of weapon.
According to V.V. Kondratyev, author of the book "
Historical
fencing ", scramasax will not be recognized by the forensic examination of the Ministry of Internal Affairs with melee weapons if:
- blade thickness - not less than 3 mm;
- thickness of the cutting edge (including on the tip) - not less than 1,7 mm;
- tip rounding - not less than 5 mm.