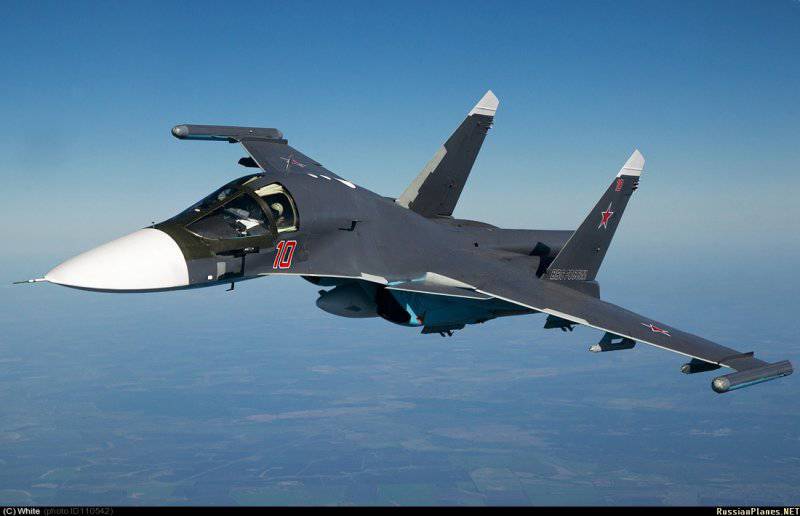 By the decision of the Russian government, the new Su-34 front-line bomber has been put into service, a source in the military-industrial complex told Interfax-AVN on Thursday.
He recalled that this bomber had passed the entire cycle of flight tests and had long been supplied to the troops. Serial production of new machines deployed at the Novosibirsk Aviation Plant.
"Last year, the Sukhoi Company successfully completed the first contract for the supply of X-NUMX Su-32 aircraft to the Russian Air Force and proceeded to fulfill the second contract for the supply of 34 machines, the agency's source said.
Earlier, Commander-in-Chief of the Russian Air Force, Lieutenant-General Viktor Bondarev, said that the Russian Air Force plans to increase the Su-34 front-line bombers to 150-200 units. According to him, in 2014, 16 bombers will go into service with the troops. "In total, we will get them on the order of 150, but maybe we will bring them to 200 units," the commander said.
He recalled that in 2013, the Air Force received 14 front-line bombers Su-34, which were sent to
aviation
parts of the Western and Southern military districts.
Installed on the Su-34 equipment allows you to apply
weapon
on multiple targets simultaneously. Excellent aerodynamics, large capacity of internal fuel tanks, highly economical double-circuit engines with a digital control system, an in-flight refueling system, as well as a suspension of additional fuel tanks ensure that the Su-34 can fly long distances approaching the flight ranges of strategic bombers.