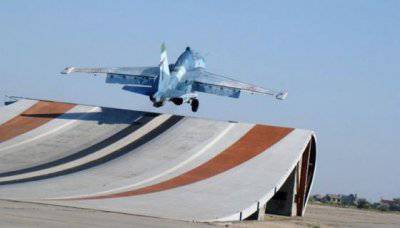 Over 90% of the personnel of the Ground Testing Training Complex
aviation
NITKA, located in the Saki region of Crimea, expressed their readiness to swear allegiance to the people of the peninsula, said Alexander Zyrin, deputy commander for educational work.
"I confirm that more than 90% of the personnel of our unit are ready to swear allegiance to the Crimea. We live here, our families live here. I believe that the situation was provoked by ill-considered actions of the Kiev authorities, giving incomprehensible orders and orders, "said Zyrin, quoted by the Kryminform agency.
According to him, the test site is in proper condition. It produces regular research and work.
We note that earlier the NITKA training ground in the Crimea was used by the Russian army for training ship-borne aviation, but it decided to abandon its lease after completing the construction of a domestic similar complex in Yeisk, Krasnodar Territory.
The head of the Crimea State Council, Vladimir Konstantinov, said Monday that officials and the military could swear allegiance to the Crimea or leave.
"Those who, by their convictions, do not accept the Crimean independence and remain faithful to the Ukrainian state, will not be prosecuted. Thus, the military personnel of the Ukrainian Armed Forces will be given an alternative: to serve in the Crimea, taking the oath to the Republic, or continue it outside the Crimea - as part of the Ukrainian army. The same principle will be applied to civil servants, employees of power structures, to all who took the oath of allegiance to Ukraine. Nobody will force anyone to swear, "he said.
On Sunday, a referendum on the status of autonomy was held in Crimea. According to the results of processing 100% protocols, 1 million 274 thousands of 96 people, or 83,1% having the right to vote, voted for the referendum, of which 96,77% of residents expressed autonomy in Russia.
On Tuesday, Russia and the Crimea after the speech of Russian President Vladimir Putin signed an agreement on the admission of the Republic of Crimea and the city of Sevastopol to the Russian Federation. The Constitutional Court of Russia has already unanimously recognized the legality of the contract.
On Wednesday, Putin submitted to the State Duma an agreement on the entry of the Crimea into Russia. On Friday, the Federation Council will hold an extraordinary meeting to ratify the documents necessary for the Crimea to join Russia. In addition, the State Duma will hold all legal procedures for ratification of the treaty before the end of the week.