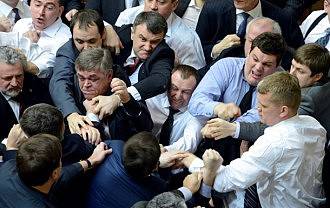 Companions of Oleg Tyagnibok remind of themselves outside the Verkhovna Rada.
The members of Freedom again reminded about themselves, in the literal sense of the word, knocking out a letter of resignation from the Acting NTU President Alexander Panteleimonov.
As you know, the night before, deputies Igor Miroshnichenko, Bogdan Benyuk and Andrei Ilyenko broke into his office, who, not disdaining strong expressions and assault, forced the head of the state channel to resign.
"Perhaps in peacetime it would be necessary to act differently and such actions would be too harsh, but now we are in such a time that such actions are adequate. It was unacceptable to broadcast events from the Kremlin on the annexation of the Crimea, while a Ukrainian soldier was killed in the Crimea. But Alexander Panteleimonov refused to write a statement voluntarily, "said Igor Miroshnichenko.
This trick of Freedom members is not the first.
History in brief
In the summer of 2004, being a member of the Our Ukraine faction, the current leader of Svoboda, Oleg Tyagnibok, spoke on Yavoryna mountain, giving off a speech about "Jews and Muscovites", after which even the party members leading the presidential campaign of Viktor Yushchenko distanced him.
As it turned out, this was only the beginning of a series of applications and actions.
Correct names
The current Freedom Deputies began to attract attention long before entering the Verkhovna Rada.
So, speaking in one of the kindergartens, the current people's deputy Irina Fahrion began to tell the kids about the "correct" and "incorrect" names.
9 May Attacks
Another acting people's choice, Yuri Mikhalchishin, distinguished himself on 9 in May in Lviv: under his leadership, nationalist thugs tore St. George ribbons from people and did not allow flowers to be laid in memory of the fallen heroes of the Great Patriotic War.
"Match" came not to their liking
The Russian film "Match", which tells of the so-called death match held in the Nazi-occupied Kiev.
The premiere of tape ripped off. The current deputy Andrey Ilyenko led the action.
Stalinists are not the place
Svobodovtsy were noted in the fight against ideological opponents.
Thus, in Kiev, the presentation of the book by the Russian historian Nikolai Starikov about Joseph Stalin was disrupted.
War of Monuments
All the same, Igor Miroshnichenko actually marked the beginning of an active "war of monuments": under his leadership, the monument to Vladimir Lenin was demolished in Akhtyrka.
Storm KGGA
Long before Euromaidan, deputies from Svoboda participated in clashes under the KSCA, demanding, in particular, holding elections in the capital.
Sometimes, in order to convey their position to the Kiev authorities, the city hall had to be taken by storm.
Parliamentary battles
Note that members of Freedom actively fought under the dome of the Verkhovna Rada, often participating in the most ambitious parliamentary massacres.