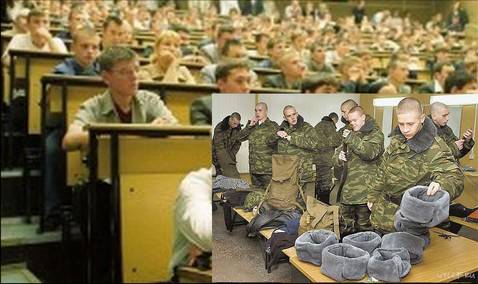 Students of higher educational institutions are now planned to be recruited into the army not by indulgence, but by specialties. First of all, economists and lawyers, who are already divorced in the country. But to applicants of technical specialties, probably, will give postponements from an appeal. The initiators of this idea were the State Duma Committee on Education and Defense. The Ministry of Defense and the Ministry of Education support this proposal, of course, but the Kremlin has not yet given the go-ahead for this idea. Also, the draft law was not submitted for approval to the State Duma.
So, there is no distinct list of the most professions that are recognized as "redundant" and from which the armed forces will save the labor market. The legislators will determine this question already in the process, as they say, at their discretion. But the long-suffering lawyers have already been mentioned. And how many more different "useless" singers, dancers, managers of all stripes and philologists. But various design engineers-technicians will keep as far as possible from the service. At the same time, they offer to postpone the appeal to give right up to October 1. So techies can safely continue education.
If we take into account that any army for the most part needs technical specialists, and not all kinds of "thinkers," then the logic of this bill is rather strange. Although, based on the experience of the past, recruiting campaigns in Russia for some reason always focus on quantity, ignoring quality. So with this bill, everything is fine. Especially since the president has repeatedly complained about the oversupply of lawyers, in March of this year he spoke directly about delays for vocational school graduates who wish to continue their technical education in universities. According to some calculations, graduates of vocational schools can graduate over 30 thousands of "defenders". In the event that the bill is supported by the parliamentarians and it enters into force, the humanities will have to clean their boots and potatoes, so that the rest will be discouraged from choosing new fashionable professions.