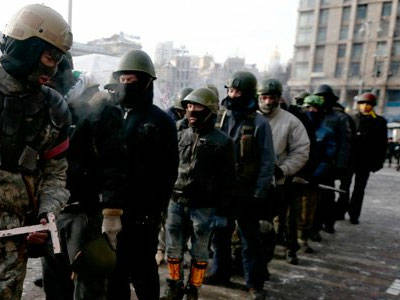 Recruitment of volunteers into the ranks of the "People's Guard" began in Lviv. It is assumed that the newly created armed formation will become a self-organized structure, which will be subordinated to local authorities. As a REGNUM correspondent informs, the citizens of Ukraine will be included in the ranks of the People's Guard, who for various reasons did not fall into the ranks of the National Guard.
Recall one of the requirements for getting into the National Guard of Ukraine is the absence of a criminal record of the candidate, age restrictions. The National Guard is recruited by military personnel who perform military service under contract and conscription, as well as members of the "self-defense of the Maidan".
According to the deputy chief of staff of the People's Guard for propaganda, counter-propaganda and information security Mariana Nishchuk, in each district of Lviv region volunteer registration centers have been established for joining the People's Guard. "The regions are more active than the city of Lviv itself. So many people have already been registered that several battalions can be formed. People come constantly. These are people older than 40 years. Also, those who are not called for due to illness, etc.," Nishchuk assured .
He announced that the People's Guard will be engaged in the protection of strategic objects of Lviv. "Our goal is to protect and defend the Lviv region. After all, as is known, in the territory of Lviv region there are about 1500 objects to be protected during hostilities. These are life support objects: water mains, energy facilities, etc. The Army and the Ministry of Internal Affairs will not be able to to protect these objects. It is also the safety of citizens. We will probably also help the border guards, "said Nishchuk.
Currently, the authorities of the Lviv region have not yet given legal status to the People's Guard. In turn, the governor of the Lviv region, one of the leaders of the Svoboda party, Irina Sekh, stated that the Lviv authorities "will try to finance" the guard at the expense of the regional budget. Seh assured that the People's Guard would not be a military formation. "This is - a kind of municipal squad, subordinate to local authorities. We need it," - said the governor.