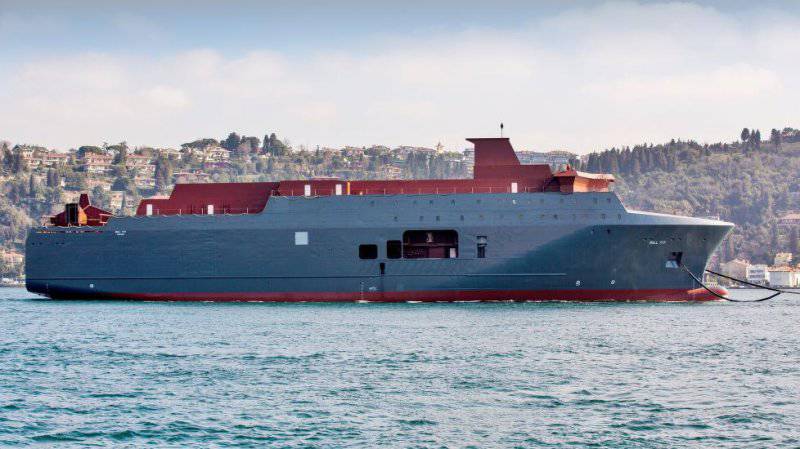 From the Romanian shipyard in Norway delivered the case of a new reconnaissance ship. It is assumed that the ship after the equipment will be adopted by the Norwegian Navy in 2016 year.
In photographs published by the Norwegian Armed Forces, the reconnaissance ship is presented when it is being towed through the Bosphorus.
The hull was built in Romania. On March 16, the new ship arrived in Tomrefjorden, where the Vard Langsten company will install the necessary equipment on board.
According to the head of the Norwegian military intelligence, Lieutenant General Kjell Grandhagen (Kjell Grandhagen), the ship will be an important asset that provides intelligence in the High North for the next 30 years.
As TSAMTO had previously reported, at the end of 2010 of the year, the Norwegian Intelligence Service (NIS) placed an order to replace the intelligence ship Marjata. The cost of building and equipping a new ship for NIS is estimated at 1,5 bn. CZK
The currently operating reconnaissance vessel Marjata was built by the Tangern Werf in the 1992 year and put into service in the 1995 year. The vessel usually performs tasks in the area of ​​the northern ports of Kirkenes and Varde near the borders with Russia. The main task of the ship is to control the activities of the armed forces of the Russian Federation in the Arctic region, although, according to a number of sources, it is part of the network of the American system for early detection and protection against ballistic missiles. The vessel with a displacement of 7560 t and a length of 81,5 m is equipped with radio, radio and acoustic reconnaissance equipment.
According to Grandhagen, the rapid development of technologies in the field of communications and navigation systems has led to its obsolescence.
For the purchase of the new vessel and its equipment, the Organization for the Logistics of the Norwegian Armed Forces FLO (Forsvarets Logistikkorganisasjon) is responsible.
In the autumn of 2011, according to the results of the tender, in which several Norwegian companies took part, FLO signed a contract with Ward Langsten for the construction of the ship. The hull was built in Romania, and its additional equipment will be implemented at the main contractor's company in Norway.
The length of the new ship is 126 m, width is 23,5 m. The ship is adapted for its operation in the Barents Sea region. It is assumed that the new ship will replace the operated vessel "Maryata" in 2016 year. He will become the fourth reconnaissance ship in
stories
Norwegian Navy. The first such ship was in operation from 1966 to 1975, the second from 1975 to 1995. The ship "Maryata" is in service with the 1995 year.