Anyone who has ever worn a military-style pea jacket knows that for Russian frosts this is the perfect combat garb. Rationally designed, cheap, reliable and convenient. A padded jacket is the soft armor of a squire of the Russian Empire.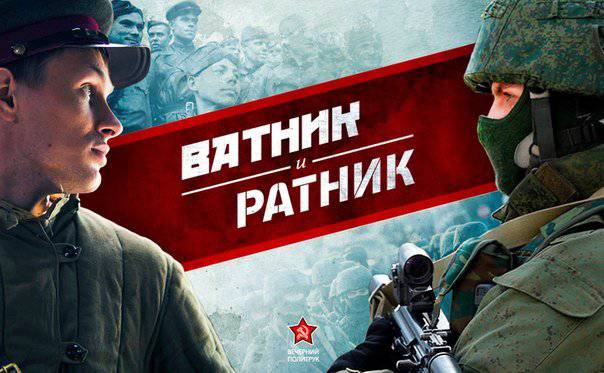 In quilted jackets, the Russian people are invincible in their cold land. No American Alaska, no hipster Duffle Coat will allow us to survive and act in our conditions.
Vatnik is the attire of the terrible Russian gods of war. Those most about whom, keeping in the genes of a tremor imprinted with a Russian boot, we have never once written anonymous Western Anonymuses:
---
This is not civilized Europeans. They are Russians, a people who for centuries destroyed everybody. The most powerful empires were crushed into dust by Russian barbarians. They are the gods of war from the cold hell, they are not afraid of frost, hunger, heat, rain, they kill in any weather, hungry and cold. What they are doing every winter, for normal people is considered extreme. Conditions, the work in which is recommended by the shift method, with huge surcharges for harm.
Russians laugh and play snowballs, conquering space and the depths of the sea, piercing space with the radiation of their radar and turning whole mountains into plasma with their nuclear bombs.
Do not mess with the Russians, run from them, run. It is their essence: gods of war, masters of chaos. It is in their blood, it is their instincts that are dormant, but who are always there inside. It looks kind and harmless, but give them a reason, and they will destroy the whole world, and laugh at his remains, if they even notice the end of the world in their eternal winters. They were going to fight against the whole world at once, only a few decades ago. Fortunately, they decided to give humanity more to live. No need to anger Russian. Run away from them, run as far as you can.
---
How do you look from the outside? Something like vile pictures about vatnikov, drawn by Krivoruk hikki-misanthrope in the paintbrush, and replicated by vKontak neovlasovtsami?
Dressed in a quilted jacket, the Russian mined ore and wood outside human forces, freely transforming Nature itself. In the quilted jackets, we beat any enemy, conquered endless deserted spaces, earning glory in labor and in battle.
The one who uses the word "quilted jacket" as a destructive meme is simply a juvenile moron. He is unworthy of his great ancestors, and does not understand the harsh essence of his Fatherland. He has no right to call himself Russian.
A new generation of Russian is proud of its ancestors' jacket, and ignores young morons with contempt.
By the way. If you have not noticed. Vatnik new generation called - "Warrior".
This is the green "Polite Army" overalls, soaked with heavy-duty nanomaterials and stuffed with combat electronics. Over the Crimean photo shoots of proud carriers of a new Russian quilted jacket, military outfit fans from around the world drop their saliva.
Sooner or later we will send our cosmoflot to spread Russian values ​​in the open spaces of the Milky Way and the worlds beyond. Then we will sew on a spacesuit to each of our space marines a button from that, a holy, invincible, grandfather still a padded jacket.
And the Universe, being afraid, will fall to our felt boots, smeared in star dust.