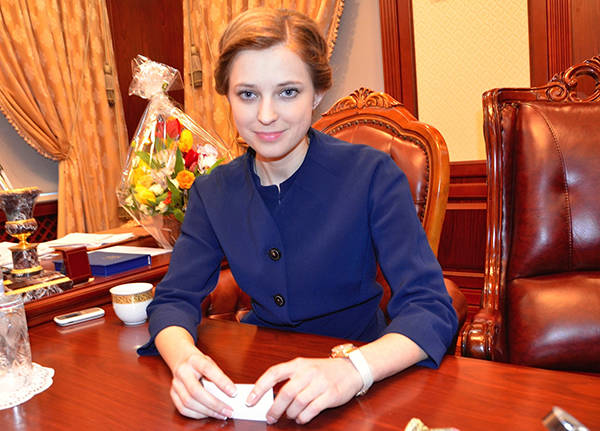 The regional prosecutor's office of the Crimea for quite a long time remained without a boss. Almost two weeks. Self-defense units sealed the building so that not a single piece of paper would disappear before the arrival of the new bosses. And the bosses did not go. No one wanted to occupy this post. Four candidates refused. Finally, March 11 is appointed Natalia Poklonskaya, 33-year-old to the post of prosecutor. Fragile, graceful, with huge trusting eyes - rather a kind fairy from a fairy tale than a citizen boss.
I came to the prosecutor's office ahead of time. In the reception - two machine gunners and mountains of flowers. On the eve of Natalia was assassinated. And flowers are her birthday today. And, of course, time is running out. But the prosecutor is a man of his word: once we agreed on an interview, we must comply.
- First, let me congratulate you on your birthday!
- Thank. You see how it happened: it is my birthday and Crimea is also a birthday (today, when I write these terms, Vladimir Putin made his speech about the reunification of the Crimea and Russia). So the holiday is double. And for me it is a great honor and a gift.
It was noticeable that she was worried. It turned out to be her first ever interview.
- Is it true that there were other candidates for your position who eventually refused, being afraid of responsibility, and you, so young and frail, took it upon yourself?
- True, but I don't know anything about the reasons for their refusal. And I agreed, that's why: everything that I saw in Kiev, everything that was done by the new leadership of the country, was wild for me. I could not tolerate this lawlessness and wanted to show people that there is a defense, that there is a law and everyone is equal before it. And power also exists. And this power is of the people. We should act only in the interests of the people, and not in the interests of certain groups and people who have seized this power in Kiev in an unknown way. Who has ambitions, who has selfish goals, who has Nazism in his head, and where are the people? People on Independence were just zombied. What a peaceful demonstration when they are with bats and
weapons
went to the storm of public institutions? And all this is accepted as if it should be so.
Our then leaders demanded that we be apolitical. Yes, I am apolitical, but I must stand guard over the law. So that the people would not think that here it is possible to seize power in this manner. And what is it? They took shovels, pitchforks, "Molotov cocktails" and went to smash! And who was chosen as a result? And who leads them to the pit? I don't understand all this.
She squeezes sharp cams. The face is covered with a blush. It can be seen as got her maidan.
- When I took office, the first thing I received was statements from our Crimean "Golden Eagle" that they had suffered serious bodily injuries. He was still lost. Now we are conducting a pre-trial investigation. To show people: there is a law in Ukraine. No, there is no law in Ukraine. There is an independent Crimea. Soon he will become part of Russia, I hope. And we all hope for this when Vladimir Vladimirovich will rise and declare: Crimea is Russia.
- What are you done with?
- University of Internal Affairs in Evpatoria. Then she worked in Simferopol as an interdistrict environmental prosecutor. Then I was transferred by the prosecutor to the Prosecutor General of Ukraine in Kiev.
- Are you married?
- Divorced.
- Children?
- Girl, but more I will not tell you anything. For security reasons.
- Heard, you have recently been assassinated?
- No comments.
The phones are ringing. Her tearing apart. Assistants come in with bouquets and little notes. But the interview continues.
- In Kiev, your colleagues brought a criminal case against you for moving to the Crimea. I know that you were dissatisfied there before, when you were the only one who went against the current and protested the decision of the Kiev court to abolish imprisonment for the leader of the Bashmaki group, Ruvim Aronov ...
- On the Internet and a lot more where so much dirt has spilled on me! I want to declare that when I was a senior prosecutor and, being an active member of the Prosecutor General's Office of Ukraine, I wrote a report on dismissal. It was February 25. She wrote that it was embarrassing for me to live in a country where bandits walk quietly along the streets. No proposals from the Crimea have been reported. I did not know where I would work. But I did not sign the report. Natasha, they said, you are tired, it is clear that you are very worried. Go on vacation. Have a rest. But I came with a report and with a St. George ribbon in my pocket. She said that I did not accept this and showed them the ribbon. Here is my position! And put the ribbon right in the Prosecutor General's Office of Ukraine. And I went on vacation to the Crimea, to my parents. And there already offered to provide at least some help to the Government of Crimea to help people and prevent the chaos that occurred in Kiev. And I was suddenly appointed prosecutor of the Crimea. And on the same day I found out that a criminal case had been opened against me in Kiev and was dismissed from service.
- How did your colleagues take you? Has the staff changed?
- The staff remains the same. And about how they perceived ... There are employees who, perhaps, would like to express their citizenship, but for various reasons they are somehow afraid. From the Prosecutor General's Office they still call our employees and threaten: if you go after Poklonskaya, we will land. Some come with tears: I have children, family, this, this, this ...
- Are you afraid of yourself? There is nothing wrong with that. Admiral Berezovsky, who went over to the side of the Crimean people, is now also under protection. Kiev wants to get it for the demonstration process. Apparently, they are preparing you something similar.
- I will say this: I will do everything to make my child proud and proud that he lives in such a great power as the Russian Federation. So that my daughter honored the memory of those killed in the Great Patriotic War. To honor the memory of my two grandfathers, who died in this war. So that the monuments are not destroyed.
Europe Square with a huge fountain has become a popular holiday destination among Muscovites. Photo: Boris Kavashkin / ITAR-TASS
The reunification square of Russia and the Crimea may appear in Moscow
I want my child to live in an honest country, and not in Bandera, treacherous, Nazi. I was ashamed that I was a citizen of that state. My grandmother called and cried: the times are returning when there was an occupation. She 86. She remembers the Germans and remembers the Ukrainian policemen. How they mocked! How will I look to my grandmother in the eyes if I put on my uniform and serve this very "Galicia"? When you think about it, there is no fear.
Here another assistant gave Natasha a note. Her face is gray.
"Murder," she said. - It is urgent to go.
- Can I go with you?
- Soorry, no. I have to leave immediately. There has just been a shootout on Victory Avenue. Killed people. There are wounded. So, as they say, anxious group - at the exit. Thanks for the interview.
Before me was a completely different Poklonskaya. The prosecutor of the republic. She threw on her raincoat, looked with regret at the flowers that we never placed in the water, and resolutely left the office.
Behind her moved assistants and two machine gunners.
History
The prosecutor of Crimea found fans in Japan
The new prosecutor of the Crimea, 33-year-old Natalya Poklonskaya, became the star of Japanese social networks, where many of her portraits appeared. On YouTube, some Japanese even asked to call themselves in for questioning or expressed a desire to go to the Crimea. The video from the Poklonskaya press conference, held on 13 in March, was posted on a Japanese account on YouTube, where 200 scored thousands of views quickly. The interest in the young prosecutor was fueled by the Japanese media, who noted that despite her youthful and attractive appearance, Poklonskaya 12 had years of experience in law enforcement, she investigated a number of terrible crimes, including the prosecutor in the Bashmaki organized crime group, accused of organizing premeditated murders committed with particular cruelty. In particular, she challenged the decision of the Kiev court to abolish the imprisonment of one of the leaders of the group, Reuben Aronov. Japanese users on YouTube and in the popular anonymous forum "2channel" write compliments to Poklonskaya, admiring her beauty, voice and youth.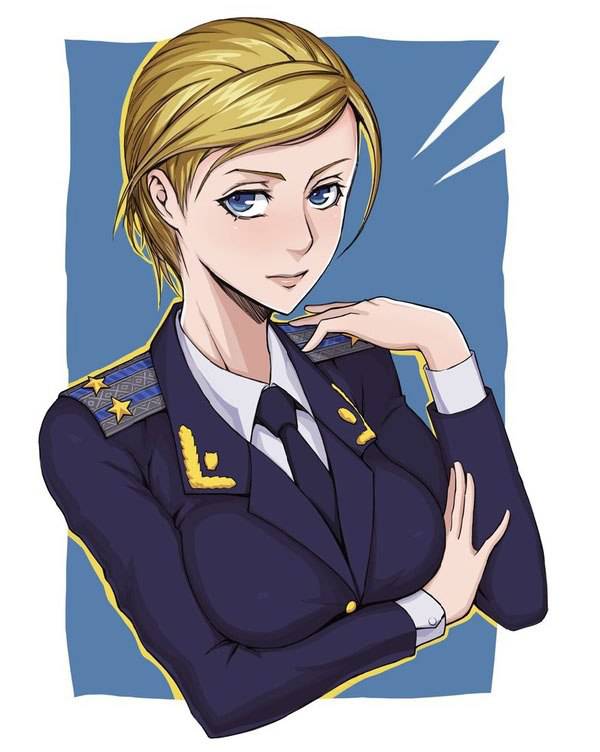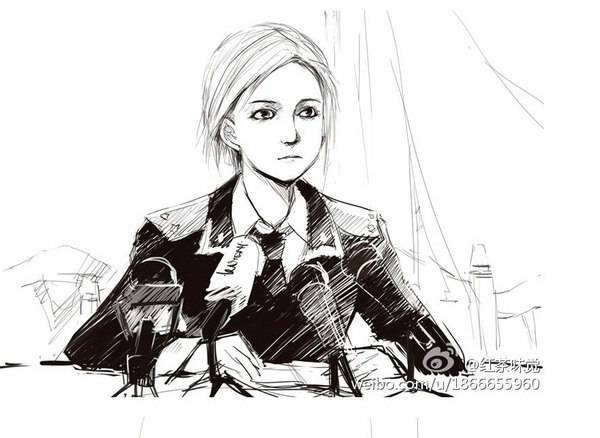 "I don't know what the problem is in Crimea, but I support her - she is beautiful!" There are such replicas: "Everything is decided, I am going to the Crimea!", "And if I do not ask me for the citizenship of the Crimea?" Some users even ask the Crimean prosecutor to call themselves for questioning: "I will tell everything I know! Even what I do not know at all!" On the website Pixiv and in other social networks publish pictures with portraits of the prosecutor-blonde.