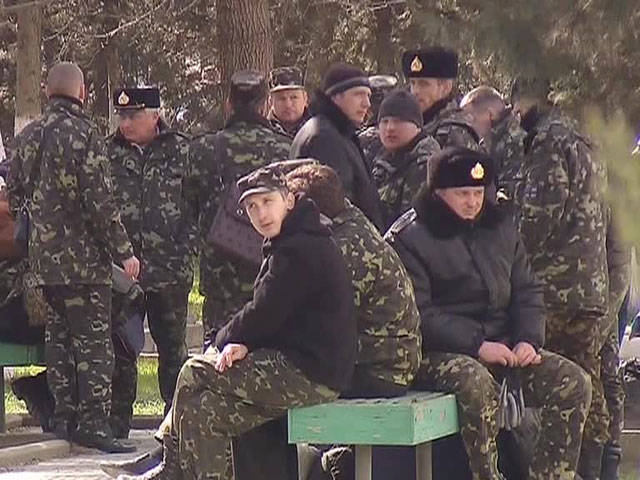 In Sevastopol, long queues are lined up near the military registration and enlistment offices. The military personnel of the Ukrainian Navy, who were given three months to decide on the choice of a place for further service, go to get registered. There are reportedly already four thousand. Often there are questions - how to enroll in the service in the Russian armed forces? A full house started after the rallies near the naval headquarters. Orders apply
weapon
received from Kiev, the Ukrainian navy from Sevastopol did not want to perform.
Rallies near the headquarters of the naval forces of Ukraine in Sevastopol did not stop the last few weeks. The parents of the servicemen demanded that the officers release the sailors from the territory of the unit. However, it did not move further conversations.
"We appealed to the military through the fence with the help of megaphones. I personally asked the military to come out to show all of Ukraine how peacefully and with good intentions in Sevastopol we release military units that were hostages there. In order for Ukraine to understand: we are tolerant and conscientiously fulfilling our obligations to those of the military who are in Crimea, "said Nadezhda Savitskaya, chairman of the Committee of Soldiers' Mothers.
This morning the commander of the Black Sea
fleet
Alexander Vitko personally came to the headquarters of Russia to discuss the situation with the head of the Ukrainian Navy, Sergey Gaiduk. However, Haiduk was not in place. After this, self-defense units took control of the headquarters checkpoint and, together with the parents of the military, entered the territory of the unit. It turned out that all this time the sailors were in complete information isolation, and inside they were kept fraudulently. The command threatened them with criminal liability for desertion.
Not a single shot in the direction of the protesters today was not sounded. Yes, and shoot the soldiers, in fact, there was nothing. All the weapons they transferred to storage in the warehouse. Inside the headquarters vigilantes found burned secret documents. The sailors left their part, taking only personal belongings with them.
"Nobody called for anything, no blood was spilled. I am a Crimean from the age of three, I have an entire family in Sevastopol. But I haven't decided what to do next. Weapon was handed over for a long time and no one was going to use it in his hometown" - say the military.
Later, prosecutors who arrived at the scene were still able to find the commander of the Ukrainian Navy in one of the offices of the headquarters. And as reported by a law enforcement official, Sergei Haiduk was temporarily detained for "broadcasting to Kiev's military units an order to use weapons against civilians that came from Kiev".
Now, Sevastopol hopes that the Ukrainian authorities, in turn, will not prevent soldiers and sailors-conscripts who serve in units and ships on the territory of Ukraine from returning to their homes - which is about two thousand people. In Crimea, they are ready to take on the service and provide everything necessary.