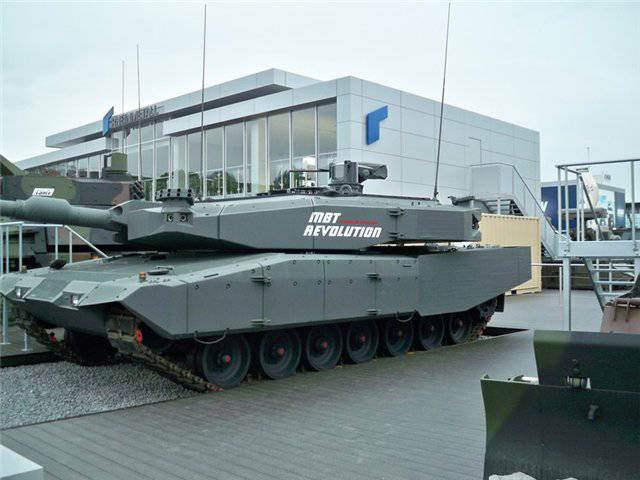 In fact, this is not a finished model.
tank
, and, so to speak, a demo sample. At which the Rheinmetall company demonstrated all of its latest systems that it offers on the arms market.
According to representatives of the company, these systems are designed to be installed on existing Leopard 2 tanks with their further modernization. My knowledge of English was not enough to reveal the whole essence of these systems. Therefore, I will describe some of the most obvious.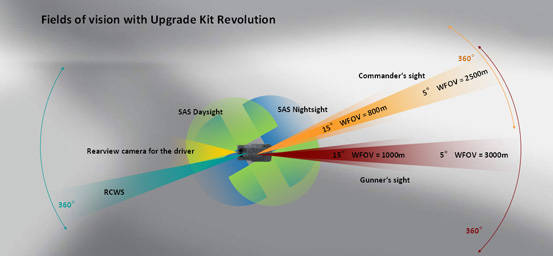 So, the company "Rheinmetall" offers to install a system of panoramic surveillance and warning of shooting at the tank. Apparently, this camera, in the corners of the tower. This system is automatically connected with the active protection system, which is to shoot defensive ammunition at the approaching anti-tank missile. And, in the same way, destroy it still on approach. This, apparently, fan-shaped blocks of trunks located in the front ends of the tower. Also, the tank has an automatic firing point on the roof, well protected from small-arms fire.
weapons
. In addition, the entire tank is closed by powerful blocks of dynamic protection.
These are just some of the systems, all on this tank of their 12.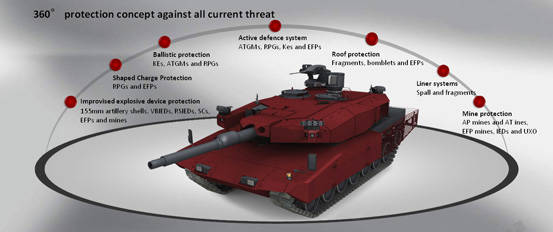 According to representatives of the company "Rhinmetall" on existing 2 Leopards can be installed, like all systems, and then you get machines, similar to the one that was exhibited at the exhibition, and some of them separately. Thus, apparently, we will soon see a huge variety of different variations of Leopards. Of course, provided that Rheinmetall finds buyers and those who want to upgrade their tanks. But I do not doubt it. Recent local conflicts have clearly shown that it is too early for tanks to retire, and their modernization is a good option to get a modern car for relatively little money.