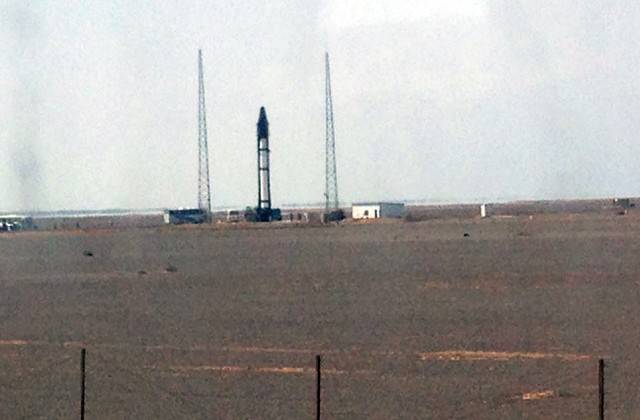 The launch of the rocket in May 2013 of the year, announced by the Chinese authorities as a scientific experiment, could be a test of the latest
weapons
for the destruction of spacecraft. Such a statement is contained in a 47-page study by former US Air Force analyst Brian Wyden, published on Monday.
We can talk about the combat device based on a mobile ballistic missile, suitable for churning satellites, writes in his study, Weeden. He is currently working as a technical consultant at the Secure World Foundation, an organization looking for ways to use space in a peaceful and safe manner.
The analyst traced the course of the Chinese experiment based on a multitude of satellite images and came to the conclusion that a kinetic interceptor was put into orbit. This mechanism is designed to hit the target at high speed and destroy it at the expense of the force of a blow without undermining the warhead.
"If this is true, then China has achieved a serious breakthrough in the development of anti-satellite weapons. No other country has tested combat launch systems capable of hitting space satellites in medium-altitude near-earth orbit, high elliptical or geostationary orbit, "Widen is struck.
The study included a photograph of a mobile launcher in the area of ​​the Xichang Chinese cosmodrome - such platforms are commonly used for ballistic missiles. According to Weiden, this is yet another proof of the design of the PRC of a new anti-satellite weapon. He believes that the combat device was put into orbit with the help of the Quayzhou light launch vehicle.
In 2007, China has already tested the anti-satellite defeat system - using a kinetic interceptor SC-19 at an altitude of about 865 km, the weather satellite that failed was destroyed. The satellite weighing more than a ton was split by a powerful blow into more than three thousand pieces. The demonstrative shooting of the spacecraft caused sharp criticism of the White House. The device, which, according to Widen's suggestion, the Chinese tested in May 2013, should work at an altitude greater than 2 thousands of kilometers.
China really possesses impact systems for the destruction of objects in space, says director of the Center for Socio-Political Studies Vladimir Evseev.
"It is documented that the Chinese can hit targets at altitudes up to 10 — 20 thousands of km. We are talking about shock-kinetic systems, but one cannot rule out the future appearance of systems knocking satellites with lasers or microdevices that will blind the satellite. Laser systems were developed in the USSR, but after perestroika, the topic was closed so as not to annoy the Americans, "said the expert.
According to Yevseyev, the importance of anti-satellite weapons in future conflicts will only grow.
"The space train is an important component of the US military. If you blind him, it will be a serious blow to their combat effectiveness, because many modern combat systems are based on satellite information. Anti-satellite weapons can give China a significant advantage over the Americans, "he sums up.