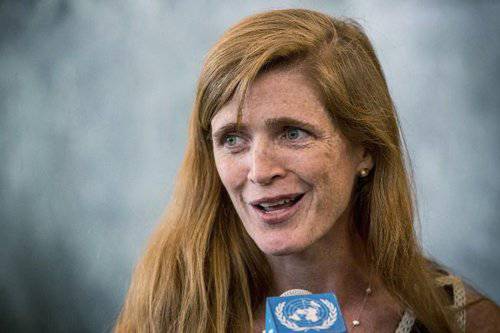 Mrs. Power! Against the background of the events in the Crimea, you called Russia a "defeated country." Little
stories
. Once, as a sign of eternal unity, Russia presented the Crimea to the fraternal republic of Ukraine. A few decades later, already in the times of perestroika, we extended to America an open hand of friendship and presented the world with the opportunity not to burn in nuclear fire. And these manifestations of our goodwill do you call a loss? For a quarter of a century, neither the United States nor the leading forces of Ukraine could appreciate our good deeds. Only predators from the wild jungle can consider to be defeated those who give such gifts. The reasons for such a worldview are quite understandable, because Russia exists for more than a thousand years, whereas the age of the United States is only about three hundred years. And your words, as a representative of the United States, just show this difference, and indicate, above all, the problems of the spiritual growth of the American nation itself.
It may have to go through hundreds of years of evolution before your country stops taking as a weakness the desire of another country to stop a conflict from which nothing good or useful can be learned. The end of the Cold War was precisely such a desire on our part, and we took this step. We, not the USA. Do you really think that the power of such a state as Russia can shake oil prices or the destructive work of certain individuals? The existence of the country as a whole unit, Mrs. Power, is determined first of all by the self-awareness of its population and, probably, by God's will. It is strange that you do not know. Refusal from one or another form of manifestation of oneself in the world, or from one or another ideology, does not at all mean the destruction of a state, a nation, and moreover does not mean some kind of "loss" to anyone.
Russia, the Russian Empire, the USSR is all one and the same country. My homeland is still looking for and building new, more perfect forms of its own existence. It searches not only and not so much external comfort, as much comfort inside. Many hundreds of years have recorded in our genes all the twists and turns of history and the possible consequences of anyone's actions on the world stage, which brought our people wisdom that it is impossible to find in a couple of hundred years. You tried to insult a representative of our state, but you threw a stone at all citizens of Russia, at each of us. I do not want to think that this was your true goal. And if so, it is unlikely that US citizens will be grateful to you. Because every stone has the ability to sometimes bounce back, and the force of action is always equal to the force of reaction, as the great Newton once discovered. And this is not the fault of Russia or its citizens. This is a law of nature. And natural phenomena, as is known, are always morally neutral.
Already without reverence, a citizen of Russia.
PS Letter writing in English, because in English you can not hear us.