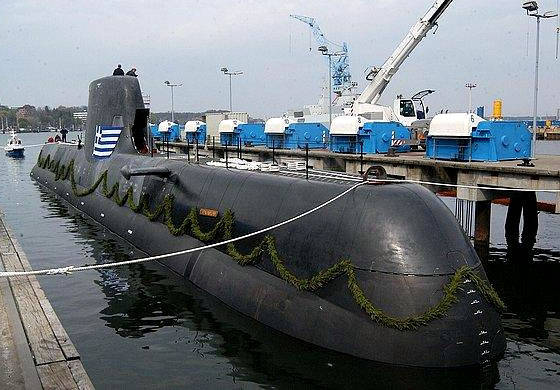 The Greek Navy will adopt three non-nuclear Type-214 class submarines and one modernized Type-209 / 1200 class submarines, said Greek Defense Minister Dimitris Avramopoulos.
Four submarines, the construction of which has been completed, are currently in storage at the Hellenic Shipyards plant in Scaramanga and will be handed over to the country's navy, which will perform minor modifications and conduct sea trials in Souda Bay (Crete Island) before being put into service.
According to the January Defense Weekly, the cost of this procedure is estimated to be 75,5 million euros (105 million dollars), which are already allocated in the budget of the Navy. It is planned that NAPL will be part of
fleet
in 2015 year.
A detailed briefing on the costs of the introduction of naval nuclear submarines in the Greek Navy will be held on March 20 in the Parliamentary Committee on Defense and Foreign Affairs.
The contract, worth about 1,26 billion, provides for the construction of three Tip-214 submarines for the Greek Navy with an AIP air-independent power plant under the Archimedes program was signed by the Hellenic Shipyards National Company in February 2000. According to its terms, the first naval base was to be built at the shipyard Hovaldsvorka-Deutsche Werft (HDW) in Kiel, and the next two submarines - under a German license in Greece. The contract included an option for the construction of the fourth NPS, implemented in the summer of 2002, simultaneously with the signing of an agreement with HDW to equip three previously purchased Navy of Greece TEPL Type-209 air-independent power plant (the program Neptune-2).
In November, the 2006 of the year, after evaluating the results of the tests, the Greek Navy refused to accept the German-made Papanicolis naval submarine. As a result of almost 5 years of negotiations in December of 2010, the Greek government accepted this NNL. Despite the problems with the first submarine, the construction of the following submarines Pipinos (121), Matrozos (122) and Katsonis (123) for the Greek Navy at the Hellenic Shipyards shipyard continued. The program "Neptune-2" was canceled after the delivery of the first modernized submarine "Oceanos" (118) by the Greek Navy at the end of 2010.
Currently, the construction of two more Type-214 submarines, which was planned instead of upgrading two Type-209 / 1200 class submarines, remains under question. Given the difficult financial situation, the implementation of this project is unlikely.