Recent events have demonstrated that the mobile units of the modern army should be equipped with the so-called "wheeled
tanks
"that would greatly enhance the capabilities of medium brigades.
While heavy tracked vehicles were loaded onto platforms, personnel on armored personnel carriers and other wheeled vehicles were already hundreds of kilometers from the location of the parts.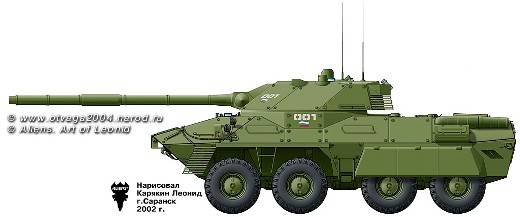 Some military experts regret that the army in its time did not receive the BTR-90 Rostok, on the basis of which the Sprut-K was to appear, armed with an 125-mm cannon.
On the basis of the "Sprout" was supposed to place 152-mm howitzers, anti-aircraft missile and cannon complex, etc.
However, for a number of reasons, the Sprut-K never became a real machine, but instead it was planned to assemble the Italian Centaur B1 fire fighting vehicles. However, he did not live up to the testing of the hopes placed on him, and all the work in this direction was covered up. Although, we can assume: if the Italian wheeled tanks would still get into the troops, then soon their operation would be difficult due to the sanctions.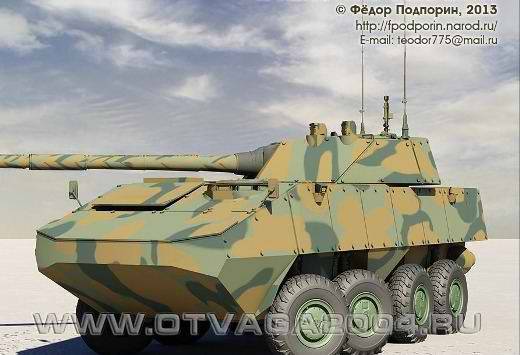 At present, there is hope that on the basis of the average unified wheeled combat platform "Boomerang" there will also appear a combat support vehicle or, as they are also called, a machine with heavy armament.
It is possible that the combat module, which was developed for the Sprut K, will take its place on the Boomerang. Thanks to the 125-mm gun "tank" "Boomerang" on firepower will be even equal to the T-90. After all, in addition to traditional ammunition machine will be able to fire and guided weapons.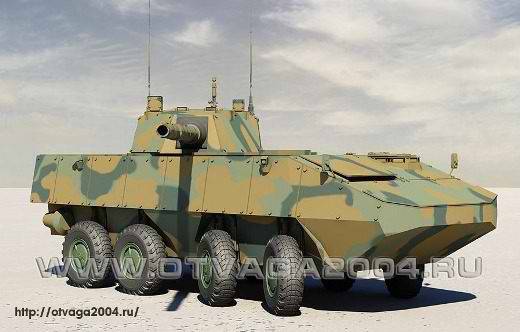 The new version of the gun machine will get the perfect observation and aiming devices. Perhaps a remote-controlled anti-aircraft machine gun will appear on the turret.
It is possible that the designers like the Armata tank will install a fully automated uninhabited turret with a protected ammunition load on the Boomerang.