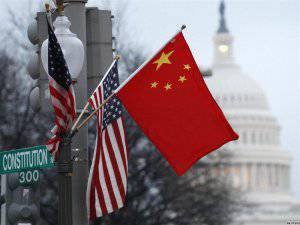 China has demanded that the United States stop interfering in the internal affairs of the People's Republic of China under the pretext of concern for human rights, the Xinhua news agency reported.
According to a statement by the official spokesman for the PRC Foreign Ministry, Hon Lei, "there is disagreement between China and the US on the issue of human rights, which Beijing is ready to discuss with Washington on the basis of mutual respect and equality. However, the PRC is strongly opposed to interfering in its internal affairs under the pretext of caring for human rights. "
It should be noted that the statement of the Ministry of Foreign Affairs of the People's Republic of China was made after the US State Department issued an annual report on the problem of human rights throughout the world. It criticizes the state of human rights in China.
Hon Lei, in a statement, urged the United States to "reflect on the problems associated with the observance of human rights in its own territory" and stop playing the role of a "preacher of human rights."
Add, according to the authors of the next State Department report on the human rights situation, the world has changed in 2010, however, repressive regimes are trying to adapt to new conditions. Introducing the report, US Secretary of State Hillary Clinton said: "We see an improvement in the situation in many countries of the world, but we see serious deterioration."
In 2010, more than 1, thousands of people who collected information on the situation in 194 countries, worked on the preparation of the report. It is emphasized that this is the most comprehensive and detailed document on the situation of human rights in the world, reports Voice of America.
The authors of the report identified three global trends 2010 of the year. The first of these is the "explosive growth of non-governmental organizations", which focus on a wide range of issues in the field of democracy and the protection of human rights.
The second trend is the "dramatic growth" of the Internet, mobile telephony and other communication technologies, which are used, among other things, to gather information about human rights and to communicate with activists.
The third trend is the continuing escalation of violence, harassment and discrimination of vulnerable groups of the population: often these are racial, religious or ethnic minorities.