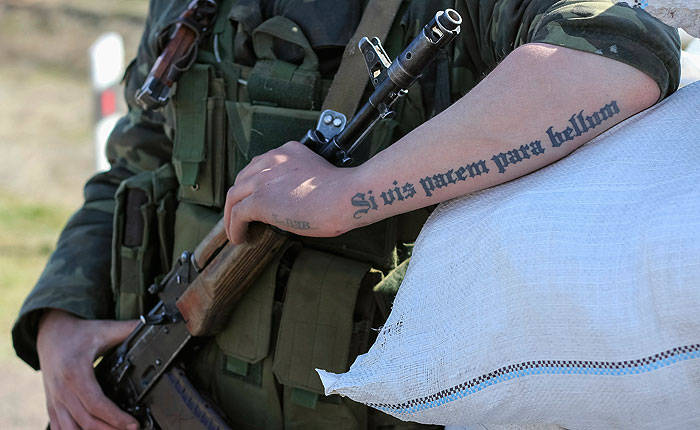 The Chief of the General Staff of the Armed Forces of Ukraine, Lieutenant-General Mikhail Kutsin said that the Ukrainian military in the Crimea have the order to open fire in the event of a threat to their lives.
Kutsin, according to his press service, held a telephone conversation with his Russian counterpart Valery Gerasimov, in which he stated that the events in Simferopol, which resulted in the death of a Ukrainian soldier and two more injured, would not go unnoticed.
"The Chief of the General Staff of the Armed Forces of Ukraine informed the Chief of the General Staff of the Armed Forces of the Russian Federation on the issuance of the relevant order, according to which the military personnel of military units of the Armed Forces of Ukraine stationed in Crimea now have permission to use
weapons
"- said in a statement.
Kutsin also proposed to Gerasimov to initiate the issue of the urgent establishment of a commission at the level of the defense ministries of Ukraine and Russia in order to prevent further escalation of the conflict in Crimea.
On the eve of Simferopol, according to the Ministry of Internal Affairs of the Crimea, one of the self-defense fighters was killed, two more were injured. According to the agency "Kryminform", an unknown person opened fire with a sniper rifle from an unfinished house, and the shooting was conducted in two directions: on the fighters of self-defense and towards the Ukrainian military unit.
The ministry believes that this incident was a provocation designed to sow nervousness and complicate the situation in the city on the day when the agreement on the accession of Crimea to Russia was signed.
Earlier on Tuesday, Prime Minister of Ukraine Arseniy Yatsenyuk stated that the "Crimean question" was moving from the political to the military stage, and blamed it on the Russian side.