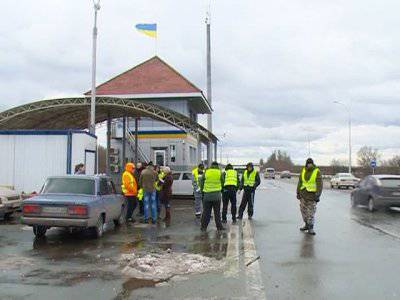 Donbass troops form volunteers. They intend not to let the radicals and the military into the region, and also to protect the opponents of the Kiev authorities, whom many consider illegitimate, against persecution.
Yasinovatsky post - the northern entrance to Donetsk. Side by side with the police - people in bright shirtless without
weapons
. Someone here already three days - from the moment of the organization of duty, someone comes for several hours.
On the track, buses with non-resident numbers are checked to identify representatives of the "Right Sector" and block the road to the city by the Ukrainian military. On the eve of the activists Yasinovatskogo post went to the highway and stopped the column, which was heading to Donetsk, allegedly on the teachings.
The activists are helped and supported by the whole city, people bring warm clothes and food. Someone provided the barrels for the fire, they have already lit a fire. The tents are about to be set up, so activists will be able to carry on duty longer.
Around Donetsk, eight such civilian posts have already been created on the main highways. On each - no less than 20 activists. People of different professions and ages are on duty around the clock, in any weather, to protect their city.
Another post arose spontaneously, and not on the highway, but in Makeyevka, located five kilometers from Donetsk. Local residents gathered here in case police en masse head to the regional center to prosecute opponents of the self-proclaimed government. "We would have blocked, we would not have let out. Let them try to ride us," said a local resident.
Governor Sergei Taruta said that additional police units from Dnepropetrovsk and Kirovograd regions are about to arrive in Donetsk to calm down the supporters of the independence of Donbass. Activists are ready to block the road and they, the entry in the volunteers will continue.