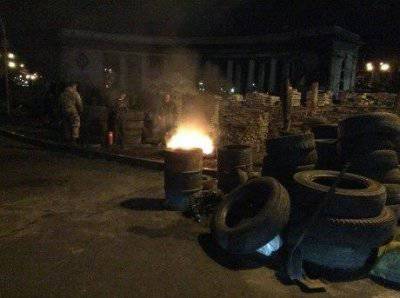 About 150 people came out 18 March on Grushevskogo street in the center of the Ukrainian capital. Protesters gathered to express dissatisfaction with the work of the new government in Ukraine.
Several dozen protesters took to the Grushevsky street in Kiev to express disagreement with the policy of the new Ukrainian authorities, reports Gazeta.ua. The fighter was told about this edition by the "self-defense of the Maidan" Vladimir Dmitriev.
"People gathered here from the self-defense of" Maidan ", advanced by Grushevsky. Lit two tires, they burn in the barrel. This is for the authorities to remember that we are. We dropped the previous ones. If this power is not able to work, we will reset it in the same way. The situation in the country, with the Crimea, shows that they do not know how to do anything except how to divide chairs among themselves. While we want Turchinov to come, "said Vladimir.
The activist also said that the protesters were asked to remove the remaining barricades from the street so that visitors could drive up to one of the restaurants.
"They wanted us to take everything from here. They come to the "Bentley", there is a Georgian restaurant upstairs. They want to go there. We refused, "said the activist.