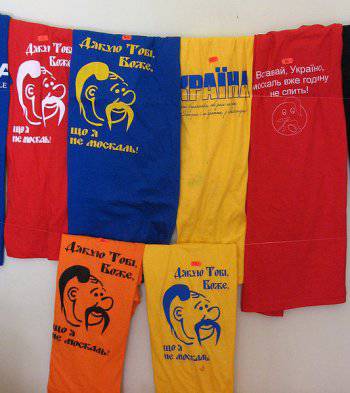 You ask how we? We are all very bad.
Bad, of course, for me and those like me - Ukrainians, communicating in Ukrainian in the Crimea. I look at these happy faces, at this universal jubilation and clearly and distinctly see: Crimeans hate us. They hate anyone who says a word on the move. And I'm not exaggerating. Everything related to Ukrainians, everything that is somehow connected with the "Ukr" causes almost all Crimeans not just a rejection, but a whole storm of emotions. These emotions are extremely negative for everyone, from children to old people. After all, this was not even close at scoop. Yes, with a scoop in the Crimea, Ukrainians were treated here a hundred times better than they are now - after 23 years of being a part of Ukraine.
How could this happen? How was it necessary to try so that people so massively, with all the fibers of their hearts hated everything (I emphasize EVERYTHING - from embroidery to flag with emblem) Ukrainian? This is scary.
We lost Ukraine. And it's not Putin's fault. And this is not the fault of our famous Russophobes from Western Ukraine. We are to blame for this. It is we, Ukrainians from Poltava, Cherkasy, Kiev, Khmelnitsky, Zhytomyr, Chernigov from all over central Ukraine, that allowed these idiots to the Galycha residents to establish their own Nazi order over the whole of Ukraine.
Do you remember! Remember how during the feast we picked up their Bandera songs, how we laughed with them over the anecdotes, "May that nathnenya, pidu dab Moskalya", we turned a blind eye to distorting them of the Ukrainian language to all these "shptypali", "narzi", "years old "and other" mapy "with" militiaantami "and" katedram. "
We were indifferent to the establishment in their towns and villages of monuments to those who shot in the backs of our grandfathers in the Second World War. Then they "casually" began to put on their meetings portraits of Bandera and Shukhevych. And then to openly march, first in their own way, and then already in our cities with SS flags and fascist slogans. We deliberately closed our eyes to this:
"Well then they have their own
история
, it is necessary to understand ... ". And these - THEIR monuments - began to appear in our country ...
They called us "skhidnyakami", the whole South-East - "slaves", "scoops" and "descendants of Stalin's Katsap executioners", and the miners "a bunch of gangsters living with the same bunch of" Angelic "... And we, of course, understanding that this is not true, they patted them on the shoulder in a friendly way. "Come on, there are normal people there ..."
That we let them in Kiev. And Kiev, KIEV! silently watched the visitors from Galycha and the students from the memory march with torches in honor of Bandera's birthday on Khreshchatyk and these marches became more numerous from year to year.
They rewrote our entire history. Our ancestors, according to this story, have become useless "potters of the Russian Empire", and their collaborators, ragulis and nonentities are new heroes of Ukraine. We swallowed it too.
When in Kiev, during the Maidan, they started beating up in the subway for Russian speech (and this in Russian-speaking KIEV) to the Russian-speaking Kiev residents, it was deeply sideways, "anigedeti" were frolicking, they are against Yanukovych, somehow uncomfortable to put into place.
They obos ** Ali and destroyed the entire center of Kiev - we were silent here. Now we get an answer. For our indifference, for our cowardice and for our stupidity.
WE HAVE LOST UKRAINE. She will never again be not only in the former borders, people have changed. The cup of patience in the South-East is full. Ukraine turned out to be an evil stepmother for them, with a mustache under their nose and a swastika on the sleeve.

From the Crimea will have to leave. I don't have a single argument for Crimeans against their fair hatred of this half-step-stepmother-Ukraine.