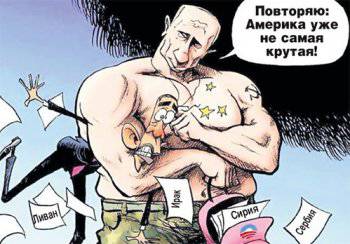 I never thought I'd say such words. A month ago, it probably wouldn't have occurred to anyone that the Crimea would return home. And now - it happened!
Thanks to your mediocre activities, gentlemen, the leaders of Germany, Great Britain, France, Poland, the USA, NATO, the EU, and so on, and so forth, the Crimea has returned!
Thanks to you, the people of Russia consolidated as if we won not only the Winter Olympics, but also the summer one, and the World Ice Hockey Championship, and the World Cup, and in the appendage also the World Baseball Championship. And all this for a couple of months.
Thanks to you, even those who have always voted against him are ready to vote for our President Putin. Even those who have never gone to any election are ready to vote for him.
Thanks to you, we saw the faces of all your agents and our fifth column.
Congratulations! You merged them safely!
Those who yesterday even a little believed in the decency of these individuals, today are ready to shower them with rotten eggs.
With your irreconcilable position you showed your unheard of principle!
As the last mutt, I thought that it was necessary to defend my principles to the last drop of blood, to the last crumb of bread, to the last penny. But it turns out that one can only defend one's integrity up to the threat of one's personal well-being.
I understand that if you impose economic sanctions on us, you will have to explain to your people what is really going on. Why did they suddenly become worse off? After all, no matter how controlled your media are to you, people will still find out the truth, they will get to the bottom of the truth. And you have to explain why it is in some stages.
stories
we must admit that black is white and white is black. But they are not so smart, and they are unlikely to understand you.
And so everything seems to be going fine, you do not have economic shocks, you show a terrible Russian bear ready to take the candy from a child, and you, all in white, are defending the freedom-loving western world from the aggressor.
I do not understand one thing: do you yourself from this lie is not disgusting? How do you look into the eyes of your relatives? Or are you at home nice, lovely, honest people, and only in the service - hypocrites and liars? Then how do you look into the eyes of those of your colleagues who see the situation as it really is?
Anyway. As we say in Russia: God is your judge!