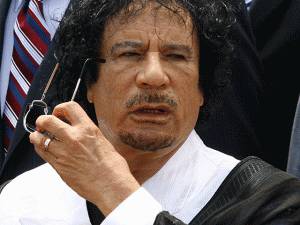 The Libyan regime agreed to a crisis management plan proposed by the African Union (AU). This was announced on Sunday by South African President Jacob Zuma on behalf of the AU in Tripoli.
"The delegation of (Muammar) Gaddafi adopted the road map proposed by the AU. The details will be clarified in the Union's communiqué," he stressed, without specifying when the statement would be published.
According to Zuma, he is forced to return to his homeland, but the rest of the AU Committee on Libya, which includes presidents of South Africa, Mauritania, the Republic of the Congo and the head of the Uganda Foreign Ministry, will continue to work in Tripoli and today will go to Benghazi, where the headquarters of the rebels so as to convince them to fold
weapon
. Earlier, members of the opposition Libyan National Transitional Council stated that they would not stop armed resistance until Gaddafi resigned.
On Saturday, following a meeting in the capital of Mauritania, Nouakchott, the members of the AU Commission recommended that the parties taking part in the hostilities in Libya "establish political dialogue and interaction" and establish a "transitional period" in the country in order to hold elections to "democratic institutions public administration ", as well as a number of political reforms. According to the AU, the proposed action plan was developed taking into account "respect for the national unity and territorial integrity of the Jamahiriya and responds to the legitimate aspirations of the Libyan people," ITAR-TASS reports.
Earlier it was reported that Gaddafi has his own plan to resolve the conflict, he proposes to the Libyans, including the opposition, the reform of the basic law of the country in order to bury the ax of war. Gaddafi's Green Book is going to be replaced by a very real constitution with rights and freedoms. Since the rebels, in their own words, are fighting for "democratic values." Representatives of the colonel say that with the adoption of this document it will become clear who really wants to change life in the country, and who "is focused only on oil and on self-enrichment." So far there are no details about what is supposed to be prescribed in the constitution, and what role its authors assign directly to Muammar Gaddafi.