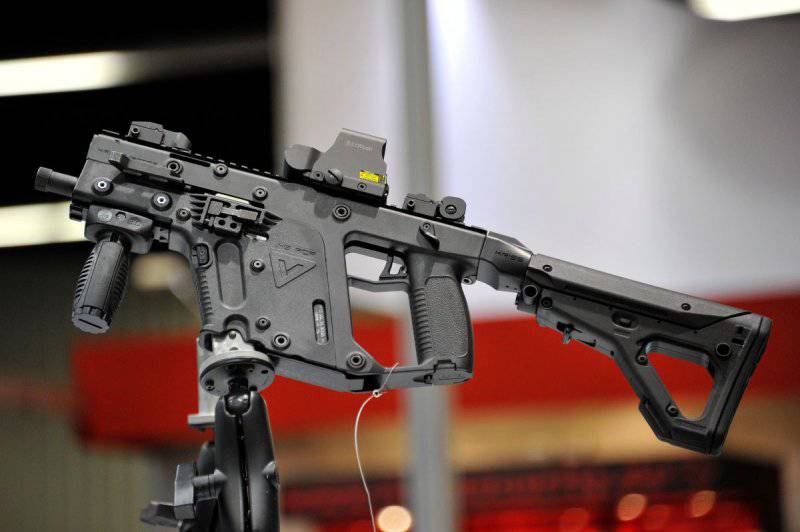 The Swiss factory KRISS Arms has been producing the Vector SMG submachine gun .45 ACP for some time now. In the past, this system was called the Super-V and was produced at a subsidiary of Kriss USA in the United States.
The submachine gun uses shops from the semi-automatic Glock 21 pistol, with a capacity of 10 and 13 ammunition. The number of cartridges can be increased to 25 with the help of a specially designed "extension".
The Vector SMG submachine guns use an efficient system that redistributes recoil energy. Inside a sufficiently noticeable "belly" right in front of the trigger guard, there is a kind of shock absorber that exerts pressure forward and downward in the process of returning the shutter to recharge. Thus, the return is softened.
As a result, the toss and release of this submachine gun using .45 caliber ammunition with 1200 rounds / minute rate of fire are negated.
Over the past two years, the company has received many requests from civilian shooters from the United States and other countries of the world, so the company began to produce several new models of semi-automatic
weapons
.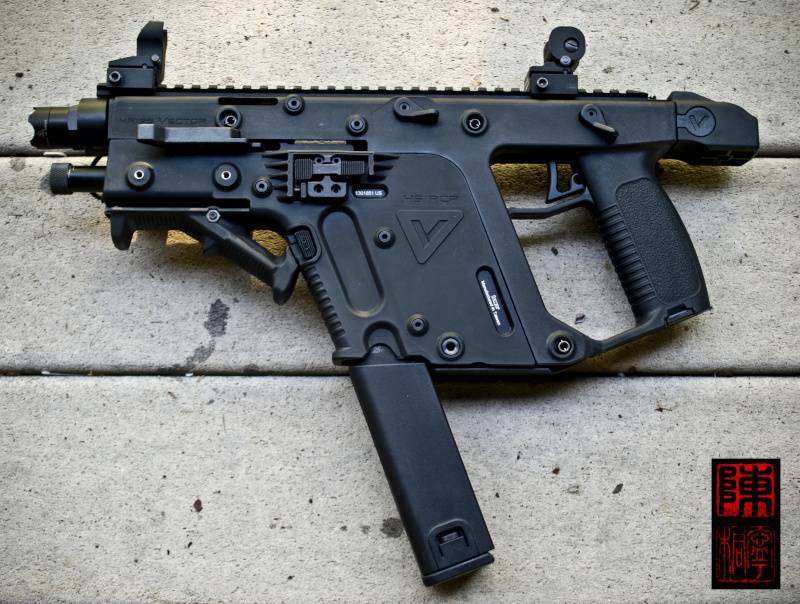 KRISS Vector SDP
The CRB-SO (Carbine - Special Operations) model uses an 16-inch barrel, which for aesthetic reasons was disguised as a silencer. The SBR (Short-Barrel Rifle) model received an 14-centimeter barrel, and the SDP model (Security Detail Pistol) is distinguished by the absence of a butt and a shortened barrel.
At the IWA & OutdoorClassics 2014, held in Nuremberg, there was a presentation of these submachine guns for the European market in the Enhanced version, a prototype of which was already shown in January at the SHOT Show in Las Vegas, USA.
The main difference version Enhanced - components. In particular, Magpul MBUS folding pillars are used, as well as an adapter that allows you to install an adjustable Magpul UBR stock, which provides better control when firing fast fire. These options are also available for automatic weapon variants, but they are delivered only to law enforcement agencies.