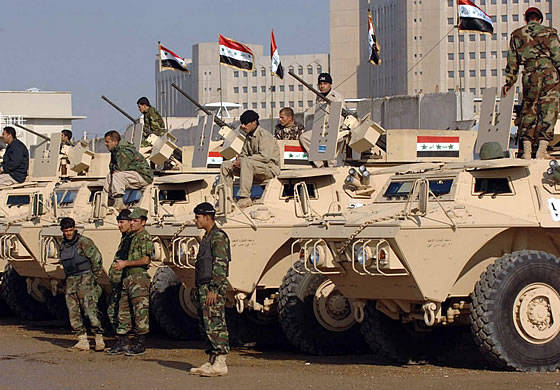 According to the US Embassy in Iraq, the United States has accelerated the pace of arms and ammunition supplies to Iraq in response to requests from the government.
The acceleration of supplies is connected with the need to assist in the fight against the radical Sunni group Islamic State of Iraq and the Levant.
At the beginning of this month, the US delivered around 100 AGM-114 ATGM Hellfire, several hundred thousand ammunition and a large batch of M4 rifles. The order of delivery was agreed upon by the Iraqi Armed Forces Command and American experts.
The Hemfire ATGM AGM-114 can be launched by modified AC-208B Combat Caravan airplanes delivered to Iraq (the Iraqi Forces for the first time used these missiles in November 2009 of the year).
In general, since mid-January this year, the United States delivered the Iraqi Armed Forces over 11 million ammunition, thousands of machine guns, sniper rifles, M16 and M4 rifles, thousands of flares, grenades and other weapons.
Additional deliveries under the Foreign Military Sales program are scheduled for the coming weeks.
This year, the Iraqi Armed Forces will receive in addition 48 reconnaissance UAVs RQ-11B "Raven" produced by the American company Aerooviroment.
For the first time, the New York Times 26 reported December 10 on the 2013 of the year to accelerate the pace of ATGM and UAV deliveries, noting that 10 UAV ScanIgl was to be delivered by March, and 48 UAV RQ-11B "Raven" until the end of 2014.
According to the US Department of Defense, since 2005, within the framework of ensuring stability in Iraq, the volume of supplies of military equipment to Baghdad has exceeded 14 billion dollars.