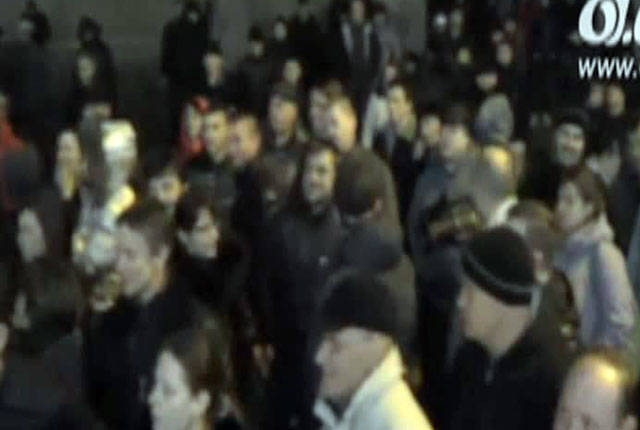 In Odessa, the situation around Anton Davidchenko, the organizer of the many thousands rally in support of the referendum in Crimea detained by the Security Service of Ukraine, is developing further. When the message spread that the leader of the local coordinating council of public organizations in the region, the People's Alternative, was caught and taken away by unidentified armed people in masks, people began to gather outside the SBU building.
Davidchenko's lawyer told the crowd that her client had already been taken to Kiev, where on Tuesday they would select a preventive measure, and also urged the rally to disperse. but
news
only heated the situation. At the SBU, despite the late time, more and more people gather, they began to pitch tents in front of the building. As the ITAR-TASS correspondent reported from the scene, people chant: "Odessa is a Russian city", "Odessa is bolder, drive Bandera in the neck", "Shame".
Three special-purpose buses arrived at the scene of the events, which cordoned off the entrance to the building and the approaches to it at the intersection of streets. Before the protesters, the mother of the detainee, Lyubov Davydchenko, spoke out. She urged the Odessans not to give in to provocations and to respect the police.
Officially, the detention Davidchenko authorities do not comment. Sources familiar with the case state that he was detained for systematic non-appearance to the investigator. According to their data, the activist is being held as a witness in a number of criminal cases, which the regional department of the SBU is investigating under articles about the encroachment on the territorial integrity of the country and high treason.
Meanwhile, among those who gathered at a late hour outside the SBU building, you can see the deputy of the regional council, Alexei Albu. "Odessa is a peaceful city, and in the most difficult days of the crisis we remained stable," he said. "On Sunday, thousands of Odessans came to the streets protesting against the authorities, the rally was peaceful. But those who came to power illegally in Kiev "They are trying to intimidate the opposition. While their representatives, Sashko Bilyi and other armed bandits, are roaming free and terrorizing people, those who peacefully protest, are thrown behind bars."