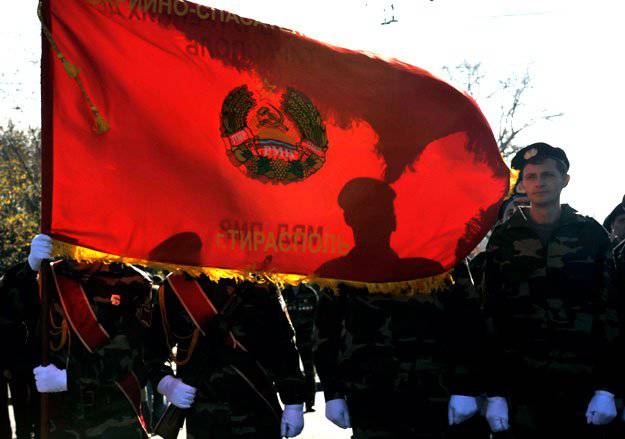 The request to provide for the possibility of Transnistria's entry into Russia addressed to Russian State Duma Speaker Sergei Naryshkin, on behalf of the Supreme Council of the unrecognized republic, was sent by its chairman Mikhail Burla on behalf of the Supreme Council. The appeal (Vedomosti's copy is a copy) was received as a response to the Social Revolutionaries 'draft law on simplifying the procedure for joining Russia of new territories, which allows to accept parts of foreign states into Russia without the consent of these states in the absence of" effective legitimate authority "in them the result of the referendum or the appeal of their authorities.
The draft of the Socialist-Revolutionaries makes possible only the annexation of the Crimea, but not Transdniestria, Burla notes: the Moldovan authorities cannot be definitely called ineffective. In addition, Transnistria would have to hold a referendum on Moldovan laws, but its legislation in the unrecognized republic. Finally, in Transdniestria there are no Moldovan authorities that could appeal to Russia for accession.
In 2006, in a referendum in Transdniestria, 97,2% of voters voted for joining Russia (in the Crimea tentatively 96,77%), Burla recalled. A constitutional law on the recognition of Russian legislation as part of Transnistrian law has already been adopted in the first reading. Russian is recognized as the state language; 200 000 citizens of Russia live in Transnistria. "The most difficult situation" of Transnistria may worsen even more if Moldova, which has signed the association agreement with the European Union, introduces restrictive economic measures, the message says.
Yesterday, the Social Revolutionaries decided to withdraw their draft law - they didn't want to interfere with the process of quickly adopting Crimea to Russia, which would follow a different scheme, the first deputy chairman of the faction Mikhail Yemelyanov explained to Vedomosti. Earlier, a source in "Fair Russia" said that the bill of deputy Elena Mizulina was part of the informational, rather than legislative agenda, which appeared situationally and, probably, with the sanction of the Kremlin, it was not planned to accept it. Soon the project will be finalized and re-introduced to create the possibility of accepting other territories in Russia in a critical situation, promised Yemelyanov. The constitutional committee is focused on issues related to holding a referendum in the Crimea, its chairman Vladimir Pligin told Vedomosti.