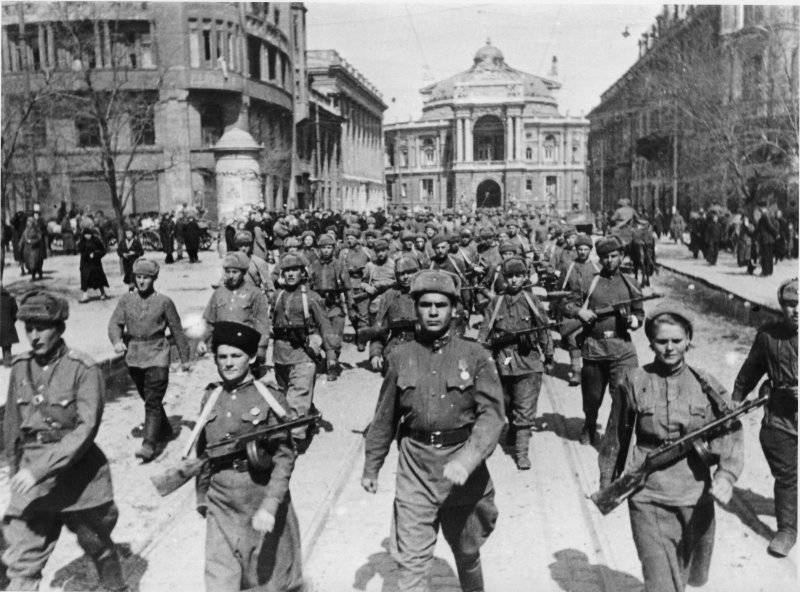 Odessa anti-fascists demanded that the mayor's office declare April 10 a non-working day, the controversy reports.
As one of the leaders of the anti-fascist forces of the South of Ukraine Anton Davidchenko noted, on this day this year Odessa celebrates the 70 anniversary of the liberation from the Nazi invaders. According to the Odessa anti-fascists, this day is one of the brightest holidays in
stories
city.
Anti-fascists warned the city authorities that residents would not tolerate silence on this holiday, as they tried to do this a few days ago in Kherson. Davidchenko reminded that during the years of the Great Patriotic War, Odessans showed the whole world an example of how to defend the freedom of their native city. As a result, for the unparalleled 73-day defense, Odessa became the first city of the Soviet Union to receive the status of a hero city.
As for the liberation of Odessa, it was the result of a unique military operation developed by Marshal Malinovsky, which was included in the annals of World War II.
Recall that as a result of an unexpected maneuver, the Germans did not have time not only to destroy the largest Black Sea port, but even to blow up the Opera House, although they were preparing for this within a few weeks.
Note that, according to the anti-fascists, the mass celebrations devoted to the 70 anniversary of the liberation of South Palmyra will be a clear demonstration that "in Odessa, fascism will not pass in any of its manifestations."
Recall that in Kherson there was a low-budget celebration of the 70 anniversary of the liberation of the city from the Nazis. This year they refused from the concert and mass celebrations, due to the current decree of the Cabinet of Ministers of Ukraine dated March 1 "On saving state funds and preventing budget losses". The holiday was held without special pathos, which was noted even by representatives of veteran organizations.