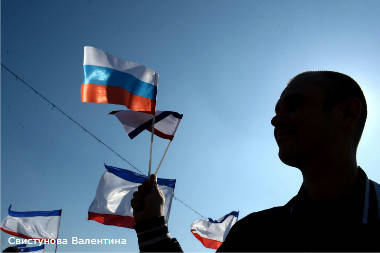 The State Duma is planning for 21 in March to consider a package of bills according to which Crimea can become a new subject of the Russian Federation.
After the completion of voting in Crimea, the official results of the referendum were summed up, according to which it turned out that more than 97,4% of Crimeans supported the accession of Crimea to Crimea, about 2,5% voted for Ukraine to remain part of Ukraine. Turnout was more than 83%, and this is an absolute record of all the processes of expression of the will of the Crimean people over the past decade.
Simultaneously with the referendum, a separate referendum on the future of Sevastopol was held in the Crimea. It is worth noting that Sevastopol was a city of central subordination and was not part of the administrative component of the Autonomous Republic of Crimea. Sevastopol overwhelmingly (about 96%) also voted for the entry of the city into the Russian Federation.
March 18 is scheduled for a speech by the President of Russia to representatives of the Federal Assembly. After this speech, the fate of the Crimea and Sevastopol will be finally decided. Already we can assume that Vladimir Putin will take a positive decision on the admission to the Russian Federation of a new entity.
Today, the Crimea has been declared an independent state by local authorities. So far, no state in the world has officially recognized the independence of the Crimean Republic. And this is the first step that Russia can take to comply with all international legal norms on the inclusion of Crimea in its membership.
People who call themselves the authorities of Ukraine continue to call the Crimean referendum illegitimate, playing their own
games for boys
trying to prove their legitimacy to the world. However, such games are unlikely to have anything in common with the letter of international law for the reason that Kiev officials a few weeks ago destroyed the constitutional system of the state, putting itself outside the law.
If the Crimea will be part of Russia, the population of the Russian Federation will automatically increase by 2 million people. At the same time, there will be two more hero cities in Russia - hero cities Kerch and Sevastopol will be added. The length of the coastline of the country will increase.
Yulia Tymoshenko and the leaders of the "Right Sector" have already threatened the Crimea with a "partisan war".