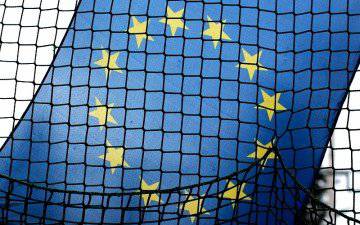 To maintain at least minimal stability in a crisis, it will have to "dissolve"
We are all discussing the outlook for events in Ukraine, although from the point of view of strategy it is already clear that they are a reflection of global long-term processes that no one of government officials was able to calculate - neither in our country, nor in the EU, nor in the United States. Well, maybe they figured out something in China, although there are some questions here. And for this reason, I had a question: is it possible to imagine a map of Europe, say, in 5-7 years, and give at least some justification for this card itself?
Actually, this article is devoted to this topic. So, the first thesis. The modern European Union emerged at the first stage as an anti-Soviet project aimed at uniting Western Europe under the auspices of the United States for the confrontation of the USSR. Then, after the collapse of the world socialist system, it was a project to dispose of the "Soviet legacy" and attempts to create an alternative economic "metropolis" for the United States. The last project failed completely, it became clear a few years ago; the first one was implemented. But for more than 10 years, there are simply no ideological or conceptual reasons for the development of the EU, but even for its existence in the current composition.
On the other hand, the general standard of living, colossal propaganda and a certain habit of positive set up the population of all other European countries that the only chance for a better life is to enter this very EU. The only alternative is the Customs Union, but it conducts extremely weak propaganda, its leadership is not consistent enough, because it includes a significant fifth column of the West, and most importantly - its time has not finally come yet. For this reason, some particularly far-sighted leaders of individual European countries (and even the EU, such as Hungarian Prime Minister Orban) make various allusions to the subject of the CU, but have not yet taken any real actions in this direction.
In general, we see that all of Europe, with the exception of Belarus and Russia (and of Kazakhstan, which is also partly located on the territory of this part of the world), looks at the EU as a kind of light and hope for the future. There is nothing wrong with this (except for principled fighters with juvenile justice and gay parades), only one problem: the main, if not the only reason for such public opinion, is the high standard of living of the population. And as the crisis develops, it will not be possible to save it.
Today, in many ways, the European Union pays its citizens about 2,5 trillions of dollars (well, or, if you prefer, 2 trillions of euros) per year. This is done primarily due to the growth of public debt, but other mechanisms are also used, including an increase in the debt of the households themselves. In any case, these mechanisms are already at the limit of their capabilities, and it is no longer necessary to expect that they will work effectively for another five years. Although, for example, the EU's bare emission has not yet been used (in large volumes, in any case), and there is still some reserve here. Which, however, will seriously undermine the already not very good state of the EU financial system.
In general, the situation has worsened for several years (this is clearly seen from the parameters of unemployment), simply as the crisis develops, the process will sharply accelerate and hide it, even through mass propaganda, will become almost impossible. There is another problem. Since the ideological base of the EU did not imply a serious crisis, they codified the redistribution of the colossal amount of money that made up the budget of this association. A sharp reduction in this volume with the urgent need for new money to support the EU countries most affected by the crisis requires a fundamental change in this legislation, but it is extremely complicated and intertwined, including not only explicit subsidies and subsidies, but also tax breaks, quotas, special programs and other tools that can not be changed pointwise.
In this sense, the European Union is very similar to the USSR of the year like 1990: it is clear that we need very serious reforms, but their scale is so large that it can leave a stone unturned from the whole system, so no one dares to touch anything.
In addition, the decline in the standard of living of a significant part of the population will also cause a significant increase in social and national hatred, which is also not very clear how to fight. Well, more precisely, it is known how to suppress, but how to prevent, on a falling standard of living - it is not known for sure, and no one.
In this situation, the only way out for those countries that have a chance to maintain at least minimal stability in the conditions of the most severe crisis (I recall that unemployment in Western Europe reached 40% at the peak of the Great Depression, the current crisis will be one and a half times stronger) European Union. Then, if necessary, it can be collected again, but very carefully. And, most importantly, only after the end of the "acute" crisis stage.
So, with a high probability of the European Union in its current version in five years will not. And there will be some conglomerate of countries with a greater or lesser degree of autonomy associated with Germany, and those countries that will be released into "free swimming."
In general, as I see it, the picture will look like this. Actually, Western Europe will be a more or less unified entity that is in the most severe crisis and shaken by the most severe social riots. It is possible that somewhere in Portugal or in the south of Italy, this may even lead to the destruction of the current political system. But, most likely, it will still stand, although many of the current parties will unite as "stability parties" (as it de facto happened today in Germany), fighting off new, much more left-wing and right-wing (fascist) parties.
Where will the "border of relative stability" be? It seems to me that on the line Germany - Czech Republic - Austria - Italy. Theoretically, Croatia could be included there, but it seems to me that this is not very likely. Everything that will be east of this border (and that today is a strong zone of US influence) will be left to the mercy of fate. Accordingly, in these countries, various wars over the territory will resume - both civil and interstate. Greece will be able to avoid this perspective (which will use Russia's mediation in disputes with Turkey) and, possibly, Poland (if it does not get to redistribute the remnants of Ukraine in its favor). All the rest, one way or another, will fight more or less intensively.
In the Balkans, all the Slavic countries will cut Albanians. Bulgaria may annex Macedonia (which it lost a hundred years ago), Hungary will begin to make territorial claims to Serbia (Vojvodina) and Romania (Transylvania), and so on. Those interested can see the map of the Balkan Peninsula in the early twentieth century with an interval of five years.
Western Ukraine, for obvious reasons, will be a place of constant fights. But the east - so it will be calmer. And the worse the situation in Eastern Europe is, the newer border of Russia will pass to the west, since everything will be calm on its territory. That is, of course, poor little, like everyone else, but without excesses. And the people will vote - because no one likes a constant slaughter.
What else is there? Small southern countries? They will be partially occupied by Turkey or Greece, or will become some kind of counterpart of the pirate republics, which will live off trade and contraband (well, more precisely, smuggling and trade). Scandinavia ... I do not really understand how these countries will live with a sharp drop in living standards. It is possible that Norway, for example, will become a Muslim country ... However, the borders on this territory will most likely not change.
How will life develop on the territory of the emerging "Wild Field"? While this question can not be answered. But Russia and Turkey will be "resolving issues" in this territory in the first place, and Poland and Germany in the second. And most of it, most likely, no one will climb, even the United States with Great Britain. However, the last people living in this territory will have to thank for the "happiness" they will get ...